I am still enjoying this fantasy series and will get book three soon to complete the adventure.
Elite
Written By: Mercedes Lackey
Narrated By: Amy Landon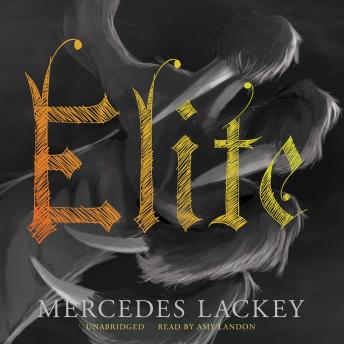 Series: Hunter, Book 2
Publisher: Blackstone Audiobooks
Date: September 2016
Duration: 10 hours 12 minutes
Genre: Fantasy, Monsters
My Rating: 4.25 of 5.0 Overall, Story and Narration.

Summary:
Hunting monsters was supposed to be the hard part. When Joy came to Apex City, all she cared about was protecting the Cits from the dangers lurking outside protective barriers. She understood the need for the secrecy surrounding her Hunts-no need to cause a panic by announcing just how real of a threat the Othersiders pose.
But as she quickly discovered, the conspiracies of the city run much deeper. And a dangerous new covert mission leaves Joy with a target on her back once more. Under the orders of her uncle, the city's prefect, Joy begins patrolling the abandoned tunnels and storm sewers under Apex Center. With her large pack of magical hounds, she can fight the monsters breaking through the barriers with the strength of three hunters.
Then she starts finding bodies. Psimons are turning up dead in the bowels of the city with no apparent injury. Reporting the incidents makes Joy the uncomfortable object of PsiCorps' scrutiny, and the organization appears more interested in keeping her quiet than investigating. Joy's situation grows more precarious, and her relationship with her Psimon boyfriend, Josh, begins to fray. Long-held tensions between PsiCorps and the Hunters seem to be reaching a breaking point.
While infighting threatens the stability of Apex City, Othersider forces are gaining strength and momentum outside the borders. Joy desperately seeks answers to figure out who her real enemies are before she and everyone she cares about are locked into an all-out war. "Avoiding second-volume sag with plenty of charisma, this outing proves to be a satisfying read that takes the baton neatly from the first and leaves readers ready for more."-Kirkus Reviews...


Review:
At the end of book 1 Joy tested for the Elite group of Hunters hoping it would put her away from some of the rating attentions and jealousies. Still, even as an Elite, while Joy continues to target monsters to keep the Cits in Apex safe, someone is targeting her. Her Uncle assigns her to a special mission during which she and her wonderful pack of hounds start finding dead bodies. The bodies are apparently Psimon and there is no apparent cause of death. When Joy reports the deaths, she is hushed up by the PsiCorps. The secrecy puts strain on her relationship with Josh, her Psimon boyfriend and trusted assistant to her Uncle.
The internal stresses among the power groups are causing problems for Joy's Uncle and the safety of the city. Storms bring in more monsters to the city and the Hunters need to call on the PsiCorps for back up in the battles, but the PsiCorps seem to be slow in responding. Fortunately, other members in the Elite who have become friends of Joy have learned to work together and are pretty creative in their battle strategies.
I continued to enjoy the series. There are old friendships and new ones developed in this book and old enemies appear too. It isn't always clear who Joy can trust which adds to the suspense. The growing hound pack is a nice element in the story. Some of the issues, especially with Mark and his fiancé are a little petty but Jess finally finds a place for herself so she doesn't have to sit back and be jealous of Joy. Lackey has developed Joy as a character with humility and wisdom, but she still exhibits teenage foibles at times. This keeps her real.
There is good action and battle scenes that balance the slower, character developing scenes. It is a good balance with pacing that moves the story forward. I will be getting book three in the near future to complete the trilogy. I recommend this to readers who enjoy fantasy/monster hunter stories – even if there are teens.
Audio Notes:
Amy Landon continues to do a good job with the narration. I think she added a little more emotion this volume and she stays true to Hunter Joy's voice. I enjoyed the listening experience.
Source: Audiobook.com Credit Purchase November 2018. Qualifies for Audiobook Challenge.
Review of Book 1: Hunter.