I liked this action story with a dragon companion.
Radioactive Evolution
Written by Richard Hummel
Narrated by Armen Taylor & Anneliese Rennie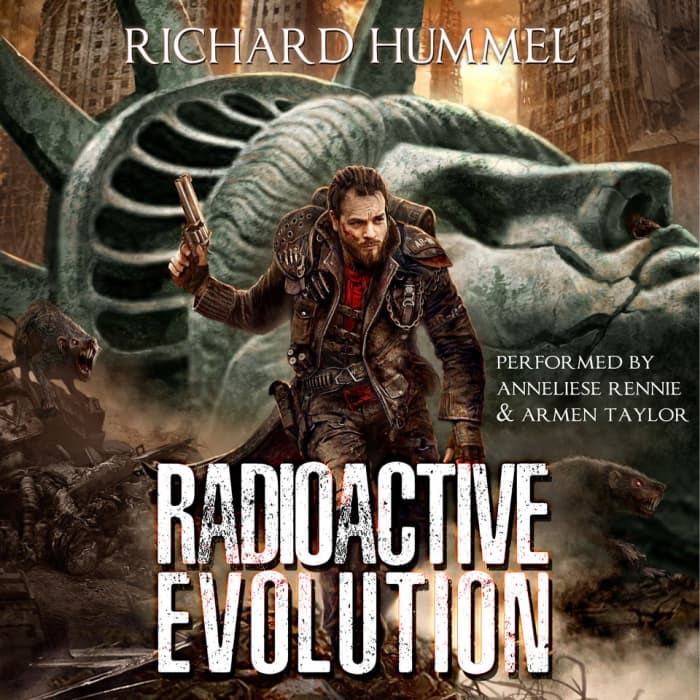 Release Date: November 15, 2018
Publisher: Hummel Books
Genre: Cyperpunk, Fantasy Gaming, Post-apocalyptic, Sci Fi
My Rating: 4.25 of 5.0 Overall; Content 4.25; Narration 4.25.

Publisher's Summary
How far would you go to change humanity's fate?
Jared Cartwright grew up in a loving, caring community, completely isolated from the horrors of the outside world. When tragedy leaves him alone and untethered, Jared sets out to explore the unknown: a world where twisted, scarred creatures roam an earth ravaged by nuclear war while the rich fled to the skies on floating utopias, escaping destruction and leaving the rest of humanity to die.
To face his new reality, Jared must learn to survive in a cold, harsh world. A twist of fate changes Jared's destiny when he discovers dragons are real. The dragon unlocks a hidden technology within his body, giving him powers he never imagined existed.
With deadly adversaries above and below, he must evolve beyond mere human limitations to defeat the powerful rulers of the cities and the rabid beasts lurking in the shadows.
Amazon number-one best seller in Post-Apocalyptic & Cyberpunk!
©2018 Richard Hummel (P)2019 Richard Hummel


Review:
Jared is a lone explorer in a post-apocalyptic world that is full of ravaged cities and twisted creatures. The elites who survived live in floating cities far above the radiated earth. Jared scavenges for supplies, including food, weapons and nanite injectors. The nanite injectors are necessary to preserve the nanotechnology within the humans which corrupts over time.
Jared descends into the tunnels of the city (once New York) following another explorer. After facing off with giant lizards, Jared finds the explorer buried in a pile of what appears to be a nest. Jared snags the pack of the other explorer and an unusual object with radiating heat. He fights his way out of the tunnels to his safe space. There he uncovers secrets about the nanotechnology and, more importantly, he inadvertently bonds with a newborn dragon! The dragon, nicknamed Scarlet, can share nanotechnology with Jared providing him the opportunity to increase his physical and mental skills so that each has super powers.
Having bonded, Jared and Scarlet have to agree to help each other's species rather than be enemies. They set off to find other surviving humans who can be recruited to bond with dragons, or other creatures. Once they have a force the plan is to challenge one of the sky cities. The pair fight off and escape from enemies ultimately saving a strange community of water people.
This story has a definite LitRPG vibe with plenty of mutated creatures, such as killer bunnies, to battle, and nanites and powers to be absorbed and assigned to increase ('level up') skills. Jared is a surprising survivor considering his naivety. I enjoyed the relationship between Jared and Scarlet who communicate through telepathy and share their growth journeys. The writing kept me engaged even though it is not complex. The world building is good with lots of strange creatures. I do want to read/listen to the next book in the series. I recommend this to fans of action and fantasy gaming.
Audio Notes:
Armen Taylor & Anneliese Rennie make a good narration team. I liked both voices and energy for the characters. I hope they will be the narrators for the next book which I plan to get on audio.
Source: October 2020 Chirp $2.99. This qualifies for 2021TBR and 2021Audiobook goals.