I enjoyed this Christian historical romance which I think has gothic elements.
The Secret of Pembrooke Park
Author Julie Klassen
Narrator: Elizabeth Jasicki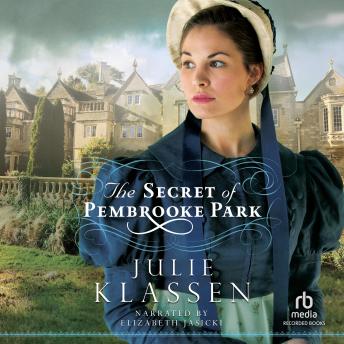 Duration: 18 h 6 min
Release date: 12-12-14
Publisher: Recorded Books
Genre: Christian Historical, Historical Romance
My Rating: 4.0 of 5.0 Overall; Story 4.0; Narration 4.0.

Publisher's summary
Abigail Foster fears she will end up a spinster, especially as she has little dowry to improve her charms and the one man she thought might marry her - a longtime friend - has fallen for her younger, prettier sister. When financial problems force her family to sell their London home, a strange solicitor arrives with an astounding offer: the use of a distant manor house abandoned for 18 years. The Fosters journey to imposing Pembrooke Park and are startled to find it entombed as it was abruptly left: tea cups encrusted with dry tea, moth-eaten clothes in wardrobes, a doll's house left mid-play... The handsome local curate welcomes them, but though he and his family seem to know something about the manor's past, the only information they offer Abigail is a warning: Beware trespassers who may be drawn by rumors that Pembrooke contains a secret room filled with treasure. Hoping to improve her family's financial situation, Abigail surreptitiously searches for the hidden room, but the arrival of anonymous letters addressed to her, with clues about the room and the past, bring discoveries even more startling. As secrets come to light, will Abigail find the treasure and love she seeks.... or very real danger?
©2014 Julie Klassen (P)2014 Recorded Books


Review:
Abigail Foster takes responsibility for an investment her father made that turns bad. This is a blow after her long time childhood friend, who she expected to offer her marriage, seems to show interest in her sister before leaving for a year of school abroad. As the family is faced with downsizing and moving from their home, they are offered the opportunity to move to a country manor house that has been abandoned for 18 years. Abigail and her father go to the country to prepare Pembrooke Park while her mother and younger sister remain in town so her sister can attend her first society season.
Abigail is surprised by the condition of the house, which looks like it was suddenly abandoned and then left that way. As she works to clean up the home and make it livable she begins to hear rumors and then is warned of trespassers who may come seeking a secret room and treasure. If they had 18 years of vacancy to search, why would someone show up now that the house is occupied again? But she hears footsteps at night, catches a glimpse of a hooded intruder, and has to deal with a surly butler who makes inappropriate comments. Abigail receives anonymous letters hinting at the location of the secret room and she begins her own secret search.
The nearby curate begins a friendship with Abigail, but he is frustrated that he does not have a living to support himself, much less a wife and a family. Then a suave, estranged cousin of the Pembrooke family arrives, and Abigail's father invites him to stay. Although both men show interest in her, Abigail feels no man choose her since she is the less lovely sister and has no dowry to bring to a marriage. Can Abigail find the secret room and perhaps a treasure to help her family? Or will the searching bring danger from others who want the treasure for themselves?
I did enjoy the very prevalent Christian scripture and messaging. I also liked the detail, the historical, sweet romance, the secrets, and the gothic like elements. I did feel the story was drawn out longer than it needed to be but at least it was enjoyable. I recommend this to fans of Christian, historical romance.

Audio Notes
: I enjoyed the narration by Elizabeth Jasicki once I settled in on her voice. She follows the story and presents it well. I am glad I had the audio to listen to.
Source: 5/27/2022 Audiobooks.com May VIP selection. (Also, at Audible Plus Catalog in February 2023 available to 9/12/2023.) This qualifies for 2023TBR and 2023Audiobook goals.