I am linking with Sunday Post at
Caffeinated Book Reviewer.
What Are You Reading? is where we gather to share what we have read this past week and what we plan to read this week. It is a great way to network with other bloggers, see some wonderful blogs, and put new titles on your reading list.

This past week my daughter was out several days due to flu. It is so unfortunate that her immune system seems to be unable to fight any bug. One other staff member was out a day due to her baby having a bad fever. Seems to be just teething, not flu or anything else, thank goodness.

I had to juggle the title office with the law practice. I had a large commercial deal which closed nicely on Friday and will fund on Monday. I keep plugging away on probates and some litigation cases. I settled an easement case and filed a new foreclosure -- one closes another opens.

These three friends live three houses away. When I stopped my car one morning last week they cooperated by lining up at the fence so I could get a picture through my passenger window!





My continuing prayers include prayers for more unity in all nations and a calmer atmosphere in 2023.

We had a week of reasonably nice weather with some cooler nights. That should continue for the week until next weekend dips cold again. I can't imagine the cold that New England went through last week. I hope everyone is staying warm.




I finished two audios (again) and posted three reviews with my memes.

I visited 16 blogs last week.
Shout out this week to BOOKBUGWORLD. I like Rejitha's view of sharing about books on her blog: "Like a book club with no definite time limit."

Audiobooks.com is still sharing some free listens for children.
NG20222: #NetGalley Audio Book Review: Coup de Grâce by Paul Centeno; Genre: Adventure, Steampunk; My Rating: 4.0 of 5.0 Overall; Story 4.25; Narration 4.0. .

Finished Reading:
1. Audible Smartphone (ATBR)
Heaven's River
Bobiverse, Book 4
By: Dennis E. Taylor
Narrated by: Ray Porter
Length: 16 hrs and 57 mins
I enjoyed the entertainment of this space adventure.
Source: October 17, 2021 - September 2021 Audible Credits.
Click on book title for full description.
2. Audio Smartphone (ATBR)

To the Far Blue Mountains
Written By Louis L'amour
Narrated By: John Curless
Duration: 9 hours 19 minutes
This story is full of swashbuckling sea battles and Indian filled land battles.
Source: 9/17/2022 One Credit at Audiobooks.com
Click on book title for full description.
Currently Reading:

1. Audible Smartphone (ATBR)
Cat o' Nine Tales
The Jane Yellowrock Stories
By: Faith Hunter
Narrated by: Khristine Hvam
Series: Jane Yellowrock
Length: 13 hrs and 28 mins
I'm enjoying this collection of paranormal stories with Vampire hunter Jane Yellowrock and her friends.
This fits my Number goal.
Source: April 2021 Audible Plus Catalog free audio.
Publisher's Summary
For the first time - in one Audible-exclusive collection - it's 13 stories of Jane Yellowrock, the shape-shifting skinwalker and vampire hunter for hire whose business card reads, "Have Stakes - Will Travel". Jane carries inside her the soul of her Beast, the mountain lion's soul which merged with hers when she accidently performed black magic as a child. Now, she and her Beast stalk the dark streets of New Orleans, bringing rogue vampires true death.
In Cat o' Nine Tales, you'll discover how Jane turned into a big cat for the first time; how she and Molly became friends; how Rick LaFleur got his tattoos. You'll go along on some of Jane's early vamp hunts. You'll even hear two short tales through Bruiser's eyes.
Once you experience these stories set in the fantastic world of this New York Times best-selling series, you'll surely agree with Kim Harrison that Jane Yellowrock is "smart, sexy and ruthless".
The stories included in Cat o' Nine Tales are:
"WeSa and the Lumber King"
"The Early Years"
"Cat Tats"
"Kits"
"Haints"
"Signatures of the Dead"
"First Sight"
"Blood, Fangs and Going Furry"
"Dance Master"
"Cajun With Fangs"
"Golden Delicious"
"Beneath a Bloody Moon"
"Black Water"
©2013 Faith Hunter (P)2013 Audible, Inc.
2. Audio Smartphone (ATBR)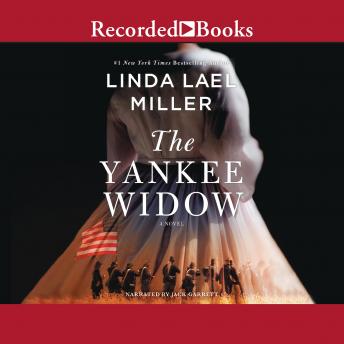 The Yankee Widow
By Linda Lael Miller
Narrated By: Jack Garrett
Duration: 14 h 37 min
I like Civil War settings and
this could be counted as an "occupation".
Source: 5/8/2021 Two for One Credit Deal at Audiobooks.com
Summary
A richly layered saga is set against the backdrop of the Civil War In The Yankee Widow, gifted storyteller Linda Lael Miller explores the complexities and heartbreak that families experienced as men took up arms to preserve the nation and defend their way of life. Told in a smart, assured and compelling voice, this is the story of Caroline, the young wife and childhood sweetheart of Jacob, who together live on a farm raising their daughter, Rachel, just outside of Gettysburg. When Jacob joins the Northern army to do his duty and help save the Union, no one anticipates he will not return. Caroline gets news that he is wounded and has been taken to Washington, DC, with his regiment, and so she must find her way there and navigate the thousands of other wounded soldiers to find him. Thus begins this novel that focuses on the strong women and men of both sides and both races who sacrificed so much and loved so well during this critical juncture in American history.
I had a hard time chosing the next book so I might change my mind when I get there. :-)
February 5, 2023
- I am enjoying this new plan on YouVersion. I totally enjoyed watching the devotion videos so I am doing another BibleProject plan:
The Full Story - "From the beginning to the Amen"
. I have never done a Chronological reading before.
I added Matthew so I could follow along with my son who is reading with the BOBs (Band of Brothers). I will add the applicable New Testament book to read along.
I did another five day study during the week that was good:
Be A Living Sacrifice.
I am five days into a 21 day plan:
The Sauce: Seek First.
I finished two audio titles and reviewed three so I am still making slow progress. I am now behind 5 reviews for January and 2 for February. I'll continue to work on these.

NETGALLEY STATUS--
My ebook on NetGalley was on my old phone and will expire before I finish it.
I plan to listen to one of the two audiobooks in the next two weeks.
I still have the two old ebook titles.
I have one author review in my queue that I need to start reading on my computer.
(Plus a few that I received from Facebook links and newsletter sign-ups, not specific review requests.)
Still many titles through InstaFreebie and many new author requests I haven't replied to.
Welcome to Mailbox Monday.
Mailbox Monday is a gathering place for readers to share the books that came into their house last week and explore great book blogs. This Meme started with Marcia at A Girl and Her Books (fka The Printed Page) and after a tour of hosts has returned to its permanent home at Mailbox Monday. Thanks to the ladies sharing hosting duties: Serena of Savvy Verse & Wit, me, and newest to the team, Emma at Words and Peace. Warning: Mailbox Monday can lead to envy, toppling TBR piles and humongous wish lists.

I purchased one daily deal at Audible and found one free audio at Audible Plus.
I didn't get any free Kindle titles again this week.
Are your mailbox and TBR piles blooming?



NONE

Won


NONE

Purchased


2/2/223 Audible Daily Deal $3.99.

The Spare Man
By: Beth Pugh
Narrated by: Emily Durante

Duration: 7 h 38 min

This Sci Fi is a murder mystery in space.


Free


2/5/2023 Audible Plus Catalog.


Metropolitan Stories, A Novel
By: Christine Coulson
Narrated by: Jill Eikenberry


Length: 4 hrs and 29 mins


I haven't been to a museum in a while and this got my interest.


No new titles added to Kindle library. Free titles often found at Bookbub, Book Adrenaline, Ereader News Today, Inspired Reads, or Kindle ebooks.