I am linking with Sunday Post at
Caffeinated Book Reviewer.
It's Monday! What Are You Reading now at
The Book Date (at Wordpress)
.
What Are You Reading, is where we gather to share what we have read this past week and what we plan to read this week. It is a great way to network with other bloggers, see some wonderful blogs, and put new titles on your reading list.

Everyone was in office by Tuesday but two were fighting colds and working in what I dubbed "slo-mo fuzzyness".
I have a handful of court hearings this week and am working away on probates and litigation files.
Still no word from the engineer and architect. The contractor is contacting them to try to get a reply.
The injured chicken didn't make it.
Our small cat had a better week. She is no longer limping or dragging and titling her head. She is up to a full can of cat food a day and just jumped up in a chair. (She missed a couple of jumps earlier in the week.)
Our weather remains on the cool side. The pollen count is high causing extra sinus trouble.


My reading listening went well. I finished 4 audiobooks even though some were shorter. My Kindle has been rebooting every time I pick it up which slowed reading. Time to switch to the Fire Kindle again. I posted three reviews and my usual memes.
I only visited 18 blogs last week.
Shout Out this week to
Mad Book Love
, sharing things "related to books and reading".
Thank you to all the nice people who visit me.
These were last week's posts:
Finished Reading:
1. Audible/Smartphone (A2019)
Curiouser and Curiouser: Steampunk Alice in Wonderland
Steampunk Fairy Tales
By: Melanie Karsak
Narrated by: Lesley Parkin
Length: 5 hrs and 24 mins
Release date: 09-13-17
This was fun. My review is linked above..
Source: 2019 Credit Purchase.
Click on book title for full description.
2. Audible/Smartphone (ATBR)
So Long, Lollipops
The Free Until The End of the World Novella
By: Sarah Lyons Fleming
Narrated by: Julia Whelan
Series: Until the End of the World, Book 1.5
Length: 3 hrs and 12 mins
I enjoyed this novella in the series.
Source: Audible Free Title 9/2014.
Click on book title for full description.
3. Audible/Smartphone (ATBR)
A Breach of Security
By: Susan Hill
Narrated by: Steven Pacey
Series: Simon Serrailler, Book 8.5
Length: 1 hr and 28 mins
I enjoyed this novella mystery
and would like to read more of the series.
Source: Audible November 2016 Sale.
People who bought this also bought...
Publisher's Summary
When a bunch of neo-fascist thugs named The Bulldogs attack a Gay pride march in the sleepy country town of Lafferton, detective Simon Serrailler moves quickly to find the assailants. He's already got his hands full making security arrangements for a memorial service to honour soldiers returning from Afghanistan. When anonymous threats come in, Serrailler wonders if the Bulldogs are behind these too - and worries that they know the Prince of Wales will be in attendance. As the day approaches, the threats intensify, and Serrailler finds himself racing against the clock to prevent catastrophe.
Susan Hill has won the Whitbread, Somerset Maugham, and John Llewelyn Rhys prizes, as well as being shortlisted for the Booker Prize. She has written 55 books in several genres, including the ghost story The Woman in Black, the play adapted from which is still running in London's West End after 25 years. I'm the King of The Castle has been a GCSE set text. She has also published collections of short stories, fiction for children, several nonfiction books and the highly successful crime novel series about the detective Simon Serrailler, who features in a short story here for the first time. Her new novel, The Soul of Discretion, is the eighth in the Serrailler series, and will be published by Chatto and Windus in October. Susan Hill is a Fellow of the Royal Society of Literature, a Fellow of King's College, London, and was awarded a CBE in the Queen's Diamond Jubilee Honours of 2012.
©2014 Susan Hill (P)2014 Audible Studios
4. Audible/Smartphone (ATBR)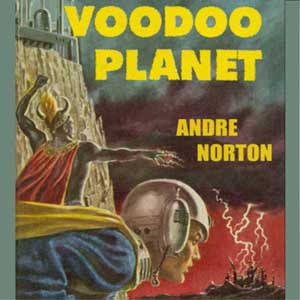 Voodoo Planet
Written By: Andre Norton
Narrated By: Mark Nelson
Publisher: LibriVox
Date: January 2011
Duration: 2 hours 47 minutes
I was glad to have a quick sci fi to listen to.
Source: 2017 Audiobooks.com Public Domain Vintage free download.
Summary:
The sequel to Plague Ship, Voodoo Planet finds the Solar Queen banned from trade and starting her supposed quiet two-year stint as an interstellar mail carrier. But instead her crew accepts a visit to the safari planet of Khatka, where they find themselves caught in a battle between the forces of reason and the powers of Khatka's mind-controlling wizard. (Summary by Mark Nelson)
Currently Reading:
1. eBook/Kindle (NGTBR)
Trouble on the Books
by Essie Lang
I am 65% in on this cozy mystery.
Source: NetGalley 2018.
Click on book title for full description.
2. Audible/Smartphone (A2019)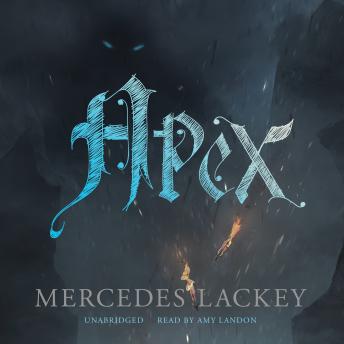 Apex
Written By: Mercedes Lackey
Narrated By: Amy Landon
Publisher: Blackstone Audiobooks
Date: September 2017
Duration: 8 hours 49 minutes
This is the third and conclusion of the series.
I am two hours in.
Source: 2019 Credit Purchase Audiobooks.com.
Summary:
Being a member of the Elite Hunter Command imperils Joy in more ways than one. In their latest clash with Othersiders, the army of monsters nearly wiped them out. Apex City is safe for now. But within the city barriers, Joy must wage a different kind of war.The corrupt and powerful PsiCorps is determined to usurp the Hunters as chief defenders of Apex City, and Joy is now squarely in their crosshairs. Unused to playing political games, she has very few people she can truly trust-not even Josh, her first friend in Apex City, who broke up with her when it became too dangerous for a Psimon to be dating a Hunter.
Then Josh comes to Joy for help. He fears that Abigail Drift, the head of PsiCorps, will soon use him in her twisted experiments designed to empower PsiCorps and render Hunters superfluous-a scheme that's already killed off dozens of Psimons. Joy manages to smuggle Josh to safety, but he cannot evade Drift forever As Joy faces ever more powerful Othersiders, she is helped by the most surprising ally imaginable-the same Folk Mage she once met in battle on the train to Apex City. But can Joy trust the most cunning and treacherous of all Othersiders?In the thrilling finale to Mercedes Lackey's New York Times bestselling trilogy, Joy must risk everything to end a brutal war before she loses all she's ever loved....
3. eBook/Kindle (NG2019)
Heart of the Storm
by Debbie Peterson
This released in February so I picked it next.
Source: 2019 NetGalley.
DEA agent Aliyana Montijo must stop a drug lord's killing orders and find a government mole. With a contract on her head, she trusts no one. While heading back to Florida with evidence, lightning strikes her plane. As it careens into the ocean, she thinks she sees a pirate ship. What she finds is a dashing and most unlikely ally.
Four centuries ago, Wolfaert Dircksen Van Ness captained a vessel for the Dutch West Indies Company. Then an unearthly storm in the Bermuda Triangle blew him into a parallel dimension. After rescuing Aliyana from a similar tempest, he finds himself drawn to the courageous beauty and wants to aid her mission.
In the midst of danger, the two find themselves falling in love. Then a misunderstanding tears them apart, perhaps forever…
4. Audible/Smartphone (ATBR)
Oath of Swords
War God, Book 1
By: David Weber
Narrated by: Nick Sullivan
Series: War God, Book 1
Length: 14 hrs and 49 mins
Time for a Fantasy; plus an O for Alphabet. :-)
Source: 2012 Audible.
Publisher's Summary
Bahzell is no knight in shining armor, and besides he has too many problems of his own to be messing with anybody else's problems - let alone the War God's. Unfortunately, the War God has other ideas for him.
©1995 David M. Weber (P)2012 Audible, Inc.
March 31, 2019 - I am enjoying my daily morning devotion and reading with the One Year Bible plan through You Version App.
I am on day 4 of 5 day
reading plan:
Spiritual Warfare Battle Plan
. Then I'll pick another study this week. [You can check out audio of the One Year Bible Plan on the
companion commentary online
.]
I completed four books and posted three reviews. That puts me current with three reviews to post for current reading.
I keep working to add newer reviews to NetGalley, Goodreads, Amazon and Audible again. (Eventually I will add older reviews.)
My NetGalley shelf is now at 15 unread (still 2 left from December) to date, since I added three and am reading one. I have 4 old titles (2012!) that I might get read this year too.
I still have four author ebook titles in queue.
Still many through InstaFreebie and many new author requests I haven't replied to.
Welcome to Mailbox Monday.
Mailbox Monday is a gathering place for readers to share the books that came into their house last week and explore great book blogs. This Meme started with Marcia at A Girl and Her Books (fka The Printed Page) and after a tour of hosts has returned to its
permanent home
at
Mailbox Monday
. Thanks to the ladies sharing hosting duties: Leslie of
Under My Apple Tree
, Serena of
Savvy Verse & Wit
and (yours truly).
Warning: Mailbox Monday can lead to envy, toppling TBR piles and humongous wish lists.
I added three new titles from NetGalley; have to put myself on hold till I get another couple read.
I purchased three audiobooks through High Five sale.
I picked up only 13 free kindle titles. (Note these are in my Amazon library, NOT on my Kindle until I download and transfer them.) Are your mailbox and TBR piles blooming?
I received three titles from NetGalley:
The Time Collector
by Gwendolyn Womack
"
Travel through time with the touch of a hand.
"
The Library of Ever
by Zeno Alexander
"The Library of Ever is an instant classic for middle grade readers and booklovers everywhere—an adventure across time and space, as a young girl becomes a warrior for the forces of knowledge."
The Governess of Penwythe Hall
by Sarah E. Ladd
"Rich with family secrets, lingering danger, and the captivating allure of new love, this first book in the Cornwall series introduces us to the Twethewey family and their search for peace, justice, and love on the Cornish coast."
(Lovely cover too!)
NONE
Purchased
3/31/19 Three High Five Audible Sale titles - $5.00 each
The Final Day
By: William R. Forstchen
Narrated by: Bronson Pinchot
Length: 12 hrs and 11 mins
Release date: 01-03-17
Eden's Gate: The Reborn
A LitRPG Adventure, Book 1
By: Edward Brody
Narrated by: Pavi Proczko
Length: 10 hrs and 17 mins
Release date: 03-30-17
Spinning Silver
By: Naomi Novik
Narrated by: Lisa Flanagan
Length: 17 hrs and 56 mins
Release date: 07-10-18
I only added 13 free titles to my Kindle library. Titles found linked through Bookbub, Bookfun, Ereader News Today, Free Par-tay, Ignite Your Book, Inspired Reads, Pixel of Ink or Kindle ebooks.