I am linking with Sunday Post at
Caffeinated Book Reviewer.
What Are You Reading? is where we gather to share what we have read this past week and what we plan to read this week. It is a great way to network with other bloggers, see some wonderful blogs, and put new titles on your reading list.
I am on vacation in Kansas City. We spent several nights at StoneyCreek Hotel where the grandchildren participated (and got Superiors for piano solos and duet) at the MAMA 2023 Event. We moved to the Great Wolf Lodge Water Park today..



Here are a few pictures from our activities in Kansas City Friday and Saturday.

Piano playing awards.

Union Station Ceiling before we went into Science City.
I hope to add more pictures another day.



My continuing prayers include prayers for more unity in all nations, a calmer social atmosphere, and for revival. We are also continuing prays for family and church.

We had wonderful air travel with nice weather. The temperatures in KC are similar to those at home in mid to high 80s.


I finished two audios and posted four reviews and my memes.

I visited 16 blogs again last week.
No shout out this week while I am traveling and vacationing with family.

Audiobooks.com is still sharing some free listens for children.
A2023: Audio Book Review: The Poisoned Princess: Warders Book 1 by Armen Pogharian; Genre: Adventure, Fantasy, Middle Grade, Sword & Sorcery; My Rating: 4.25 of 5.0 Overall; Story 4.25; Narration 4.25.
ATBR: Audible Book Review: Mountain Man by Keith C. Blackmore; Genre: Horror, Post Apocalyptic, Zombie; My Rating: 4.25 of 5.0 Overall; Story 4.25; Narration 4.5.
ATBR: Audible Book Review: Perestroika in Paris by Jane Smiley; Genre: Animals, Family, Friendship; My Rating: 4.0 of 5.0 Overall; Story 4.0; Narration 4.0. #parisinjuly2023 event.
No Sunday Words Post this week.

Finished Reading:
1. Audiobooks.com Smartphone (ATBR)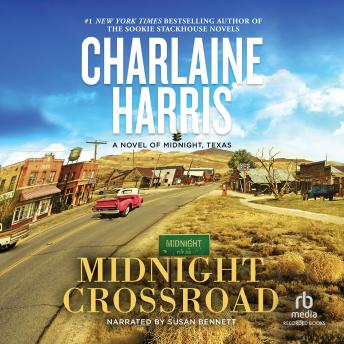 Midnight Crossroad
By Charlaine Harris

Narrated By: Susan Bennett
Duration: 9 h 31 min

I picked this from the TBR shelf and it has a time of day in the title (one of my individual challenges).

Source: 8/28/19 August VIP Free selection at Audiobooks.com.
Click on book title for full description.
2. Audible Smartphone (A2023)
The Snow Killer: The DI Barton Series, Book 1
By: Ross Greenwood
Narrated by: David Thorpe
Length: 9 hrs and 34 mins
This is only available to 8/10/23 so I thought I would listen now.
Source: February 2023 Audible Plus Catalog.
Click on book title for full description.
Currently Reading:

1. NetGalley App on Smartphone (ANG2033)
For the Loot
Goblin Mode, Book 1
By: Han Yang, Pearce Adams
Narrated by: Evan Sibley
Length: 10 hrs and 10 mins
This looked like fun but I am surprised by the language. I pulled it in because the link expires 8/4/23.
Source: July 2023 NetGalley.
Publisher's Summary
Bogart casts aside his humble origins, becoming an adventurer. He must gain levels in the guild and fight alongside his allies, both within and outside the law. For fame and fortune! Maybe even to save the world. But mostly for fame and fortune!
You only get one chance at the big leagues, and nobody knows it better than Bogart. He's going straight from the badlands to the top of the world, or he'll gladly die trying. If only he knew the truth about the life he's chosen. There are wars, dark gods, and eldritch horrors on the horizon. And nothing is as it seems. Join Bogart as he quests for riches!
©2023 Royal Guard Publishing LLC (P)2023 Dreamscape Lore
2. Audible Smartphone (ATBR)
1984: New Classic Edition
By: George Orwell
Narrated by: Simon Prebble
Length 11h 22m
! plan to read this one next.
Source: September 2020 Audible Plus Titles.
Click on book title for full description.
I will probably get to another book during the week, but I don't know what yet.

July 30, 2023
- I am doing the daily readings of BibleProject plan:
The Full Story - "From the beginning to the Amen"
. The readings are now in Daniel, a book of prophesy that I enjoy and have studied with my husband in the past.
I finished two audio titles and posted four reviews. I now have three to post and I hope to get a chance in between fun activities.
NETGALLEY STATUS--
I plan to listen to one new audio this week, leaving three new audios and an older one on my shelf.
I still have the two old NetGalley ebook titles.
I have one author review in my queue that I need to start reading on my computer. (I need to look back and see which one this is.)
(Plus a few that I received from Facebook links and newsletter sign-ups, not specific review requests.)
Still many titles through InstaFreebie and many new author requests I haven't replied to.
Welcome to Mailbox Monday.
Mailbox Monday is a gathering place for readers to share the books that came into their house last week and explore great book blogs. This Meme started with Marcia at A Girl and Her Books (fka The Printed Page) and after a tour of hosts has returned to its

permanent home

at Mailbox Monday.

Thanks to the ladies sharing hosting duties:

Serena of Savvy Verse & Wit, me, and newest to the team, Emma at Words and Peace. Warning: Mailbox Monday can lead to envy, toppling TBR piles and humongous wish lists.

I received three new NetGalley review titles this week.
No other new audios.
Two free First Reads for Amazon Prime members and No other free Kindle titles last week. Are your mailbox and TBR piles blooming? Three new titles from NetGalley:

At the Coffee Shop of Curiosities
By: Heather Webber
Narrated by: Hallie Ricardo, Stephanie Willis

Length: 12 hrs and 10 mins

Nexus Guardian
The Elemental Realms, Book 1
By: Timothy McGowen
Narrated by: Todd Menesses

Length: 18 hrs and 10 mins

For the Loot
Goblin Mode, Book 1
By: Han Yang, Pearce Adams
Narrated by: Evan Sibley

Length: 10 hrs and 10 mins

Won


NONE

Purchased


NONE



Free


Amazon First Reads – Prime Benefit Two for July:

The Hanging City
by Charlie N. Holmberg





In the Likely Event
by Rebecca Yarros





No new titles added to Kindle library. Free titles might be found at Bookbub, Book Adrenaline, Ereader News Today, Inspired Reads, or Kindle ebooks.