This is another fun Sherlock 'spinoff' listen.
DEATH CLOUD
by Andrew Lane
Narrated by Dan Weyman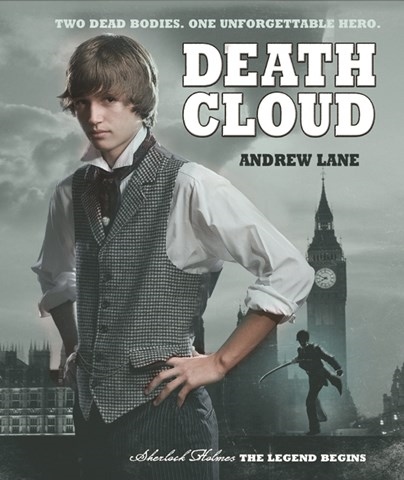 7 hrs.
Unabridged
Macmillan Audio © 2010
Genre: Detective, Historical Fiction, Mystery, Young Adult Ages 12+
My Rating: 4.75 of 5.0 Overall; Story 4.5; Narration 5.0.

This bold depiction of a 14-year-old Sherlock Holmes succeeds splendidly. He's as fascinating as Doyle's brilliant creation. Holmes's fans will see how he acquired his vast knowledge and developed into the man he became. Narrator Dan Weyman excels in introducing an intelligent, warm yet shy boy. Sherlock's streetwise friend, Matty, is tough yet sweet, perfectly complementing him. The best character is the American tutor, who sounds like an actual American, as does his daughter, who piques Sherlock's interest. Weyman captures emotion and action in a breathtaking manner that adds to the sheer pleasure. The characters unravel a complex mystery led by a dastardly villain who's also artfully portrayed. High praise is simply insufficient to do full justice to this outstanding work. Please, those of all ages, listen to it for yourselves! S.G.B. Winner of AudioFile Earphones Award © AudioFile 2011, Portland, Maine [Published: MARCH 2011].


Review:
Sherlock Holmes is sent to spend the summer with an Aunt and Uncle in the country. They are mostly uninterested, and the housekeeper is openly hostile. Sherlock is frustrated by his situation and starts to wander the countryside and local village. Sherlock meets another young teen, Matty, an orphan who has learned to survive on the streets. Shortly into the summer, a tutor, recommended by Sherlock's brother Mycroft, arrives. Amyus Crowe is a mysterious American who soon brightens Sherlock's days as he challenges the boy with math queries and puzzles.
Matty stumbles upon a death in the alleys and Sherlock stumbles upon one in the woods. Both men died with swollen pustules on their faces and the boys observed a 'death cloud' rising from the bodies. Sherlock becomes involved in unraveling the mystery behind the deaths and behind the strange, pale, man whom he glimpsed in a carriage one day.
Amyus' brave daughter, Virgina, makes friends with Sherlock and soon the three teens and Amyus are all facing danger as they investigate. Sherlock will be kidnapped and beaten on the way to solving the diabolical threat.
All the characters are wonderfully developed, and I was fully engaged in the mystery, which involves bees. Sherlock is presented as a shy, intelligent young man who is just beginning to develop his propensities for detailed investigation. I honestly didn't recall Sherlock's hobby of beekeeping but admittedly it's been years since I read the original stories. The audiobook I listened to last week, The Beekeeper's Apprentice, displayed this hobby too. I highly recommend this series to mystery and Sherlockian fans.
Audio Notes:
Daniel Weyman's narration brings these characters to life. He provides fitting accents and wonderful energy. I totally enjoyed this work.
SYNC August 1 – August 7, 2013. This qualifies for 2019TBR and 2019Audiobook goals.