I am linking with Sunday Post at
Caffeinated Book Reviewer.
What Are You Reading? is where we gather to share what we have read this past week and what we plan to read this week. It is a great way to network with other bloggers, see some wonderful blogs, and put new titles on your reading list.

The week was full of work but controlled so there was limited tension. My new employee is learning well and being helpful.

We had a Woman's Club Orientation today that was fun.
I have some pictures coming up but none to post today.

My Bear dog got his summer hair cut this week and looks pretty comfy.


I am a little worried about Princess (my Rat Terrier) as she was very subdued today. I hope she will be better tomorrow or I'll be taking her to the vet.


My continuing prayers include prayers for more unity in all nations, a calmer social atmosphere, and for revival.


I know others have had bad storms this week as we did. There was hail in Panama City Beach and heavy rains here at home. A bad tornado caused damage in a small town 45 miles SE of us.


I finished three audios this past week and posted two reviews and my memes.

I visited 15 blogs last week.
Shout out this week to THE FANTASY PRINCESS. Jamie, like many of us, loves reading and talking about books. Stop by and say hello!

Audiobooks.com is still sharing some free listens for children.

Finished Reading:
1. Audio Smartphone (NG2023)
The Instructor
By T.R. Hendricks
Narrated by: Jay Snyder
Series: Derek Harrington, Book 1
Length: 9 hrs and 45 mins
This has lots of action and intrigue.
Source: 2023 NetGalley.Click on book title for full description.

2. Audible Smartphone (ATBR)
Oracle
By: Andrew Pyper
Narrated by: Joshua Jackson
Length: 8 hrs and 37 mins
I was looking for my next 'listen' and saw that this was only available until May 14.
The genre is shown as "supernatural" but I would definitely add "horror".
Source: 8/2/2021 Audible Plus Catalog.

Publisher's Summary
Oracle is a psychological thriller audiobook following Nate Russo, an FBI psychic who helps solve abductions and homicides by touching those close to the missing persons. His unique gift comes with a terrible price: He sees the horrific moments before the victims disappeared. This high-stakes mystery, written by best-selling author Andrew Pyper and performed by Joshua Jackson, combines crime investigations with supernatural elements and killer instincts.
©2021 Andrew Pyper Enterprises, Inc. (P)2021 Audible Originals, LLC
3. Audible Smartphone (ATBR)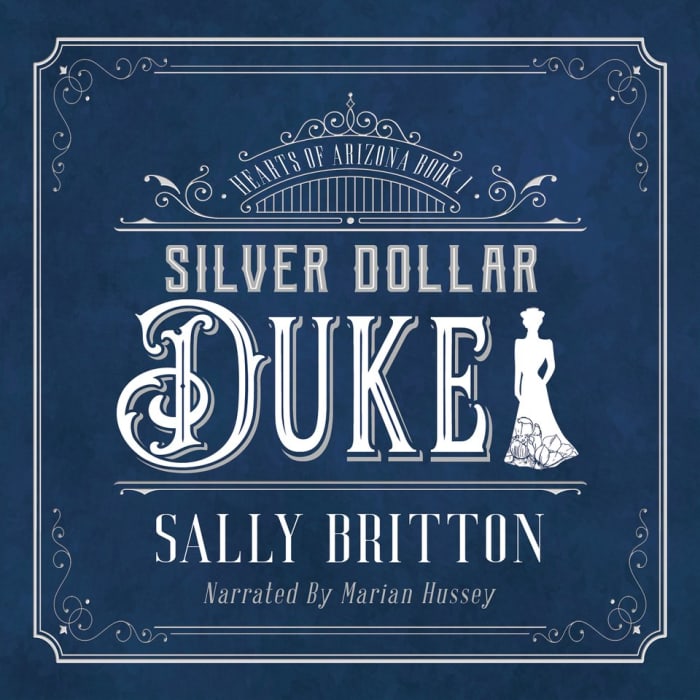 Silver Dollar Duke
Written by Sally Britton
Narrated by Marian Hussey
Run Time 9h 37min

I picked this for my "color" goal and because it sounded like a nice listen.
I enjoyed the story and gentle romance.
Source: 3/14/2022 Purchases from Chirp $1.99.
Publisher Description
The last thing Dannie needs is a Victorian gentleman on her ranch, playing cowboy while she's trying to save her family's livelihood. Will high stakes and high emotions lead to heartbreak?
Evan Rounsevell, second son to the Marquess of Rothwell, is running as far from his family and responsibilities as he can. His fascination with cowboys takes him from English shores to the Arizona desert, but the days of showdowns are over, and Tombstone, Arizona, is a respectable town. With no funds left, and no desire to call on his affluent family for rescue, Evan seeks a position as a cowboy at a ranch on its last leg.
Daniella Bolton's fiancé left when the drought of 1893 crippled the KB ranch, but that's just fine by her. She doesn't need a man to help her save her family's land. Especially not an Englishman who looks down on her style of living, like Evan does. She loves her life on the ranch, and no outsider could ever understand what it means to be loyal to the land and her family's way of life.
Being a cowboy is harder than Evan thought, but as he works to earn his place on the ranch, his heart opens up to the beauty of the desert… as well as that of Dannie Bolton. Watching Evan fight for the ranch she loves makes Dannie realize that not all men are afraid of hard work and troubled times, and loving Evan might be just the salve her wounded heart needs. But when Evan's family summons him home right when Dannie needs him most, the feelings of betrayal from her former fiancé's flight return tenfold.
Does Evan dare risk his tenuous relationship with Dannie to fulfill his family responsibilities? Or will leaving Arizona be the worst mistake of his life?


Currently Reading:

1. Audible Smartphone (ATBR)
Get Up and Grow: 21 Habits of Successful People
By Duke Matlock
I will be finishing this by the end of this week.
I am still enjoying the learning process.
Source: March 2023 gift from Pastor.
Get Up and Grow is about developing habits that foster personal and professional growth in four critical areas: spirituality, success, health, and margin. In six chapters, Get Up and Grow will enable you to shift your paradigm and create a culture of growth and investment in your life. By utilizing your mornings as opportunities for development, Get Up and Grow will change the way you view success and will create the space to see exponential growth.
2. Audio Smartphone (ATBR)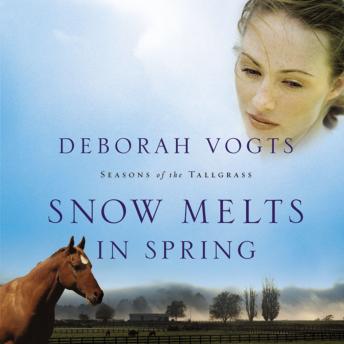 Snow Melts in Spring
By Deborah Vogts
Narrated By: Emily Durante
Duration: 8 h 19 min
It's time for my "Spring" title and this looks nice.
Source: 5/8/2021 Two for One Credit Deal at Audiobooks.com.
Summary
She loves the land. Mattie Evans grew up in the Flint Hills of Kansas. Although her family has lost their ranch, she still calls this land home. A skilled young veterinarian, she struggles to gain the confidence of the local ranchers. Fortunately, her best friend and staunchest supporter is John McCray, owner of the Lightning M Ranch. They both love the ranch, and can't imagine living anywhere but in the Flint Hills. He's haunted by it.Gil McCray, John's estranged son, is a pro football player living in California. The ranch is where his mother died and where every aspect of the tallgrass prairie stirs unwanted memories of his older brother's fatal accident. Gil decides leaving the ranch is the best solution for his ailing father and his own ailing heart. But he doesn't count on falling in love.Falling in love isn't an option. Or is it?When Mattie is called in to save a horse injured in a terrible accident, she finds herself unwillingly tossed into the middle of a family conflict. Secret pain, secret passions, and secret agendas play out against the beautiful landscapes as love leads to some unexpected conclusions about forgiveness and renewal.
Again, I expect to get to a third book (an audio), which I will pick when I get there.
April 30, 2023
- I have really been enjoying the book of Isaiah. There are so many prophesies regarding Christ and acknowledgment of God's creation, power, and mercy. I am doing the daily readings of BibleProject plan:
The Full Story - "From the beginning to the Amen".
I am reading the paperback (above) instead of an App study.
I finished three audio titles and reviewed two so I remain up to date.

NETGALLEY STATUS--
I still have one more audio and one newer ebook on my NetGalley shelf.
I still have the two old NetGalley ebook titles.
I have one author review in my queue that I need to start reading on my computer. (I need to look back and see which one this is.)
(Plus a few that I received from Facebook links and newsletter sign-ups, not specific review requests.)
Still many titles through InstaFreebie and many new author requests I haven't replied to.
Welcome to Mailbox Monday.
Mailbox Monday is a gathering place for readers to share the books that came into their house last week and explore great book blogs. This Meme started with Marcia at A Girl and Her Books (fka The Printed Page) and after a tour of hosts has returned to its

permanent home

at Mailbox Monday.

Thanks to the ladies sharing hosting duties: Serena of

Savvy Verse & Wit,

me, and newest to the team, Emma at

Words and Peace. Warning: Mailbox Monday can lead to envy, toppling TBR piles and humongous wish lists.

No review titles and no wins last week.
I bought one Audible Daily Deal and picked out one Audio from Plus Catalog last week.
I got no free Kindle titles last week. Are your mailbox and TBR piles blooming? NONE

Won


NONE


Purchased


4/28/2023 Audible Daily Deal $1.99.

A Proposal They Can't Refuse
By: Natalie Caña
Narrated by: Valentina Ortiz

Length: 8 hrs and 29 mins

This looks really cute.

Free


4/29/2023 Audible Plus Catalog.

Why They Marched
Untold Stories of the Women Who Fought for the Right to Vote
By: Susan Ware
Narrated by: Bernadette Dunne

Length: 9 hrs and 11 mins

This interesting looking book was on special deal at Chirp but free at Audible Plus.


No new titles added to Kindle library.
Free titles might be found at Bookbub, Book Adrenaline, Ereader News Today, Inspired Reads, or Kindle ebooks.