This series' episode fits the bill for a quick action title.
Bunker (Book 3) Code of Honor

Written by Jay J. Falconer
Read by Gary Tiedemann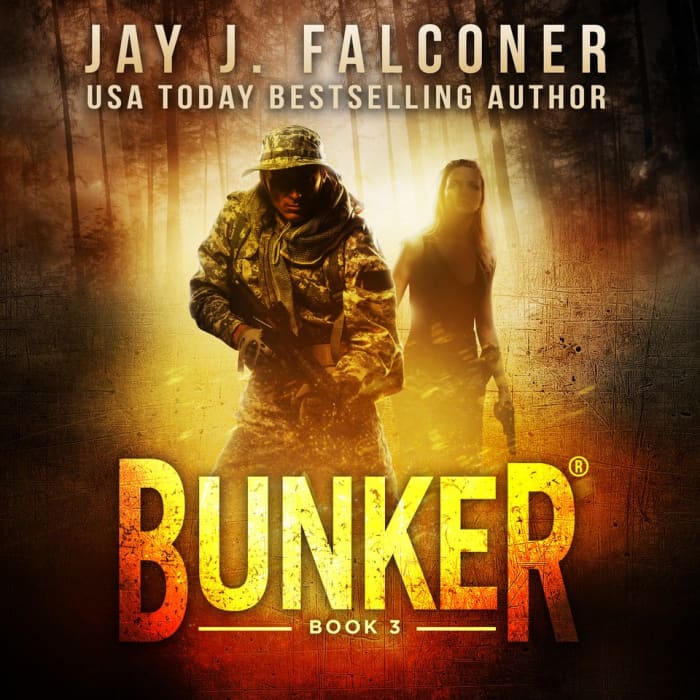 Run Time 5h 50min
Release Date: May 29, 2017
Publisher: BookBreeze.com
Genre: Action, Post-Apocalyptic, Science Fiction, Thriller
My Rating: 4.0 of 5.0 Overall; Story 4.0; Narration 4.0.

A Warrior Lives for Peace. Sometimes All He Finds is War.
When the perpetrators finally reveal themselves, Jack Bunker finds himself the target of a deadly manhunt. He's all that stands between them and complete control.
Yet mortars, artillery, and machine guns are not the only threats Bunker must face.
News of an airborne pathogen spreads panic across the countryside, leaving everyone to fend for themselves, including Bunker after he's wounded.
Eventually the citizens of Clearwater must make an impossible decision: resist with their lives or serve on their knees.
>>> From award-winning, bestselling author, Jay J. Falconer, comes another heart-pounding, post-apocalyptic saga you won't be able to put down. If you love high-intensity thrillers, this book was written just for you.


Review:
Jack Bunker was able to escape with Deputy Daisy from a gang of military mercenaries. But soon find themselves facing Russian enemies. Jack sends Daisy back to town to warn the mayor and others there. Then Jack finds himself running for his life after being spotted.
Jack isn't the only one the Russians are chasing. Apparently, their real reason for being in Clearwater is to find the man who stole a deadly weapon. That man is on the run with a daughter returning to her home.
Back in town, the community is excited to welcome FEMA trucks and supplies when they roll into town. Although the 'rescuers' are manned by a foreign team, the mayor and citizens agree to line up for a special vaccination they are told is to protect them against radiation from the potential threat of a damaged nuclear site miles away.
Soon all injured parties are converging on the home of the local prepper, who is now dead. There is a delayed challenge between some of the primary characters before the straggling group recognize that they need to pull together if they want to protect themselves and help their community from the Russian threat and the unknown, but suspected, threat posed by the 'FEMA' group.
I enjoyed this quick listen. I still disapprove of some of the shallow jealousy of one character in particular, although that may have been resolved in this book. I still like how Bunker takes the blows and keeps pushing back. I will be continuing with the next two books which I already own.

Audio Notes:
Once again, Gary Tiedemann does a fine job providing distinct voices and appropriate energy that fits the story. I am glad that I can listen to this series.
Source: 10/2/2021 Chirp Purchase $1.99. This qualifies for 2022TBR and 2022Audiobook goals.
Audio Book Review:
Bunker (Book 1) Born to Fight
by Jay J. Falconer - 4.0.
Audio Book Review:
Bunker (Book 2) Dogs of War
by Jay J. Falconer - 3.75.