This is a quick post-apocalyptic listen with a hero that I like.
Bunker (Book 1) Born to Fight
Written by Jay J. Falconer
Narrated by Gary Tiedemann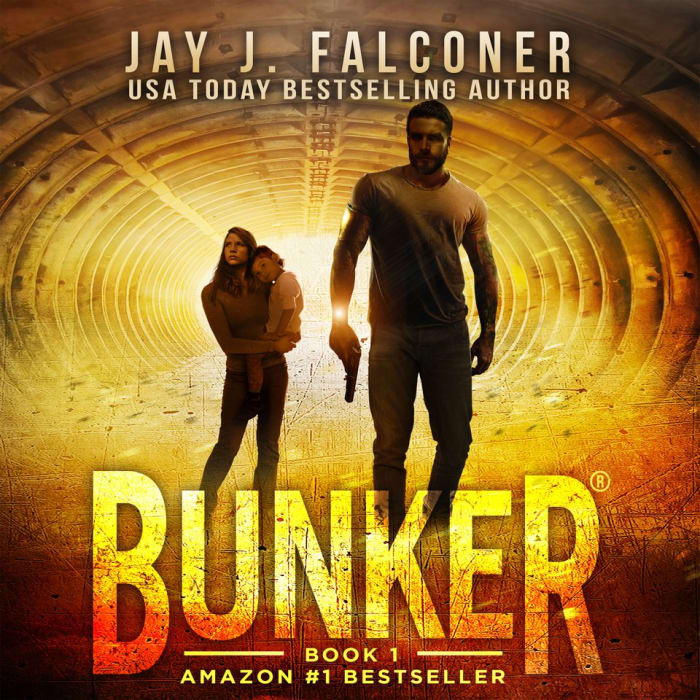 Run Time 3h 46min
Release Date: March 31, 2017
Publisher: BookBreeze.com
Genre: Action, Post-Apocalyptic, Science Fiction, Thriller
My Rating: 4.0 of 5.0 Overall; Story 4.0; Narration 4.0.


Publisher Description
Cyber-Attacks. EMPs. Invasion. War. When the end comes, few will have the ability to survive.
When a coordinated attack takes out the nation's power grid, a small town finds itself at ground zero of an all-out invasion.
With limited options and no time to prepare, the citizens have no choice but to turn to a mysterious drifter, Jack Bunker, for help.
The former combat engineer has the skills to keep them alive, but he won't be able to do it alone, not against an overwhelmingly superior force. Somehow he'll have to find a way to transform the mild-mannered townsfolk into military-grade warriors and lead them into battle, despite his dark past that leads some to wonder whose side is he really on?
The Bunker series is a 5-part explosive, high-octane thriller. If you like pulse-pounding action, resourceful warriors, and deep political intrigue, then you'll love this bestselling tale of true grit. It's Rambo versus Red Dawn, only amped-up with one thrilling scene after another.



Review:
Jack Bunker is a soldier with a mysterious past. He was looking forward to 'decompressing' and finding a new beginning when events went haywire. Bunker was on a train traveling north when the power went out. At the same time, the cell phones and tablets of passengers went dead. Next a plane plunged from the sky. It is clear that Bunker suspects a greater problem – an EMP strike – that many others don't recognize.
Sitting next to Bunker on the train is a young woman and her 10 year-old son. When Bunker chooses to exit the train and start walking, the woman, Stephanie, and her son, Jeffrey, are determined to go with him. Bunker doesn't want to take any responsibility for them, but he can't force them not to follow.
Before Bunker and his companions get to the town they set out for, they are pulled in to rescue a busload of children. Now Bunker is in town and facing a crowd with leaders who aren't sure how to protect themselves from the disruptions that are quickly spreading.
The author has not yet revealed Bunker's full background, so he is still a mystery, which adds interest to the story. The post-apocalyptic event has just occurred so there is still a lot to learn about what or who caused the event. I liked the action which I hope will increase in the next books. The writing could use more depth, but it has an easy flow in this series opener.
I didn't necessarily find this 'enthralling', but I found it entertaining and want to continue. I was glad I could get audio books 2-5 for just under $10.00 at Chirp. I recommend this to fans of the post-apocalyptic genre.

Audio Notes:
Gary Tiedemann does a fine job with the narration. The voices are distinct and the energy fit the story. I look forward to listening to more in the series.
Source: 9/5/2021 Chirp Purchase $.99. This qualifies for 2021Audiobook goal.