I enjoyed this story that combines darkne
Adam-Troy Castro
ss with sweet friendship.
Gustav Gloom and the People Taker
Written by
Narrated by Jesse Vilinsky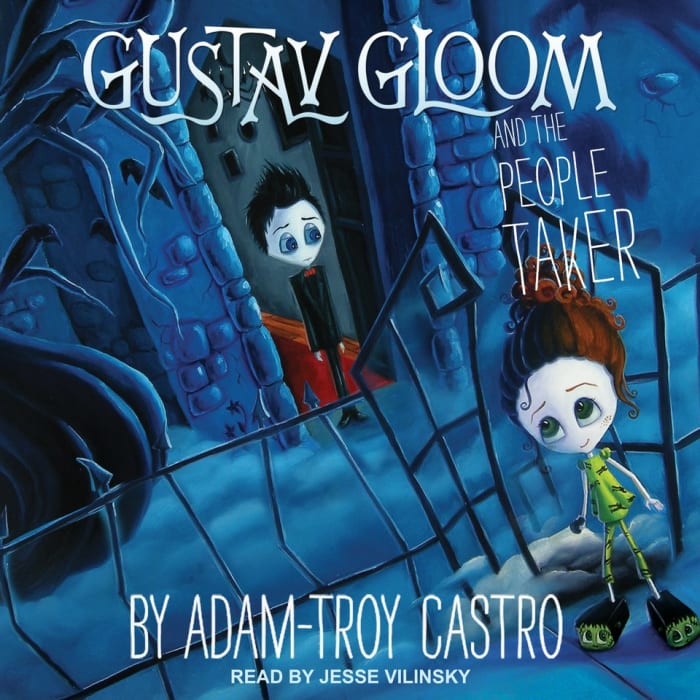 Run Time 4h 42min
Release Date: November 19, 2019
Publisher: Tantor Audio
Genre: Children's, Paranormal, Supernatural
My Rating: 4.25 of 5.0 Overall; Story 4.25; Narration 4.25.

Publisher Description
Enter an exciting new world of shadows from Hugo Award nominee Adam-Troy Castro. Meet Gustav Gloom.
Fernie What finds herself lost in the Gloom mansion after her cat appears to have been chased there by its own shadow. Fernie discovers a library full of every book that was never written, a gallery of statues that are just plain awkward, and finds herself at dinner watching her own shadow take part in the feast!
Along the way Fernie is chased by the People Taker who is determined to take her to the Shadow Country. It's up to Fernie and Gustav to stop the People Taker before he takes Fernie's family.



Review:
The community of Sunnyside Terrace view Gustav Gloom as the saddest boy they have ever seen. He seems to live alone in the dark Gloom mansion. When 'helpful' people go to the house to see what they can do, they either are never seen again or come out less than the whole person that went in. So they neighbors have learned to stay away.
Fernie What and her father and sister have just moved in next door to the Gloom mansion. The young sisters, especially Fernie, have a fascination with monsters and dark, scary stories. Fernie wants to visit the Gloom mansion even though she sees the dark shadows in the yard and has already seen a strange event with a neighbor dog. The first night in their new house, Fernie's cat escapes and Fernie follows her to Gloom mansion. Fernie's reluctance to enter the dark building is overcome by her desire to protect her cat.
As Fernie looks in the different rooms for her cat, she comes upon a huge library. A strange man explains to Fernie that the empty looking books are every book that has never been written. Soon Fernie finds herself under attack by a looming beast and a dark, evil looking man. Gustav snatches her from the attack and the two race off only steps ahead of danger as Gustav tries to get Fernie out of the building before she is caught by the People Taker. Gustav tries to explain the many dangers of the house as they rush through other strange rooms, sharing a little about themselves and becoming friends.
Fernie's father and sister come looking for her when they find she is missing. They are met by a supposedly friendly 'neighbor' who lures them into the mansion. Can Gustav save his new friend and her family from the monsters in his home?
This is another dark but cute story that is good for younger audiences…as well as adults. The author has created rather unique monsters and situations in the dark and gloom that surrounds Gustav and his home. The scary adventure is softened by the sweet characters and their developing friendship. I notice that the ebook has some cute images that children would enjoy. I liked the audio version which seemed to soften the darkness a little for me. I do recommend this to middle grade students and their parents who will enjoy reading or listening with them.
Audio Notes:
Jesse Vilinsky does a lovely job with the narration. The pronunciation is clear and distinct and conveys the somber tone of the setting while also sharing the emotions of the children. I expect that I will get more in the series and I would chose the audio version.
Source: November 2020 Chirp Purchase $0.99. This qualifies for 2021TBR, 2021Audiobook and #FraterfestRat (#6) goals.