This is an interesting, scary, 'future war' possibility.
Ghost Fleet: A Novel of the Next World War
Written By: P.W. Singer, August Cole
Narrated By: Rich Orlow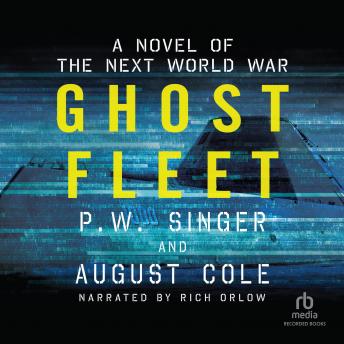 Duration: 14 hours 28 minutes
Publisher: Recorded Books
Genre: Military, Political Fiction, Technothrillers
My Rating: 4.0 of 5.0 Overall; Story 4.0; Narration 4.0.

Summary:
The year is 2026. China has taken over as the world's largest economy, while the United States, mired in an oil shortage, struggles to adjust to its diminished role. Then, a surprise attack throws the U.S. into a chaos unseen since Pearl Harbor. As the enemy takes control, the survival of the nation will depend upon the most unlikely forces: the Navy's antiquated Ghost Fleet and a cadre of homegrown terrorists. Ghost Fleet is unique in that every piece of technology featured in the novel already exists or is in the works. Peter W. Singer is Senior Fellow and Director of the 21st Century Defense Initiative at the Brookings Institution and a consultant for the US Department of Defense and FBI. August Cole is a journalist and writer specializing in national security issues and is an Adjunct Fellow at the American Security Project.


Review:
China is taking over while the United States flounders. Then China's specially trained hackers take control of the U.S. computers shutting down electronics locally and globally by taking control of the satellites. The U.S. has nothing to fight with except the Navy's Ghost Fleet which is made up of antiquated ships that don't rely on up-to-date technology.
The story follows specific characters which include a reluctant ship captain whose father, a former naval grunt (hands-on worker) gets assigned to the same ship, a female assassin (very slick!), a Chinese General struggling to get his strategies approved, a Russian officer who isn't quite sure which side he should be supporting, and more. Some of the characters are rather extreme therefore unrealistic and several are too slightly developed. But a highlight of the story is all of the tech that is described and used as the author explains they are real and available. Some of these, especially the hackers VR type tools, and advanced gunnery, are rather scary. Apparently, the book is full of footnotes supporting tech and other details.
As the story started, there were many character threads that made it a little hard to follow on audio. I was able to settle in to catch most of the shifting scenes and characters. There are some pretty dry segments describing the tech in detail that slows the pacing. Still, I like the military strategy and action, and found the story entertaining. I recommend it to readers interested in modern tech with fictional military intrigue.
Audio Notes:
Rich Orlow does a good job with the narration. He manages the different voices well and does a good effort to keep the pace moving. I tend to think Orlow is a good narrator for military or other thrillers. I will look forward to listening to other books by him.
Source: 1/24/2020 January Audiobooks.com Free VIP selection. This qualifies for 2021TBR and 2021Audiobook goals.