I enjoyed the beginning of this post-apocalyptic series.
America Falls Episodes 1-2
Written by Scott Medbury
Read by Adam Barr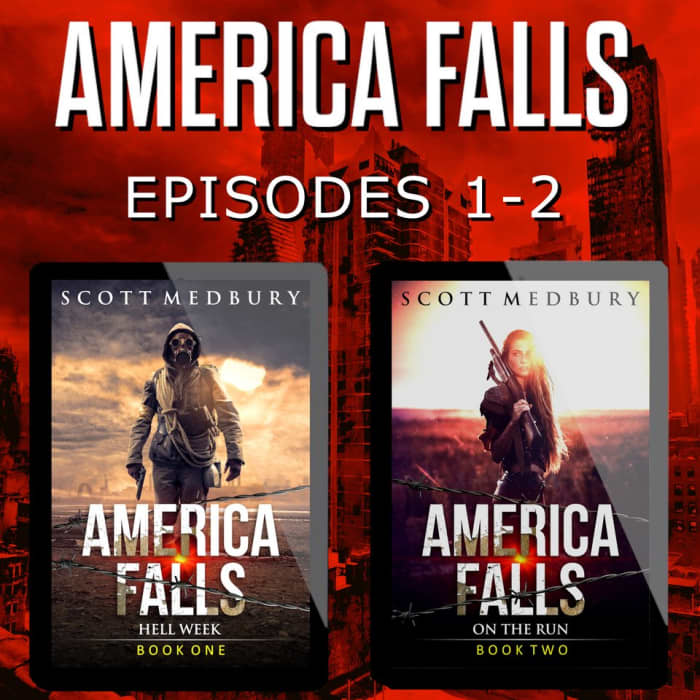 Series: America Falls
Run Time 11h 12min
Release Date: November 28, 2020
Publisher: Scott Medbury
Genre: Dystopian, Post-Apocalyptic
My Rating: 4.0 of 5.0 Overall; Story 4.0; Narration 4.25.


Publisher Description
No Maze. No Zombies. No games.
After a surprise biological attack, America, the most powerful nation on Earth, quickly succumbs, with over 99.5% of the adult population killed. As society unravels and a ground invasion of his country begins, loner Isaac Race must form a connection with a ragtag group of survivors and elude not only the invaders, but other dangers and chaos unleashed in Post-America.
These are the first two action packed episodes of the bestselling AMERICA FALLS, a compelling series about who we are and who we have to become in order to survive.
This audio duet includes: Hell Week and On The Run


Review:
Book 1, Hell Week, introduces the protagonist, Isaac, who isn't even sixteen yet. He has had a rough childhood with many losses – first his parents and later a good foster father. Now all the adults around him have died from a pandemic unleashed by enemy forces. The children struggle to survive as the enemy forces invade America and round them up to use as a local slave force. Isaac has avoided capture and joined with other young people who are in hiding. One of the girls they rescue tells of a refuge she heard of to the north. Initially Isaac is put in position of the leader of his handful of friends until they meet another group with an older, more experienced leader, Sonny.
While dodging the foreign enemy, Isaac and his friends have to scavenge supplies and avoid the competing gangs who rape and kill rather than share. With some unexpected aid, Sonny's group decides to make a daring escape to try to get to the refuge in the mountains. When friends are killed and Sonny is injured, Isaac is once again forced to lead, and he feels the responsibility of making hard decisions.
Book 1 moves right into Book 2, On the Run. Isaac and the group are running with the truck they have, but they are being chased by a gang that they angered. While trying to escape the gang, Isaac and company see an enemy outpost directly ahead. They manage to lead the gang into the hands of the enemy but now Isaac is being chased by two angry enemies, the foreigners and the gang leader. If they can get to the rumored place of refuge before being killed, will they really find help?
I like Isaac as a troubled but determined young man. He quickly discovers that he must do what has to be done to stay alive and keep his friends alive. His companions are an interesting mix, including a brainy classmate and beautiful young girl they rescued. The author provides plenty of excitement with numerous 'last minute' escapes. I am glad I had books one and two together and now I want to continue with book 3. This isn't high level literature, but it has nice relationships and engaging action.

Audio Notes:
Adam Barr does a good job with the narration. He provided sufficiently distinct voices and portrayed the emotional angst of the situations. I am glad I had this on audio.
Source: 2/21/21 Purchase at Chirp $1.99. This qualifies for 2021Audiobook goal and Book 1 was finished as the last book of my 2021 #FraterfestRat.