This is another quick, fun legal mystery that I enjoyed.
Dachshund Through the Snow $2.99
Written by David Rosenfelt
Narrated by Grover Gardner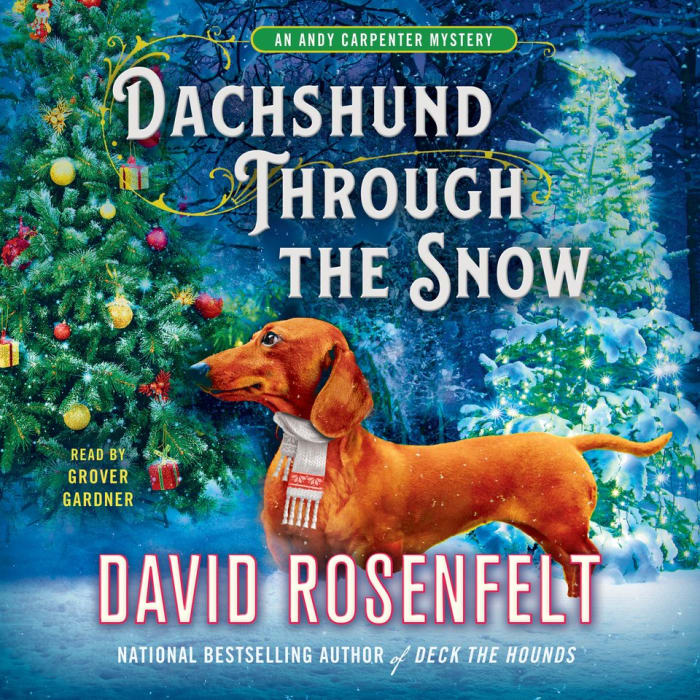 Run Time 6h 43min
Featured in: Christmas
Release Date: October 1, 2019
Publisher: Macmillan Audio
Genre: Crime, Detective, Mystery, Fav Series
My Rating: 4.25 of 5.0 Overall; Content 4.25; Narration 4.5.


This Christmas, lawyer Andy Carpenter and his golden retriever, Tara, can't say no to helping young Danny and his dachshund, Murphy.
Lawyer Andy Carpenter and his wife, Laurie, have started a new Christmas tradition. Their local pet store has a Christmas tree, where instead of ornaments there are wishes from those in need. One poignant wish leads Andy to a child named Danny, whose selfless plea strikes a chord. Danny asked Santa for a coat for his mother, a sweater for his dachshund, Murphy, and for the safe return of his missing father.
It turns out Danny's father doesn't want to be found, he's on the run after just being arrested for a murder that took place fourteen years ago — a murder that Danny's mother swears he didn't commit.
With his trademark humor and larger-than-life characters — including a police officer and his K-9 partner, Simon — Rosenfelt never fails to deliver as Andy and his eccentric crew dash to reunite a family in time for Christmas.


Review:
Andy Carpenter, sardonic, would-be retired lawyer, treats Christmas with the same disdain he treats most things and people other than his wife, son, and dogs. His wife, Laurie, on the other hand, is an avid Christmas fan. This year she begins a new tradition picking a "wish tag" from a Christmas tree at the local pet store. The wish is from a child named Danny who has asked for gifts for his mother and dachshund, and for the safe return of his missing father.
Laurie isn't quite sure how she can meet the third request. But the next day they learn that Danny's father has been arrested for a murder that occurred fourteen years ago. Andy isn't crazy about taking on a murder case, but Laurie thinks they can help. First Andy has to finish a case that involves a police dog, Simon, who needs to retire with his canine handler, Corey, another friend of Laurie's.
As usual, Andy pulls in his investigation team, soon to include Corey and Simon. The crew includes Laurie as an investigator, a research lawyer, Hike, who always adds his negative opinion and view, and Sam, the accountant and computer genius. And of course, the hulking bodyguard, Marcus.
The crime scene is old and does give up many clues. Andy wouldn't have much to go on until Marcus announces that someone has been following him. Then bodies begin to pile up. Now Andy just needs to tie the bodies to the true killer if he wants to get a not guilty verdict for Danny's father.
I always enjoy the legal procedures and unraveling of the crime in these stories. The dogs always add a sweet element to the intrigue. I like that the stories are self-contained although I suggest starting at the beginning to get to know the characters. I recommend this story and the series to fans of mysteries and legal procedures.

Audio Notes:
Grover Gardner does a great job with the narration of this series. He provides good voices and captures the snarky personality of the primary character. I definitely enjoy listening to this series.
Source: Chirp January 2021 $2.99. This qualifies for 2021TBR and 2021Audiobook goals.
My other
Andy Carpenter Series reviews
.