I totally enjoyed this Historical mystery.
A Lady's Guide to Etiquette and Murder
Written by Dianne Freeman
Narrated by Sarah Zimmerman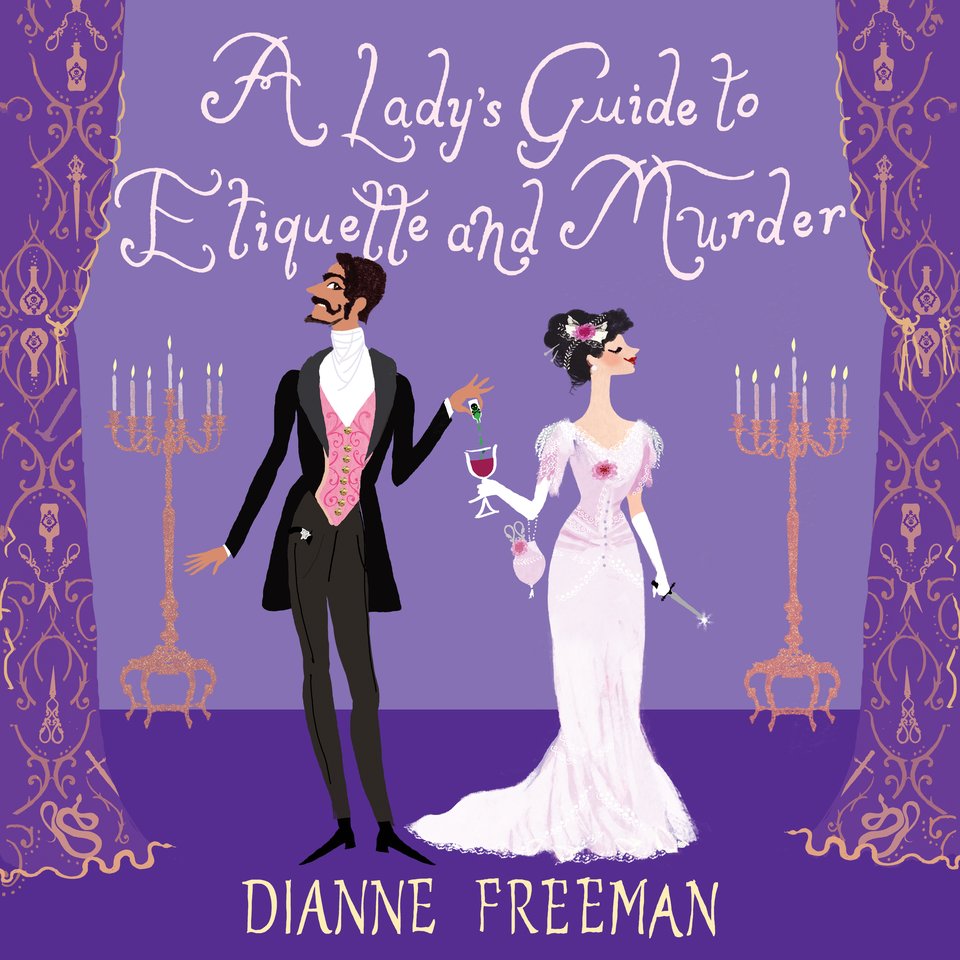 Run Time: 8h5m
Featured in: Agatha Award Winner
Release Date: June 26, 2018
Publisher: HighBridge Audio
Genre: Cozy, Historical, Mystery, Woman Sleuth
My Rating: 4.5 of 5.0 Overall; Story 4.25; Narration 4.5.

Publisher Description
Frances Wynn, the American-born Countess of Harleigh, enjoys more freedom as a widow than she did as a wife. After an obligatory year spent mourning her philandering husband, Reggie, she puts aside her drab black gowns, leaving the countryside and her money-grubbing in-laws behind. With her young daughter in tow, Frances rents a home in Belgravia and prepares to welcome her sister, Lily, arriving from New York—for her first London season.
No sooner has Frances begun her new life than the ghosts of her old one make an unwelcome appearance. The Metropolitan police receive an anonymous letter implicating Frances in her husband's death. Frances assures Inspector Delaney of her innocence, but she's also keen to keep him from learning the scandalous circumstances of Reggie's demise. As fate would have it, her dashing new neighbor, George Hazelton, is one of only two other people aware of the full story.
While busy with social engagements on Lily's behalf, and worrying if Reggie really was murdered, Frances learns of mysterious burglaries plaguing London's elite. The investigation brings death to her doorstep, and Frances rallies her wits, a circle of gossips, and the ever-chivalrous Mr. Hazelton to uncover the truth.


Review:
Frances Wynn is a young widow at the turn of the century, 1899. Frances is an American heiress who married into nobility to become Countess of Harleigh. The marriage didn't turn out as pleasant as she would like so she is glad to be finishing her period of mourning for her wastrel and unfaithful husband, Reggie. She is also ready to leave the Harleigh Estate and her greedy, mooching brother-in-law and sister-in-law.
Frances takes her young daughter and moves into a home in the nice Belgravia neighborhood of London. Her first surprise is to discover that George Hazelton is her next-door neighbor. George is a very nice man, but he is one of two people who knows the true and embarrassing circumstances regarding Reggie's death by heart attack.
Frances doesn't want to seek help from George again, but he is ready and willing to help protect her when the police receive an anonymous letter implying that Frances poisoned her husband. Frances is also coping with a lawsuit by her brother-in-law trying to get control of her funds. The arrival of her younger sister, Lily, for her first season in London might be a problem except she comes baring funds that will help Frances in the interim. Frances' aunt is helpful as Lily's chaperone and a wise guide to Frances.
While trying to protect Lily from unsuitable suitors, Frances becomes involved in the activities of a thief who is taking valuables during the society events. Suddenly Frances, with the help of George, is trying to solve the possible murder of her husband, protect Lily, and uncover a thief.
I really enjoyed the characters, the mysteries, and the turn of the century setting of this story. Frances is a good mix of decorum with the addition of American independence. Most Victorian historicals are before vehicles and telephones so it was interesting to have these elements included in the story. There is attraction between Lily and George but not yet romance. I will definitely be picking up book 2 of the series. I recommend this to readers who enjoy clean, historical cozy mysteries.
Audio Notes:
Sarah Zimmerman does a beautiful job with the narration. I liked the voices and the pacing – all good. I will enjoy listening to more by this narrator.
Source: 9/27/19 Chirp $1.99. This qualifies for 2021TBR and 2021Audiobook goals.