I enjoyed this charming and suspenseful western historical romance.
A Worthy Pursuit
By Karen Witemeyer
Narrated By: Barbara McCulloh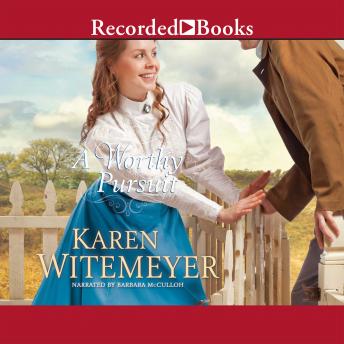 Duration: 11 h 7 min
Date: June 2015
Bethany House Publishers // Recorded Books
Genre: Historical Romance, Inspirational, Romance
My Rating: 4.5 of 5.0 Overall; Content 4.5; Narration 4.5.

Summary:
A teacher on the run. A bounty hunter in pursuit. Can two enemies learn to trust each other before they both lose what they hold most dear? Stone Hammond is the best tracker in Texas. He never comes home empty-handed. So when a wealthy railroad investor hires him to find his abducted granddaughter, Stone eagerly accepts. Charlotte Atherton, former headmistress of Sullivan's Academy for Exceptional Youths, will do anything to keep her charges safe, especially the orphaned girl entrusted to her care. Charlotte promised Lily's mother she'd keep the girl away from her unscrupulous grandfather, and nothing will stop Charlotte from fulfilling that pledge. Not even the handsome bounty hunter with surprisingly honest eyes who comes looking for them. When Miss Atherton produces documentation that shows her to be Lily's legal guardian, Stone must reevaluate everything he's been led to believe. Is she villain or victim? Then a new danger forces Charlotte to trust the man sent to destroy her. Stone vows to protect what he once sought to tear apart. Besides, he's ready to start a new pursuit: winning Charlotte's heart.


Review:
Charlotte is unhappy when the school where she works closes down. She has three special students she wants to protect. Even though she has the rights to take the two boys and young girl, she packs them all up at night, so she won't have to face Lily's powerful grandfather. She knows that the man will look for her but she hopes that she has hidden her charges and her trail.
Lily's grandfather hires Stone Hammond, the best tracker in Texas, to find his kidnapped granddaughter. It has taken some heavy tracking, but Stone has finally found the location of the teacher and orphaned girl. Stone expects to find a wicked school marm using the children as slave labor. Instead, he finds a lovely young woman with three happy children and a protective 'gnome' handyman. Charlotte claims to have documentation appointing her as the legal guardian for Lily. He plans to stay and watch her movements until he gets confirmation of her claims. He is surprised to observe the talents of the teacher and children as he waits.
Meanwhile, Stone has to wonder if Lily may be in danger and if he has inadvertently led the threat to her doorstep. When another danger begins to stalk Charlotte and Lily, will Stone be able to keep the small 'family' safe?
Charlotte is a caring teacher with a beautiful, Christian heart. She is cautious because she has been let down and betrayed in the past. Still, she is ready to offer healing rather than condemnation even to the man who has come to take her precious Lily. Stone is a wonderfully honorable man who has a reputation for getting the job done. But he is willing to protect the innocent when he learns that evil stalks. As he works beside Charlotte, he realizes that her injured heart is 'a worthy pursuit'.
There are some nice musical elements in the story. There is gentle development of the relationship between the characters. The Christian foundation is shown through the steadfast characters without having to be preached. I appreciated the message acknowledging God's control and I enjoyed the suspense that added interest to this lovely story. I want to read more by this author. I recommend this story to fans of clean, historical romance with a touch of danger.

Audio Notes:
Barbara McCulloh does a wonderful job with the narration. I really enjoyed her tone, voices and delivery. It fit well with the story and enhanced my enjoyment of the work.
Source: 6/3/19 Audiobooks.com 2 for one credit with May credit. This qualifies for 2021TBR and 2021Audiobook goals.