I enjoyed this action-packed space adventure, even though a bit far fetched.
The Dauntless
Written by Alex Kings
Narrated by Mark Boyett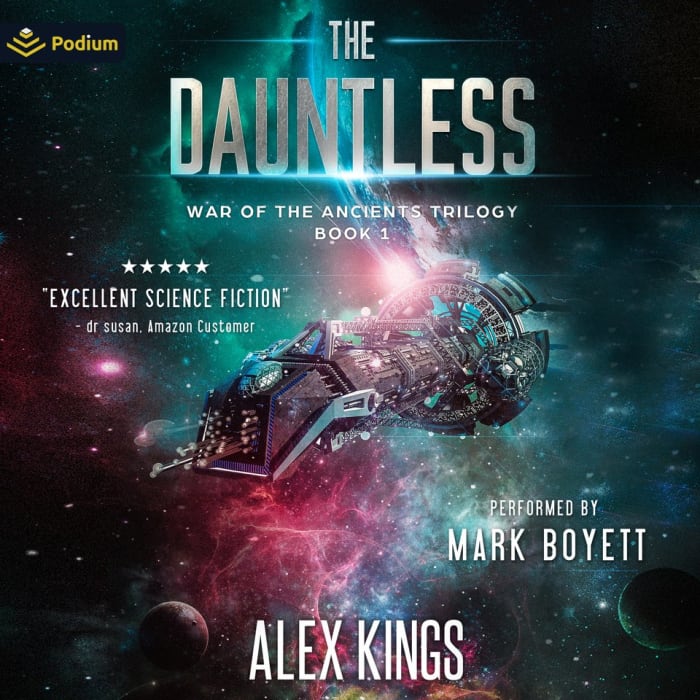 Series: War of the Ancients Trilogy, Book 1
Run Time 8h 34min
Release Date: February 6, 2018
Publisher: Podium Audio
Genre: Military, Science Fiction, Space Opera
My Rating: 4.0 of 5.0 Overall; Content 4.0; Narration 4.25.

Publisher Description An alien fugitive carrying a secret. A mob of relentless assassins sent to stop her. A million-year-old ship from a dead civilisation.
Captain James Hanson of the Solar Alliance Vessel Dauntless knows he has to help. But soon he finds the conspiracy goes deeper than he ever imagined. Hunted down by his own government, he scrapes together a ragtag team and goes hunting for the truth.
He's hounded on every side — from the authorities, from alien warriors, from mysterious, faceless soldiers. From the criminal backwaters of the galaxy to idyllic colonies hiding dark pasts, he uncovers a threat to the entire galaxy. A damaged, renegade ship and its unlikely crew of fugitives, mercenaries, and principled officers is all that stands between mankind and its destruction.


Review:
Captain James Hanson is on a patrol when a small ship jumps in besides him and asks for help and asylum. The Solar Alliance regulations direct that Hanson shouldn't get involved in alien disputes, but Hanson decides he has to step in over the objections of his XO. Hanson manages to save a survivor and learns of a conspiracy that threatens mankind. He reports the allegations to his superior officer but without some tangible proof no action can be taken.
Hanson takes his ship rogue to hunt for evidence. He quickly faces new enemies while a galactic enforcer tries to take his ship and crew into custody. Somehow, Hanson manages to stay one step ahead of the authorities but one step behind the threat. Hanson and a handful of warriors keep trying to sneak into forbidden areas leaving his XO to fend off attacks on the ship. At each encounter his ship takes more damage until it is questionable if they can survive long enough to get their evidence to the right people.
Clearly, they do survive since this is the first book of a trilogy. But that doesn't mean they have stopped the power grabbing enemy. That battle will have to continue.
There is plenty of stealth and battle action in this story. The escapes were rather farfetched, but I liked how the characters had to pull together to get out of the scrapes and corners they found themselves in. This is satisfactorily entertaining and at some point I will look to continue with books two and three in the trilogy. I recommend this to fans of military space opera as an entertaining, if not compelling, story.
Audio Notes:
Mark Boyett is a wonderful narrator and enhanced this book for me. He provides distinct character voices and keeps the pacing and energy in the story. As soon as the narration started, I appreciated the familiar voice.
Source: November 8th, 2020 Chirp Purchase $1.99. This qualifies for 2021TBR and 2021Audiobook goals.