This delightful story moved very quickly.
Secrets of a Summer Night
Written by Lisa Kleypas
Narrated by Rosalyn Landor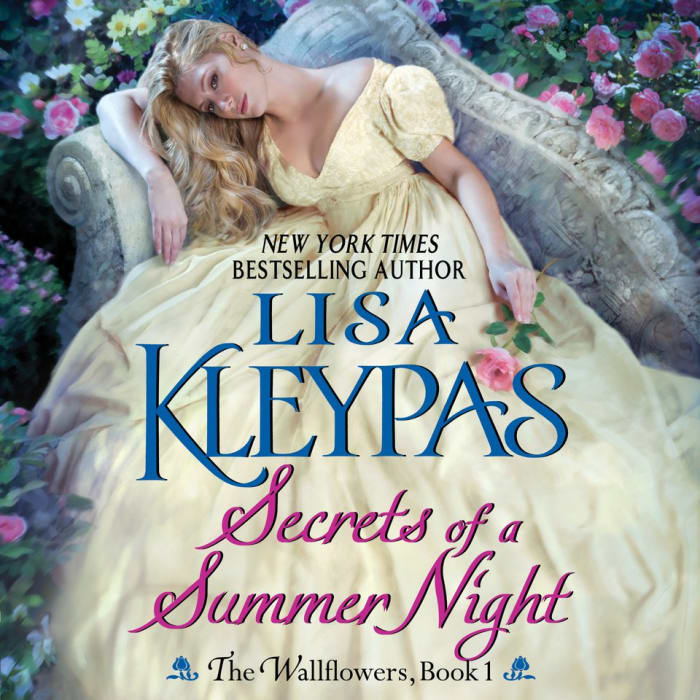 Run Time 8h 35min
Release Date: March 16, 2021
Publisher: HarperCollins
Genre: Historical Romance, Regency Romance
My Rating: 4.5 of 5.0 Overall; Content 4.5; Narration 4.75.

Publisher Description
The Wallflowers
Four young ladies at the side of the ballroom make a pact to help each other find husbands … no matter what it takes
Proud and beautiful Annabelle Peyton could have her pick of suitors—if only she had a dowry. Her family is on the brink of disaster, and the only way Annabelle can save them is to marry a wealthy man. Unfortunately her most persistent admirer is the brash Simon Hunt, a handsome and ambitious entrepreneur who wants her as his mistress.
Annabelle is determined to resist Simon's wicked propositions, but she can't deny her attraction to the boldly seductive rogue, any more than he can resist the challenge she presents. As they try to outmaneuver each other, they find themselves surrendering to a love more powerful than they could have ever imagined. But fate may have other plans—and it will take all of Annabelle's courage to face a peril that could destroy everything she holds dear.


Review:
Beautiful Annabelle has struggled through several seasons but remains a wallflower because she has no dowry. She is being pushed by her mother to marry a wealthy suitor but she hasn't found anyone suitable. Meanwhile, the men figure that eventually she will agree to become a mistress to save her mother and younger brother. Annabelle and three other wallflowers decide to band together to help each other find a husband. Annabelle sets her sights on a mild-mannered young man who is being besieged by many unwed debutantes.
One extremely wealthy man, Simon Hunt, continues to take an interest in Annabelle but he is an on the fringes of good society as an entrepreneur rather than titled nobility. Simon isn't necessarily looking for marriage, but the more he is around Annabelle the more he is drawn to her caring nature. Annabelle is proud and not sure if society will really accept someone like Simon, in spite of his money and good looks. But as they spend time together she begins to wonder what it would be like to be more intimate with him.
I enjoyed the collaborations of the four wallflowers, but I enjoyed the 'push and repel' attraction between Annabelle and Simon. I'm not sure I agree that Annabelle should have remained silent as long as she did, but it fit the story plot. I had forgotten how much I enjoy this type of historical romance with its society intrigues and sensual romance. I am looking forward to the next book in the series for Autumn (
It Happened One Autumn
).
Audio Notes:
Rosalyn Landor is a wonderful narrator for this genre. She presents engaging, distinct voices, and strong energy fitting the emotions. The audio enhanced my enjoyment of this story.
Source: July 2021 Purchase at Chirp for $1.99. This qualifies for 2021TBR, 2021Audiobook, and 2021Season goals.