This is another charming Historical/Regency Romance by an author I like.
The Trouble with Dukes
Windham Brides, Book 1
By: Grace Burrowes
Narrated by: James Langton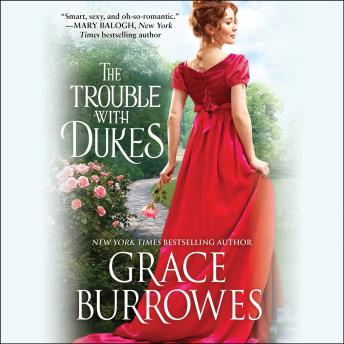 Series: Windham Brides, Book 1
Length: 9 hrs and 56 mins
Release date: 12-20-16
Publisher: Hachette Audio
Genre: Historical Romance, Regency Romance, Scottish Romance
My Rating: 4.25 of 5.0 Overall; Content 4.25; Narration 4.25.

Summary:
From the New York Times bestselling author of the beloved Windham series comes 'a wonderfully funny, moving romance,' (Eloisa James) perfect for fans of 'sexy heroes, strong heroines, intelligent plots, [and] enchanting love stories' (Mary Balogh).
THEY CALL HIM THE DUKE OF MURDER... The gossips whisper that the new Duke of Murdoch is a brute, a murderer, and even worse--a Scot. They say he should never be trusted alone with a woman. But Megan Windham sees in Hamish something different, someone different. No one was fiercer at war than Hamish MacHugh, though now the soldier faces a whole new battlefield: a London Season. To make his sisters happy, he'll take on any challenge--even letting their friend Miss Windham teach him to waltz. Megan isn't the least bit intimidated by his dark reputation, but Hamish senses that she's fighting battles of her own. For her, he'll become the warrior once more, and for her, he might just lose his heart.


Review:
Megan Windham is not the lead debutante although she is part of a wealthy, noble family. She is attractive, but short, a little feisty and her poor eyesight requires she wear glasses. She has not yet chosen a match but there is a particular, bullying man who is sniffing at her heals. She has secrets that make it awkward for her to refuse the attentions of Sir Fletcher. Megan is grateful to have Colonel, now Duke, Hamish MacHugh, step up as a buffer holding Fletcher at bay.
Hamish has terrible memories of the war as attested by his reputation now as the "Duke of Murder". Very few people know the full story and Hamish has allowed the rumors as he expects to be out of London soon. Hamish is remaining in London to help escort his sisters through the London Season. As part of the activities, he finds himself sharing walks and waltzes with Megan. She brings out a softer side in him, but he thinks that she is hiding something that involves Sir Fletcher. The more Hamish sees Fletcher disrespectfully pursue Megan, the more Hamish is inclined to become her champion.
It has been too long since I enjoyed Ms. Burrowes rich romances. She creates engaging characters and threatened scandalous circumstances to overcome. I like the details she provides for society and war elements. I enjoy the friendship evolving into romance which is passionate but not gratuitous.
I thought that I had read and enjoyed earlier books in this series but now realize that I have read many of the Windham series but not the Windham Brides. So, I have more to look forward to. I recommend this author, book, and series to fans of historical romance.
Audio Notes:
James Langton does a fine job with the narration. I was pleased he was able to provide fitting female voices as well as English and Scottish accents. The rich narration added to my enjoyment of the story.
Source: 8/9/18 Two for One Credit Audiobooks.com. This qualifies for 2021TBR and 2021Audiobook goals.
Here is a
Link to other Burrowes' titles I have reviewed
.