This is a good mix of mystery and magic.
Cloak Games: Thief Trap

Written by Jonathan Moeller

Narrated by Meghan Kelly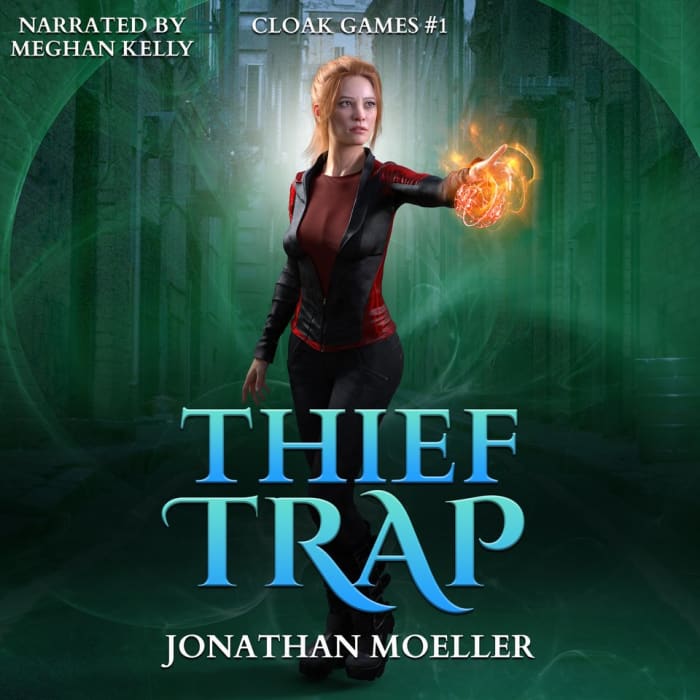 Series: Cloak Games, Book 1
Release Date: May 13, 2019
Publisher: Azure Flame Media, LLC
Genre: Alternate History, Fantasy, Sword & Sorcery, Urban Fantasy
My Rating: 4.25 of 5.0 Overall; Content 4.25; Narration 4.25.

Publisher Description
In 2013, a gate to another world opened, and Elves used their magic to conquer Earth, crushing all resistance before them.
Three hundred years after the Conquest, the exiled Elven High Queen rules an orderly but stagnant Earth, with humanity forced to fight in the High Queen's war against the traitors on the Elven homeworld.
Nadia Moran doesn't care about that. She doesn't care about the High Queen, or the Rebels seeking to overthrow her. All she cares about is getting her baby brother the treatments he needs to recover from his potentially fatal disease…and those treatments have a steep price.
Fortunately, Nadia has magic of her own, and she's a very, very good thief.
Unfortunately, the powerful Elven lord Morvilind has a hold on Nadia. If she doesn't follow his commands, her brother is going to die.
Of course, given how dangerous Morvilind's missions are, Nadia might not live long enough to see her brother's death…


Review:
In the world Nadia Moran has grown up in, Earth is governed by the Elves. Nadia's father was an elemental wizard in the Queen's Wizards' Legions. While only a child, Nadia lost her parents to a deadly virus which also struck her infant brother. A powerful Elven lord appeared at the hospital indicating he could save the child but only if Nadia went with him and trained to do his bidding for twenty years. Nadia has trained and attained skills, including some simpler magic spells. She has become a valuable thief, but the missions might not allow her to live the full twenty years.
Nadia's current 'job' is to steal a highly important, ancient book for the Elven Lord. The man who supposedly has the book is a wealthy human who has the protection of another Elven Lord. He lives in a secure mansion which will pose challenges. Nadia has planned her 'break-in' but her plans are interrupted by a strange man. Is he an enemy or a temporary ally?
I liked Nadia's sharp tongue, skills, intuition, and perseverance. There is good intrigue in the plot and engaging adventure and action in stealth and battles against unnatural creatures. I appreciated Nadia's reluctance to align with an unknown force and I enjoyed how the author handled the situation. The story is set 300 hundred years beyond 2013 so it is a bit out of sync that the technology of the world is the same as today. However, this is explained due to impact of magic. This isn't a big issue, I recommend this urban fantasy, and I look forward to reading or listening to more in the series.

Audio Notes:
Meghan Kelly does a good job with the narration. She provides distinct voices and energy that maintains the pace of the story. I would like to listen to more in the series.
Source: 4/18/2020 Free at Chirp. This qualifies for 2021TBR and 2021Audiobook goals.