I am linking with Sunday Post at
Caffeinated Book Reviewer.
What Are You Reading? is where we gather to share what we have read this past week and what we plan to read this week. It is a great way to network with other bloggers, see some wonderful blogs, and put new titles on your reading list.

This week seemed a bit calmer though work was steady. We determined we have mold in our ac ducts at work so we are calling in a company to take care of the problem.
My stocks are still fine although this week was a ride. I hit a high on July 7, then dropped .06% on 7/8. At least.04% was back up on Friday. I don't panic since I have had a 103% gain in 15 months.

Hubby and I enjoyed his July 4th Birthday Cake.
I only used four candles since he doesn't have a lot of air to blow.

We are expecting thunderstorms 4 days this week and partly cloudy days will keep temps just under 90 degrees.


I really liked my listening this past week. I am reading the ebook on the computer because I couldn't get it transferred to the Kindle or phone. I finished three audio books. I posted three reviews and my usual memes.
I visited 18 blogs again last week.
Shout Out
this week to
BOOK OF SECRETS
. Diana is a Gen X book blogger who has been sharing reviews since 2010 on "a little bit of everything — adult, YA, and middle grade."
Audible offerings for free children's titles looks like it is closing June 30.
Audiobooks.com is still sharing free listens for children.
These were last week's posts:
Finished Reading:
1. Audible/Smartphone (ATBR)
Vision in Silver
A Novel of the Others
By: Anne Bishop
Narrated by: Alexandra Harris
Length: 16 hrs and 4 mins
Release date: 03-03-15
Another engaging listen in this series.
Source: 12/16/2020 November Audible Credits.
Click on book title for full description.
2. Audible/Smartphone (ATBR)

Baron Steele
By: Rhett C. Bruno , Jaime Castle
Narrated by: R.C. Bray
This is a quick, fun story about a retired superhero.
Source: Audible Plus Catalog October 2020.
About This Audible Original
Paul Steele, known to the world as Baron Steele, isn't your average masked crimefighter. As a matter of fact, he doesn't even wear a mask. And he doesn't even fight crime anymore. That's for the guys with too much brawn and not enough brain.
No, Steele works in consulting. After having his license revoked by the Guild of Masked Crimefighters, he decided he would scout talent instead. Match up heroes with their villainous counterparts, help the young bucks and buckettes discover their talents and abilities. That sort of thing.
It's all going fine and well until Steele gets a bad cup of coffee. No. Seriously. Day after day, the same little twerp gets his order wrong. From there, it's a downhill spiral into chaos, and Steele finds himself fighting for his freedom in a court of law. Did he really kill a barista over a cup of joe?
Don't miss this hilarious spin on the superhero genre from the number one Audible best-selling duo of Rhett C. Bruno and Jaime Castle.
©2020 Aethon Books (P)2020 Aethon Books
3. Audio/Smartphone (ATBR)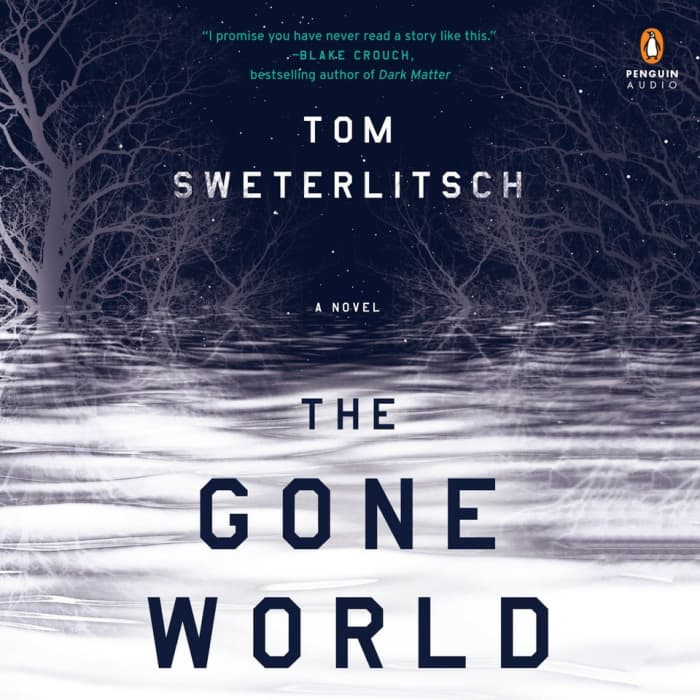 The Gone World
by Tom Sweterlitsch
I had my eyes on this one for a long time.
This is a twisted time travel mystery thriller.
Source: 8/30/2020 Chirp Purchase for $4.99.
Inception meets True Detective in this science fiction thriller of spellbinding tension and staggering scope that follows a special agent into a savage murder case with grave implications for the fate of mankind…
Shannon Moss is part of a clandestine division within the Naval Criminal Investigative Service. In Western Pennsylvania, 1997, she is assigned to solve the murder of a Navy SEAL's family—and to locate his teenage daughter, who has disappeared. Though she can't share the information with conventional law enforcement, Moss discovers that the missing SEAL was an astronaut aboard the spaceship U.S.S. Libra—a ship assumed lost to the darkest currents of Deep Time. Moss knows first-hand the mental trauma of time-travel and believes the SEAL's experience with the future has triggered this violence.
Determined to find the missing girl and driven by a troubling connection from her own past, Moss travels ahead in time to explore possible versions of the future, seeking evidence or insight that will crack the present-day case. To her horror, the future reveals that it's not only the fate of a family that hinges on her work, for what she witnesses rising over time's horizon and hurtling toward the present is the Terminus: the terrifying and cataclysmic end of humanity itself.
Luminous and unsettling, The Gone World bristles with world-shattering ideas yet remains at its heart an intensely human story.
Currently Reading:
1. ebook/Kindle App on Computer (Author2021)

The Alchemy Thief
by R.A. Denny
I am 30% in and eager to see where this time travel goes.
Source: Author review request.
Click on book title for full description.
2. Audible/Smartphone (ATBR)

The Monster Hunter Files
By: Larry Correia, Jim Butcher, Faith Hunter, Jonathan Maberry
Narrated by: Oliver Wyman, Khristine Hvam, Bailey Carr
Length: 13 hrs and 50 mins
I'm in the mood for some snark and monsters.
Source: Audible Daily Deal 4/24/2018 $4.95.
Publisher's Summary
For well over a century, Monster Hunter International has kept the world safe from supernatural threats small and large - and, in some cases, very, very large. Now, join us as MHI opens their archives for the first time. From experienced hunters on their toughest cases to total newbies' initial encounters with the supernatural, The Monster Hunter Files reveals the secret history of the world's most elite monster fighting force.
Discover what happened when Agent Franks took on the Nazis in World War II. Uncover how the Vatican's Combat Exorcists deal with Old Ones in Mexico. And find out exactly what takes place in a turf war between trailer park elves and gnomes. From the most powerful of mystical beings to MHI's humble janitor, see the world of professional monster hunting like never before.
Featuring 17 all new tales based on Larry Correia's best-selling series, from New York Times best-selling authors Jim Butcher, John Ringo, Jessica Day George, Jonathan Maberry, Faith Hunter, and many more.
Also includes stories by Larry Correia, John C. Wright, Jody Lynn Nye, Mike Kupari, and Brad R. Torgersen.
©2017 Larry Correia. All stories 2017 by Larry Correia, except "She Bitch, Killer of Kits" 2017 by Larry Correia and Faith Hunter. (P)2017 Audible, Inc.

3. Print (2021)
July 11, 2021 - I remain on track. I love seeing new things each time I read the Bible. I am glad to still be current with morning reading. I am reading/listening to the NLT Tyndale version of the Bible on You Version App so Hubby and I are reading the same passages each day.
I am through day five of a seven day study:
God Hears us Pray.
I completed three books to review this week.
NetGalley shelf is still at four - 3 old and one new.
Four author titles remain in queue. I'll be working on these
next
soon.
(Plus a few that I received from facebook links and newsletter sign-ups, not specific review requests.)
Still many titles through InstaFreebie and many new author requests I haven't replied to.
Welcome to Mailbox Monday.
Mailbox Monday is a gathering place for readers to share the books that came into their house last week and explore great book blogs. This Meme started with Marcia at A Girl and Her Books (fka The Printed Page) and after a tour of hosts has returned to its
permanent home
at
Mailbox Monday
. Thanks to the ladies sharing hosting duties: Serena of
Savvy Verse & Wit
, me and new to the team, Velvet at
vvb32reads
.
Warning: Mailbox Monday can lead to envy, toppling TBR piles and humongous wish lists.
Small 'mailbox' for me this week. I selected a Read Now graphic ebook from NetGalley
I selected one of my June Audible credits.
No free Kindle titles this week.
(Note these are in my Amazon library, NOT on my Kindle until I download and transfer them.)
Are your mailbox and TBR piles blooming?
NetGalley Book: Every now and then I like to throw in a graphic novel and this looks like a good one.
Hematite
1. Serenade
by Script by Victoria Maderna, Federico Piatti and art by Victoria Maderna, Federico Piatti Europe Comics
NONE
Purchased

7/11/2021 I chose one of my two June Audible Picks. Holding the other for next week in case Hubby asks for a book.
Pretend You're Safe
By: Alexandra Ivy
Narrated by: Jim Frangione
Length: 10 hrs and 21 mins
Release date: 08-29-17
I was in the mood for a romantic suspense choice.
No free Kindle titles this week. Free titles often found at
Bookbub
,
Bookfun
,
Ereader News Today
,
Inspired Reads
,
Pixel of Ink
or
Kindle ebooks
.