This is a twisted time travel mystery thriller.
The Gone World
by Tom Sweterlitsch
Read by Brittany Pressley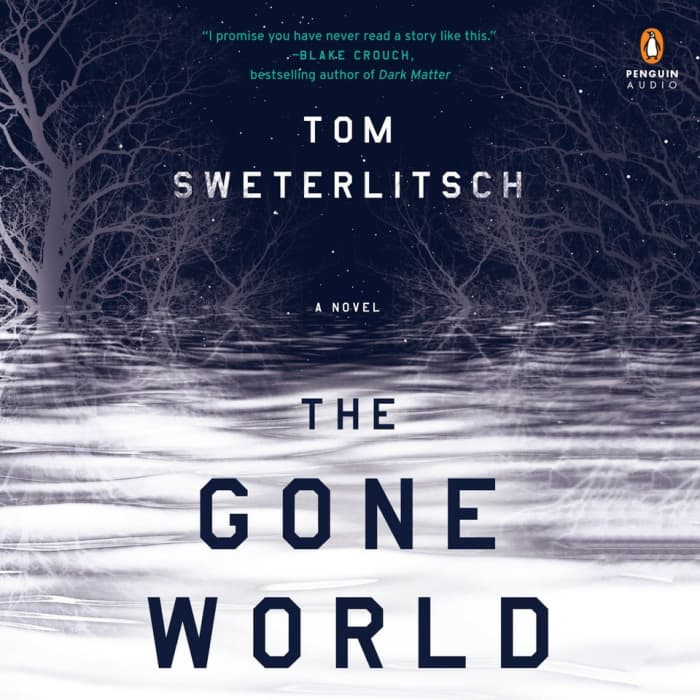 Run Time 13h 38min
Release Date: February 6, 2018
Publisher: Penguin Random House
Genre: Alternate History, Police Procedure, Post-Apocalyptic, Time Travel
My Rating: 4.25 of 5.0 Overall; Content 4.25; Narration 4.25.


Inception meets True Detective in this science fiction thriller of spellbinding tension and staggering scope that follows a special agent into a savage murder case with grave implications for the fate of mankind…
Shannon Moss is part of a clandestine division within the Naval Criminal Investigative Service. In Western Pennsylvania, 1997, she is assigned to solve the murder of a Navy SEAL's family—and to locate his teenage daughter, who has disappeared. Though she can't share the information with conventional law enforcement, Moss discovers that the missing SEAL was an astronaut aboard the spaceship U.S.S. Libra—a ship assumed lost to the darkest currents of Deep Time. Moss knows first-hand the mental trauma of time-travel and believes the SEAL's experience with the future has triggered this violence.
Determined to find the missing girl and driven by a troubling connection from her own past, Moss travels ahead in time to explore possible versions of the future, seeking evidence or insight that will crack the present-day case. To her horror, the future reveals that it's not only the fate of a family that hinges on her work, for what she witnesses rising over time's horizon and hurtling toward the present is the Terminus: the terrifying and cataclysmic end of humanity itself.
Luminous and unsettling, The Gone World bristles with world-shattering ideas yet remains at its heart an intensely human story.



Review:
The government has secrets normal citizens don't know. Sharon is part of a secret criminal unit that has the ability to travel to the future as part of its investigative process. It's easier to capture a killer, and sometimes prevent a crime, if you already know where to look by seeing the future facts.
While investigating a particularly brutal murder involving a Navy SEAL and his family, Sharon learns the SEAL was an astronaut aboard a spaceship U.S.S. Libra which had traveled to Deep Time and was lost. Her further encounters lead to other members of the Libra crew, and she recognizes some of the mental trauma of time-travel that she has experienced first-hand.
Although Sharon is focused on solving the initial crime, and some other related crimes that occur along the way, she soon becomes aware from each trip in time that the Libra has started a chain reaction that will ultimately bring a horrific doom to society. Sharon's investigations result in bringing that fate closer as what begins as a threat thousands of years in the future, moves forward to hundreds of years, then decades and then within two years. Unless Sharon can change the triggering events, the future of the world as she knows it will not exist.
Sharon can't share the details of her special techniques and information with her civilian cohorts and this makes for interesting interactions in the current time and in future encounters. I admit the story is twisted which is fitting for time travel. The author does a good job of dealing with time travel issues of lapsed time and aging. The horrors of the Libra are a bit more contrived and stretch beyond the realms of realism. Although the epilogue is a bit lame, I give the author kudos for creating such an involved, twisted trail of events and bringing the journey back to the surprising start. I enjoyed the mix of time travel, sci fi and mystery. I recommend this to readers who like time travel and mystery, especially if they are prepared for a touch of horror.
Audio Notes:
Brittany Pressley provides an excellent performance on the narration. I quickly was caught into Sharon's life and world with the aid of the narration. Pressley delivers the characters with distinct voices and expression. The narration enhanced the story for me.
Source: 8/30/2020 Chirp Purchase for $4.99. This qualifies for 2021TBR and 2021Audiobook goals.