I am linking with Sunday Post at
Caffeinated Book Reviewer.
It's Monday! What Are You Reading now at
The Book Date (at Wordpress)
.
What Are You Reading, is where we gather to share what we have read this past week and what we plan to read this week. It is a great way to network with other bloggers, see some wonderful blogs, and put new titles on your reading list.
I had a steady week at work. Cleared portions of my desk so I could add other files to work on.
Our weather has been hot and muggy, making me tired at night I think.
I had good reading and listening. I finished two NetGalley eBooks and three audible titles. I posted two reviews on the blog and two on Goodreads. Plus I posted all of my usual memes.
I visited 20 blogs last week.
Shout Out this week to
Girl Who Reads
. Donna has been sharing on books since 2011.
Thank you to all the nice people who visit me.
These were last week's posts:
Finished Reading:
1. Audible Smartphone (2018Audible)
River of Bones
Destroyermen Series, Book 13
By: Taylor Anderson
Narrated by: William Dufris
Length: 17 hrs and 59 mins
This series is great entertainment for me.
My review is linked above.
Source: Audible June Credit.
Click on book title for full description.
2. eBook/Kindle (NG2018)
One Perfect Spring
by Irene Hannon
Ladies Book Club all enjoyed this sweet story full of faith, forgiveness and growth.
I'll post a review and giveaway later this week.
Source: Purchase through Christianbook.com.
Click on book title for full description.
3. Audible Smartphone (2018Audible)
Under a Tell-Tale Sky
Disruption, Book 1
By: R.E. McDermott
Narrated by: Kevin Pierce
Series: Disruption, Book 1
Length: 12 hrs and 11 mins
I selected this Post-Apocalyptic story thinking I needed a "U" but I actually have that one covered.
Still - it's good for a solid TBR listen.
Source: July 2016 Audible Selection.
Publisher's Summary
When a massive solar flare fries the electrical grid, Captain Jordan Hughes' problems are just starting. Stranded far from home with a now-priceless cargo of fuel and a restless crew, Hughes weighs his options as violence worsens ashore and the world crumbles around the secure little world of his ship, the Pecos Trader.
"Wait and see", is not an option. Hughes has to get his ship and crew home, but FEMA arrives with other plans.
Resisting the demands of an increasingly corrupt and self-serving federal bureaucracy, Hughes leads a ragtag band of sailors, preppers, and dissident military personnel on an incredible voyage to reunite them all with home and family - only to find their real journey is just beginning.
©2015 Robert E. McDermott (P)2016 Robert E. McDermott
Currently Reading:
1. eBook/Kindle
Tribal Affairs
by Matt Dallmann
50% in.
This is interesting with alternating world scenes.
My review and giveaway day is 8/16.
Source: iRead Book Tours.
Dahlia, a centuries old genie, lies hopelessly trapped in a damaged golden locket charm attached to an ankle bracelet. Its owner, sixteen-year-old Liana, wears it for the first time during her father Jamison's opening night illusion spectacular. Not only does its presence cause Jamison to folly his performance, but it also starts a chain of bizarre events that lead to a showdown with Dahlia's mortal enemy, Stefan, and an unsuspecting romance between Liana and his son.
2. Audible Smartphone (2017 Christian Audio)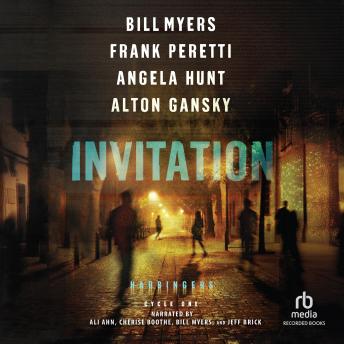 Invitation
Written By: Alton Gansky, Angela Hunt, Bill Myers, Frank Peretti
Narrated By: Bill Myers, Ali Ahn, Cherise Boothe, Jeff Brick
Duration: 9 hours 5 minutes
This format sounds interesting - four Christian authors sharing the story from each character's viewpoint.
Source: ChristianAudio Sale Summer 2017.
Summary:
In the first cycle of the Harbinger series, four strangers discover they have extraordinary gifts and are brought together to fight a growing darkness. Meet the members of the Harbingers team--each written by an acclaimed author--in four linked episodes! Fast-paced and ongoing, this thrilling suspense collection reads like your favorite TV series. Four Bestselling Authors Team Up for Thrilling Supernatural Suspense Gathering four stories from four bestselling author friends, Invitation is the first collection in the ongoing Harbingers series. In "The Call" by Bill Myers, four strangers are drawn together to help a student at the mysterious Institute for Advanced Psychic Studies. His gifts are supposedly being honed to assist world leaders . . . but there are some very disturbing strings attached. Frank Peretti's "The Haunted" confronts a supernatural mystery, a case of murder, and an exploration into the darkness of the human heart, all centering around a mysterious house. In Angela Hunt's "The Sentinels," animals around the world are mysteriously dying. What could it mean? When the tragedy begins to touch Andi's dreams, she discovers a terrifying theory. "The Girl" by Alton Gansky is a gripping tale of a young barefoot girl found holding a scroll in the snowy Oregon mountains. She is sweet, innocent--apparently not of this world--and something wants to kill her...
3. eBook/Kindle (Author - Review)
Must Love Babies
by Lynnette Austin
This looks very cute.
Source: Author Marketing Experts.
This baby's not the only one in need of a cuddle...
Brant Wylder is a bachelor and loving it! He's in Misty Bottoms, Georgia, property-hunting for his vintage car repair shop when he gets the call. His sister's been in an accident, and Brant has to drop everything and take care of his five-month-old nephew. That's the end of the bachelor lifestyle.
Bridal boutique owner Molly Stiles is all business all the time, until she sees that Brant's in trouble. In this Southern town, nobody ever has to go it alone. And besides, how can she resist that beautiful baby in the arms of a beautiful man...?
August 12, 2018 - I am still enjoying the prayer app which gives me five prayer groups each morning! I continue on track with my morning reading the One Year Bible plan on my smartphone. You can check out audio of the One Year Bible Plan on the
companion commentary online
.
I completed only 3 books and 3 reviews. That leaves me with two reviews to post.
I still need to find time to keep adding reviews to Goodreads, Amazon and Audible.
My NetGalley shelf is at 12. I now have two author titles in queue and two more review titles. Still many through InstaFreebie and many new author requests I haven't replied to.
Welcome to Mailbox Monday.
Mailbox Monday is a gathering place for readers to share the books that came into their house last week and explore great book blogs. This Meme started with Marcia at A Girl and Her Books (fka The Printed Page) and after a tour of hosts has returned to its
permanent home
at
Mailbox Monday
. Thanks to the ladies sharing hosting duties: Leslie of
Under My Apple Tree
, Serena of
Savvy Verse & Wit
and (yours truly).
Warning: Mailbox Monday can lead to envy, toppling TBR piles and humongous wish lists.
I didn't pick up any review books this week.
I resisted the Audible Daily Deals but selected an audio at Audiobooks.com with July credit.
I will be looking for my two Audible credit titles this week.
I only picked up a handful of free kindle titles this week. (Note these are in my Amazon library, NOT on my Kindle until I download and transfer them.)
Are your mailbox and TBR piles blooming?
NONE
NONE
Purchased
I picked up one audio title at Audiobooks.com with July credit.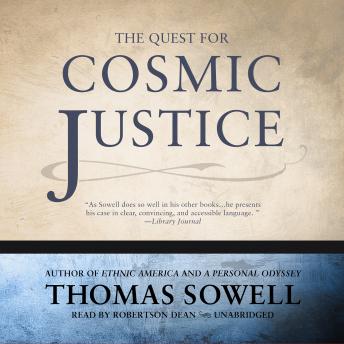 The Quest for Cosmic Justice
by Thomas Sowell
"This book is about the great moral issues underlying many of the headline-making political controversies of our times."
I added only 10 free titles to my Kindle library this week - not much time for free downloading. Titles found linked through Bookbub, Bookfun, Ereader News Today, Free Par-tay, Ignite Your Book, Inspired Reads, Pixel of Ink or Kindle ebooks.