This is entertaining and an easy listen.
Invitation
Written By: Alton Gansky, Angela Hunt, Bill Myers, Frank Peretti
Narrated By: Bill Myers, Ali Ahn, Cherise Boothe, Jeff Brick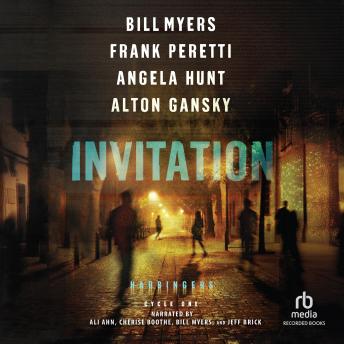 Series: The Harbingers Series, Book 1
Length: 9 hrs and 4 mins
Unabridged Audiobook
Release date: 04-04-17
Language: English
Publisher: Recorded Books
Genre: Christian, Collection, Mystery, Sci Fi, Supernatural
My Rating: 4.25 of 5.0

Summary:
In the first cycle of the Harbinger series, four strangers discover they have extraordinary gifts and are brought together to fight a growing darkness. Meet the members of the Harbingers team--each written by an acclaimed author--in four linked episodes! Fast-paced and ongoing, this thrilling suspense collection reads like your favorite TV series. Four Bestselling Authors Team Up for Thrilling Supernatural Suspense Gathering four stories from four bestselling author friends, Invitation is the first collection in the ongoing Harbingers series. In "The Call" by Bill Myers, four strangers are drawn together to help a student at the mysterious Institute for Advanced Psychic Studies. His gifts are supposedly being honed to assist world leaders . . . but there are some very disturbing strings attached. Frank Peretti's "The Haunted" confronts a supernatural mystery, a case of murder, and an exploration into the darkness of the human heart, all centering around a mysterious house. In Angela Hunt's "The Sentinels," animals around the world are mysteriously dying. What could it mean? When the tragedy begins to touch Andi's dreams, she discovers a terrifying theory. "The Girl" by Alton Gansky is a gripping tale of a young barefoot girl found holding a scroll in the snowy Oregon mountains. She is sweet, innocent--apparently not of this world--and something wants to kill her...


Review:
Four strangers are pulled (or called) together to meet in one dangerous situation. After that they are pulled together again to face other supernatural circumstance.
"The Call" by Bill Myers introduces all four characters. It is written from the perspective of Brenda, a street raised, brash tattoo artist who happens to draw images of visions she sees effecting her customers. The four characters come together as they try to help a student trying to escape from a mysterious Institute for Advanced Psychic Studies. The student and characters are faced with their worst nightmare and have to struggle to make it out of the grounds safely.
"The Haunted" by Frank Peretti finds the professor, a former priest who now argues in favor of logic rather than faith, facing a mysterious haunted house which appears and disappears, trapping it's victims in their own evil pasts. His assistant, Andi, Brenda and Tank, are all drawn to the location to help solve the mystery and keep the professor from becoming a victim. During their creepy encounters they discover a little boy, Daniel, with an imaginary friend who protects him.
Angela Hunt focuses on Andi in "The Sentinels". Andi is the professors brilliant, geeky assistant who sees mathematical and natural patterns. Animals around the world are mysteriously dying and soon there are birds plummeting from the sky and dead fish littering the beach near Andi's vacation house. The professor flies in Tank and Brenda, with Daniel in tow, to help solve another mystery. Daniel quickly forms a bond with Andi's dog who is at risk of the killing phenomenon. Hopefully Tank's gifts can help while Andi tries to unravel the mystery.
Finally, "The Girl" by Alton Gansky, gives us more of Tank's background. Tank is a country boy jock excited to get a football scholarship until he realizes his soft heart doesn't like hurting other players. He is sweet, caring and has a gift for healing. He and his uncle try to locate a barefoot girl in the cold snow. They discover that she is not what they think, more than they expect and in danger from unknown creatures. The other members of the team are called in to help face another supernatural occurrence.
I imagine it is not a simple thing for four authors to write of four characters and four situations and still make them fit seamlessly. The introduction noted the authors' approach which was to have an overall storyline with episodes featuring each character – similar to a TV series. I found the work impressive for that achievement. I also enjoyed the four characters, the different stories and the gentle faith elements that are interwoven with the supernatural aspects.
I have read and enjoyed novels by three of these authors; Alton Gansky is new to me. I would be interested in reading more of this collaborative team as they use their gifts to fight an encroaching darkness. I recommend this to readers who enjoy supernatural mysteries and gentle faith elements.
Audio Notes:
The four narrators, Bill Myers, Cherise Boothe, Ali Ahn, Jeff Brick each do a good job with the story presentations. The two females narrate the female character stories and the males narrate the male views. I enjoyed all four efforts which kept the work interesting. The narration enhanced my enjoyment of the book.
Source: ChristianAudio Sale Summer 2017. This qualifies for 2018TBR and 2018 Audiobook Challenge.