Hello again and Welcome to Sharing Beyond Books, SBB!
I had a busy work week but my evenings have been okay. Our weather warmed a little bit. I still have lots of preparations left for the holidays. We are looking forward to our Choir Christmas Program tomorrow morning.
Thanks to everyone who commented last week.
Only three of 16 do not read some category romance. A couple didn't realize that they read the genre until they saw the lists and authors. :-) There was a good variety of authors mentioned.
The Winner from
SBB #230
comments is:
#

7

Rubynreba
who can make a GC choice if international or book choice from the Updated ARC/Review titles or (not yet updated) Love titles -
all linked near the end of the post.
I'm hoping to update the book choices - maybe the beginning of next year, lol. Please let me know your choice by completing the
(new) WINNER FORM.
WEEK #2

31
(One Question.)
Sue asks: 1) Do you have a favorite family heirloom Christmas ornament??
I wish I had prepared this early and maybe I could have taken some pictures. We have several favorite heirloom ornaments.
1) My mother had glass ornaments which we divided in 1972 so we each have a half dozen or so.
2) My husband has homemade ornaments (Styrofoam, pin cushion, Battenberg lace, beaded) ornaments from his mother and stepmother.
3) My husband and I have an angel topper given to us when by a friend for our first Christmas - might be considered "vintage" I guess.
4) We collected special Christmas ornaments over the years and I have picked up ornaments on our cruises/travels to serve as memories.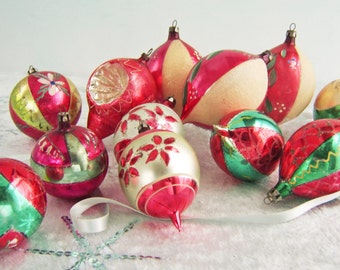 1) Vintage Glass Ornaments - Image found at Etsy.
2)Styrafoam homemade ornaments - Image from Pinterest.
3)Pincushion homemade ornaments - Image from Countryliving.
Thanks to those who are sending in Questions.
DON'T BE SHY!
Surely everyone has a Q or two you'd like to ask. Input suggestions in this
Suggested Question Form
. At the end of each month I draw from the suggestions I used during the month and that person will get a book choice or GC. I thank everyone for submitting questions.
Thanks for sending in questions!
The supply of questions is dwindling so share some if you think of any -- even if they are duplicates I'll weed through or try to modify to use.
Your turn to share:
Sue asks: 1) Do you have a favorite family heirloom Christmas ornament??
SBB Comment Winners can choose a selection from the
Valentine and "Love" books
or the
February 2015 Newly Updated ARC/Review List
. (My daughter pulled several of the Christmas titles to give with gift bags we made up for the nursing homes. One of these days I will get together a new box of Christmas titles.)
SBB Rules:
a) Must be a follower.
b) Share a comment on the question above.
Open internationally and an international winner may get a smaller book or a $5.00 GC if I decide the mailing is too much.
I will pick a Comment winner from all comments made through Saturday December 1

9

, 2015 at 5 PM central.