This collection is Delightful!
The Christmas Heirloom: Four Holiday Novellas of Love Through the Generations
Written By: Kristi Ann Hunter, Sarah Loudin Thomas, Becky Wade, Karen Witemeyer
Narrated By: Pilar Witherspoon, Liz Pearce, Stephanie Cozart, Emily Pike Stewart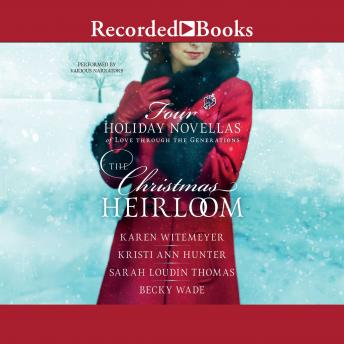 Duration: 12 hours 53 minutes
Release date: 10-04-18
Publisher: Recorded Books
Genre: Christmas, Collection, Historical, Inspirational, Religious, Romance
My Rating: 5.0 of 5.0 Overall; Story 5.0; Narration 5.0.

Summary
In Kristi Ann Hunter's 'Legacy of Love,' Sarah Gooding never suspected returning a brooch to an elderly woman would lead to a job . . . and introduce her to the woman's grandson, a man far above her station. In Karen Witemeyer's 'Gift of the Heart,' widow Ruth Albright uses the family brooch as collateral for a loan from the local banker. But the more she comes to know the man behind the stern businessman, the more she hopes for a second chance at love. In Sarah Loudin Thomas's 'A Shot at Love,' Fleeta Brady's rough-and-tumble childhood means she prefers hunting to more feminine activities. She never expected her family's brooch might be how a fellow hunter turns her attention from competition to romance. In Becky Wade's 'Because of You,' Maddie Winslow has spent years in love with a man whose heart was already spoken for. When a church Christmas project brings them together and she stumbles upon an old family brooch, might it finally be her turn for love?


Review:
There are four lovely stories here that celebrate love at Christmas time. The stories are connected by a family brooch that was given originally by a man to show his love for his wife.
The first story,
Legacy of Love
, is set in 1827, Lancashire, England. When the giver of the brooch died, the wife became the Dowager Countess of Densbury The arrogant wife of the eldest grandson had little use for the dowager's lower class companion, Sarah. When the daughter-in-law took over the main home, she pushed the dowager and Sarah to a smaller property right before Christmas. The third son in the family was particularly close to his grandmother and took the time to visit as they prepared for the holiday. He shares time with Sarah as they take care of the ailing woman. As the grandmother prepares her last Christmas gifts for her staff, she gifts her precious, beloved brooch to Sarah.
In
Gift of the Heart
, widow Ruth Albright struggles to make a home for herself and her young daughter in 1890 Hope Springs, Texas. Ruth refuses to sell the family broach but instead she approaches her landlord, who owns the local resort and many other properties in town. She asks for a loan with the brooch as collateral. The wealthy businessman has a disability that has kept him set apart from most people. But this brave young woman isn't fazed by his disability, and he finds great respect for Ruth and her adorable daughter.
Next, in
A Shot at Love
, the brooch is passed by an Aunt to her tomboy niece, Fleeta. Set in 1958 West Virginia, Fleeta thinks perhaps she can live a life on her own terms by opening a gun shop. She doesn't plan to marry as she has never met a man who appreciates her independence and who interests her. Then she meets a fellow hunter visiting from the south and her heart changes.
Finally, in the 1980s, the brooch appears in Merryweather, Washington. In
Because of You,
Maggie has been in love with Leo since college days. But her best friend snagged him first and, even though he is a widow now with a young son, Maggie doesn't feel she can betray her best friend. Maggie and Leo are assigned to work together for a church Christmas project. While pulling out family ornaments, she discovers a special family brooch. Can the special brooch help Maggie find love as it has the women of her past?
I think my favorites were the first two, but each story is delightful. I really enjoyed how the brooch played a part in each romance and how each romance culminated at Christmas. There is a very lowkey element of faith that added to my enjoyment. I recommend this to anyone needing and uplift of gentle romance at Christmas.
Audio Notes:
The four narrators, Pilar Witherspoon, Liz Pearce, Stephanie Cozart, and Emily Pike Stewart, do a wonderful job on the presentation. The voices fit each story. The audio enhanced my enjoyment of these stories.
Source: December 2020 Two for One Credit at Audiobooks.com. This qualifies for 2022TBR and 2022Audiobook goals.