This is a quick, light, rather zany story.
#FRATERFEST-5.
Eli Carter and the Ghost Hackers Books 1-3 Series Boxed Set
Written by Angela Pepper
Narrated by John Pirhalla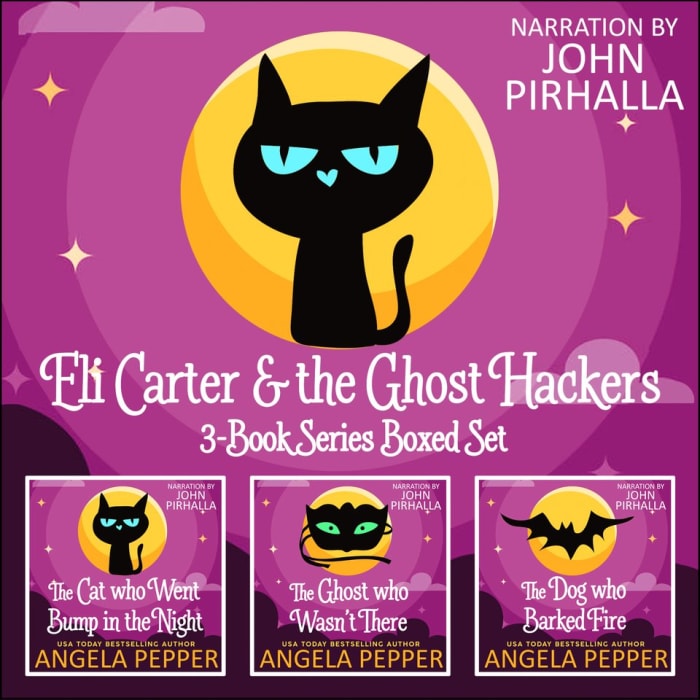 Run Time 10h 35min
Release date: 08-20-20
Publisher: Angela Pepper
Genre: Cozy, Fantasy, Private Investigator, Supernatural
My Rating: 4.0 of 5.0 Overall; Story 4.0; Narration 4.0.

BOOK 1: The Cat Who Went Bump in the Night.

Eli Carter is a smart (yet strange) guy trapped in a dead-end career. When he meets smooth-talking Khan Hart, a self-proclaimed necromancer, he's given the opportunity to become a hero. As soon as he takes the job working for Ghost Hackers, Eli's life takes a turn for the paranormal. For starters, something under his bed is trying to kill him. Now Eli must team up with Khan, face down his fears, and kick the butt of one very strange ghost.


Review:
The blurb covers the summary of characters and events pretty well. Eli is a rather nondescript guy with a girlfriend who is controlling and not likeable by me. I hope he loses her along the way. There is craziness in the mix from the cat-like monster that sits on Eli's chest at bedtime to the elderly man who thinks something is wrong with his microwave. Eli doesn't really understand the assignment on his first night out, so he misses the evidence. Yet he returns and stumbles upon a resolution.
This is a quick, easy listen. It is a little confusing but fun. I recommend that fans of paranormal give this a try. I have the box set so I will listen to more.
Audio Notes
: John Pirhalla did a good job with the narration. His voice is young and energetic. His delivery enhanced the story for me.
Source: 9/11/2021 Chirp Purchase $.99. This qualifies for 2022TBR and 2022Audiobook goals.