This is a well dramatized story of biologists and divers chasing a sea monster (and it chasing them).
#FRATERFEST-7.
What Lurks Beneath [Dramatized Adaptation]
Written by Ryan Lockwood
Narrated by Collected Narrators: A full cast
Andy Brownstein, Colleen Delany, David Jourdan, Dawn Ursula, Deidra Starnes, Dexter Hamlett, Ericka Rose, Evan Casey, James Konicek, James C. Lewis, Ken Jackson, Kenyatta Rogers, Michael Glenn, Michael John Casey, Nanette Savard, Nanna Ingvarsson, Patrick Bussink, Richard Rohan, Scott McCormick, Thomas Keegan, Yasmin Tuazon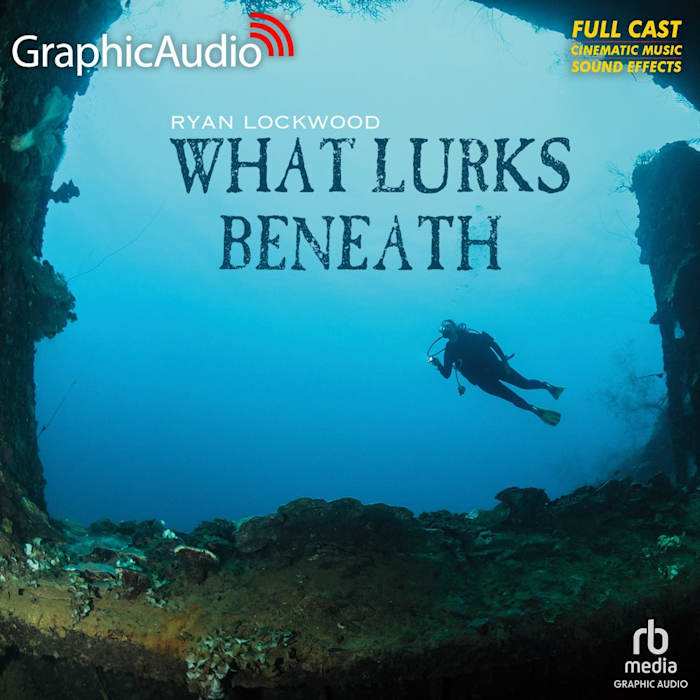 Run Time 6h 41min
Release Date: June 3, 2020
Publisher: GraphicAudio
Genre: Horror, Science Fiction
My Rating: 4.0 of 5.0 Overall; Story 4.0; Narration 4.0.


Publisher Description
A new breed of terror that rises from the depths of the ocean. To hunt. To devour. To kill.
The first attack occurs in the underwater caverns of the Bahamas. Two professional divers exploring the unknown. A monstrous flesh-ripping predator they never see coming.
Now the attacks are coming closer and closer to shore. A sun-soaked playground for sea-loving tourists. A human feasting ground for whatever lurks beneath.
Now, in a desperate race against time, Eric Watson, an expert on remote control underwater vehicles, and marine biologist Valerie Martell, must identify a savage new species of killer—and piece together one of nature's most horrific mysteries. But the most terrifying discovery of all waits for Val and her team at the bottom of the sea. A discovery too shocking, to comprehend.
Because up till now, this creature existed only in mankind's darkest nightmares. Not anymore.


Review:
Valerie is a biologist who specializes in studying cephalopods —squids and octopuses. She is having a bad week as the most recent study specimen has just died. Plus, she is struggling with how to resolve her relationship with Will, a diver, who has spent the last year falling into the bottle. She is preparing to give a project update and knows that her co-worker Eric is getting the better presentation spot.
Eric has been developing a remote control underwater drone vehicle that will help exploring in the deep waters. It is still experimental but very close to use.
Valerie and Eric are called in to investigate underwater caverns in the Bahamas when members of a diving team don't return. There have been local cave divers who have been attacked too. And rumors of sightings of a sea monster akin to the Kraken. When a tourist is snatched from the beach the concern and investigation intensifies.
The author shares this story in alternating chapters which include the prospective of the sea monster. This creates sympathetic feelings for the creature which is behaving as it should – seeking prey and a safe place to have her children.
There is some environmental discussion going on, especially with remarks on government testing in the water with disregard for the impact on the sea creatures. There wasn't clarity to the testing (or results) but the military actions seem to serve more as a catalyst that wakes the sea creature and threatens it.
I enjoyed the interactions between the characters and the sea creatures. There is good action and suspense that kept the story moving well. There were some gaps in the histories of the characters, but I realized after I finished that this is actually a second book in a series (first book
Below
) so the first would have filled in those relationships better. I enjoyed the suspense and intensity of the story and appreciated the different POVs. I suppose it fits with the "horror" genre and I recommend this to fans of deep-sea monsters.
Audio Notes
: There is a full cast of narrators for the dramatization. This worked will and enhanced my enjoyment of the story.
Source: October 27th, 2021 Chirp Purchase $3.99. This qualifies for 2022TBR and 2022Audiobook goals.