I am linking with Sunday Post at
Caffeinated Book Reviewer.
What Are You Reading? is where we gather to share what we have read this past week and what we plan to read this week. It is a great way to network with other bloggers, see some wonderful blogs, and put new titles on your reading list.



Happy New Year 2022!

We only had two official days of work this week since we took Monday, Thursday and Friday off. Tuesday we had cake for two of us in the office who had our birthdays on 12/27.

Heather and I went in on Thursday to fund and record our last closing of the year. I also had to organize my desk as I am preparing for a trial mid January.

This is the only picture I found with my son and daughter and all six grandkids although two are on the edges. We celebrated on Christmas Eve before Santa brought the tree.




I am looking forward to reading in 2022. One resolution I know I will keep: enjoy reading! It is fun starting the year with open season on TBR books. :-)

Our weather got a little too warm last week. We even had to turn on our AC a couple of nights. But we have had rain all day today and tonight it goes back down in the 30s to start a colder week.


It still feels like I am not getting much reading done as a result of being busy and then falling asleep after 5 minutes of listening instead of 15 or more. I enjoyed the one audiobook I finished. I posted three reviews to finish for 2021 and my usual memes (other than Sharing Beyond Books).
I only visited 14 blogs last week.
Shout Out this week to LAURIE READS
. Laurie is "an reader from the Netherlands."
Audible offerings for free children's titles ended June 30.
Audiobooks.com is still sharing some free listens for children.
These were last week's posts:
Finished Reading:

1. Audio/Smartphone (A2021)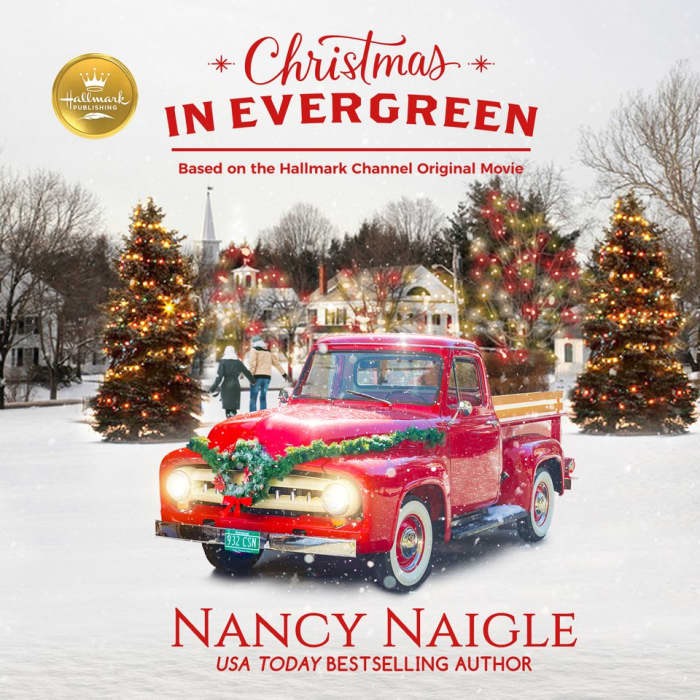 Christmas In Evergreen
by Nancy Naigle
Read by Kathleen McInerney
Run Time 6h 34min
This is another fun "Hallmark" story.

Click on book title for full description; review linked above.
Currently Reading:

1. Audio/Smartphone (A2021)
First Book of the Year 2022.
The Case for a Creator
By: Lee Strobel
Narrated by: Lee Strobel
Length: 10 hrs and 59 mins
Release date: 10-05-04
I've had this ebook and have planned to read this for a while. Now I can listen to it. I am almost half way and enjoying the scientific analysis.
Source: May 18 Purchase at $2.99 with Whispersync.
Publisher's Summary
Discover the astonishing evidence for intelligent design in this New York Times best-selling book by award-winning journalist Lee Strobel.
"My road to atheism was paved by science...but, ironically, so was my later journey to God," Strobel says.
During his academic years, Lee Strobel became convinced that God was obsolete, a belief that colored his journalism career. Science had made the idea of a creator irrelevant - or so Strobel thought.
But today science points in a different direction. A diverse and impressive body of research has increasingly supported the conclusion that the universe was intelligently designed. At the same time, Darwinism has faltered in the face of concrete facts and hard reason. Has science discovered God? At the very least, it's giving faith an immense boost, as new findings emerge about the incredible complexity of our universe.
Join Strobel as he reexamines the theories that once led him away from God. Through his compelling and highly readable account, you'll encounter the mind-stretching discoveries from cosmology, cellular biology, DNA research, astronomy, physics, and human consciousness that present compelling evidence in
The Case for a Creator.
2. ebook/Kindle App on Phone (ebTBR)

I
The After Days Trilogy
(After Days Trilogy #1-3)
by Scott Medbury
I am going to try a Kindle book that I am more interested in and see if I can get it read.
Source: Free Kindle 2017.
The complete After Days trilogy
Fifteen year old Isaac Race has already lost everyone close to him. He is about to lose a lot more. We all are. A mystery outbreak sweeps North America, it is chilling in both its speed and deadliness. The odd thing is though, it is only fatal to adults. Too late, it becomes clear to authorities that the virus is man made - a biological weapon - and that the United States is at war... a war it has already lost.
As his country is invaded and occupied, Isaac must help his ragtag group of survivors find refuge in a world turned upside down. A world full of fear and danger. A world where enemies can be friends and friends... worse than enemies.
Don't miss Scott Medbury's After Days, the dystopian trilogy destined to become a classic.
This version includes:
Affliction
Sanctuary
Attrition
[This is the same or previous edition of America Falls. Affliction and part of Sanctuary became America Falls Book 1, Hell Week and Book 2, On the Run, which I listened to in October 2021. So I have started this in the middle of the book.]
3. Audio/Smartphone (A2021)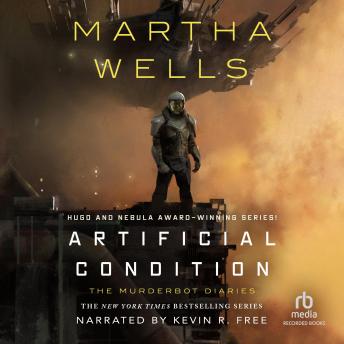 Artificial Condition
By Martha Wells
Narrated By: Kevin R. Free
Duration: 3 h 21 min
I have wanted to continue this series.
Source: 8/28/2021 Two for One Credit at Audiobooks.com.
Summary:
The follow-up to the hugely popular science fiction action-adventure All Systems Red Artificial Condition continues The Murderbot Diaries, a science fiction series that tackles questions of the ethics of sentient robotics. It appeals to fans of Westworld, Ex Machina, Ann Leckie's Imperial Raadch series, or Iain M. Banks' Culture novels. The main character is a deadly security droid that has bucked its restrictive programming and is balanced between contemplative self-discovery and an idle instinct to kill all humans. 'As a heartless killing machine, I was a complete failure.' It has a dark past-one in which a number of humans were killed. A past that caused it to christen itself 'Murderbot.' But it has only vague memories of the massacre that spawned that title, and it wants to know more. Teaming up with a Research Transport vessel named ART (you don't want to know what the 'A' stands for), Murderbot heads to the mining facility where it went rogue. What it discovers will forever change the way it thinks.
January 2, 2022 - I started a new Bible Reading Plan:
BibleProject | One Story that Leads to Jesus
. I know it won't match my Hubby's reading but I wanted some different insights/devotions and I like the look of this project. I am looking forward to keeping up with my reading each day.
I may start smaller studies soon.
I completed one book (and the Bible) and finished all reviews for 2021!
My NetGalley shelf has two old ebooks titles and one new audio which I will listen to soon.
I still have two author titles remaining in queue. They will (obviously) be read in 2022.
(Plus a few that I received from facebook links and newsletter sign-ups, not specific review requests.)
Still many titles through InstaFreebie and many new author requests I haven't replied to.
Welcome to Mailbox Monday.
Mailbox Monday is a gathering place for readers to share the books that came into their house last week and explore great book blogs. This Meme started with Marcia at A Girl and Her Books (fka The Printed Page) and after a tour of hosts has returned to its
permanent home
at
Mailbox Monday
. Thanks to the ladies sharing hosting duties: Serena of
Savvy Verse & Wit
, me and new to the team, Velvet at
vvb32reads
.
Warning: Mailbox Monday can lead to envy, toppling TBR piles and humongous wish lists.

No new review books.
I went on a binge to fill up my TBR shelf before 2022 started.
I picked up two for one credit audiobooks at Audiobooks.com.
I purchased five audio books at Chirp for under $9.00.
I added 10 audiobooks through Audible Plus Catalog!
I got six Kindle books.

Are your mailbox and TBR piles blooming?
NONE
Won

NONE
Purchased

12/31/2021 Audiobooks.com Two for One Credit (these sound like fun cozy mysteries):

A Skeleton in the Family
By Author Leigh Perry
Narrator: Katina Kalin
Duration: 7 h 57 min

The Skeleton Takes a Bow
By Author Leigh Perry
Narrator: Katina Kalin

Duration: 7 h 47 min
I picked up five audiobooks at Chirp for $8.95. Two in a series I like and three authors I want to try.
Tattered Loyalties
Written by Carrie Ann Ryan
Narrated by Gregory Salinas
Run Time 7h 13min
$9.99
$0.99
Winter Hawk
Written by Rachel Grant
Narrated by Nicol Zanzarella
Run Time 4h 57min
$9.99
$0.99
The Fixer Upper
Written by Maggie Mae Gallagher
Narrated by Zura Johnson
Run Time 9h 36min
$19.95
$1.99
The Ordeal of the Haunted Room
Written by Jodi Taylor
Narrated by Zara Ramm
Run Time 2h 36min
$7.98
$1.99
Why is Nothing Ever Simple?
Written by Jodi Taylor
Narrated by Zara Ramm
Run Time 2h 20min
$7.98
$2.99
Free

I did my last minute purchasing and free picks to load up on books for 2022TBR.
Ten Free Audio Books from Audible Plus Catalog.
The first three Maberry books are part of his Zombie series. The fourth is a space adventure.
Zero Tolerance
By: Jonathan Maberry
Narrated by: Ray Porter
Series: Joe Ledger, Book 1.1
Length: 44 mins
Material Witness: A Joe Ledger Bonus Story
By: Jonathan Maberry
Narrated by: Ray Porter
Series: Joe Ledger, Book 1.2
Length: 1 hr and 16 mins
Deep, Dark: An Exclusive Short Story
By: Jonathan Maberry
Narrated by: Ray Porter
Series: Joe Ledger, Book 1.3
Length: 50 mins
Mars One
By: Jonathan Maberry
Narrated by: MacLeod Andrews
Length: 9 hrs and 24 mins
Next are two First Contact Sci Fi.
Then Wild Shore is a post-apocalyptic and the eighth book is a cozy mystery that caught my eye.
Tomorrow's Kin: Yesterday's Kin Trilogy, Book 1
By: Nancy Kress
Narrated by: Marguerite Gavin
Series: Yesterday's Kin, Book 1
Length: 11 hrs and 3 mins
Proxima Rising: Proxima, Book 1
By: Brandon Q. Morris
Narrated by: Edoardo Ballerini
Series: Proxima Trilogy, Book 1
Length: 8 hrs and 58 mins
The Wild Shore: The Three Californias Triptych, Book 1
By: Kim Stanley Robinson
Narrated by: Stefan Rudnicki
Series: The Three Californias Triptych, Book 1
Length: 13 hrs and 25 mins
Dead in the Water: Welcome Back to Scumble River, Book 1
By: Denise Swanson
Narrated by: Tanya Eby
Series: Welcome Back to Scumble River Series, Book 1
Length: 7 hrs and 22 mins
The last two are military action thrillers.
Sons of Valor: The Sons of Valor Series, Book 1
By: Brian Andrews , Jeffrey Wilson
Narrated by: Ray Porter
Series: The Sons of Valor Series, Book 1
Beijing Red: A Nick Foley Thriller, Book 1
By: Alex Ryan
Narrated by: MacLeod Andrews
Series: Nick Foley, Book 1
Six Free Kindle titles:
A New Beginning (Starfire Angels: Forgotten Worlds Book 1)
M.A. Nilles, Melanie Nilles

Hero Unit
JC Bybee

Panacea
C. L. Phillips

Blood & Feathers, Episode 1: North of the Wall
Beth Revis

The Red King: An Urban Fantasy Trilogy (Visions of Darkness Trilogy Book 2)
Krysten Harlow

Smoke and Mirrors: An Urban Fantasy Trilogy (Visions of Darkness Trilogy Book 1)
Krysten Harlow
Other Free titles often found at Bookbub, Bookfun, Ereader News Today, Inspired Reads, Pixel of Ink or Kindle ebooks.