This is a fun story of an unexpected 'hero' in a covert agency hunting mysteries and monsters.
The Atrocity Archives
By Charles Stross
Narrated By: Gideon Emery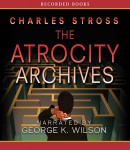 Series: Laundry Files #1
Duration: 11 h 1 min
Publisher: Recorded Books
Genre: Fantasy, Monsters, Paranormal
My Rating: 3.75 of 5.0 Overall; Story 3.75; Narration 4.25.

Summary:
A Hugo Award winner and best-selling author, Charles Stross combines the best elements of science fiction and fantasy. In The Atrocity Archives, a lowly computer geek working for a secret British intelligence agency gets promoted to field service after accidentally saving lives in a disaster. Now he's faced with saving the universe using only his smarts and a disembodied hand that renders him invisible. Stross' award-winning novella, The Concrete Jungle, is also included.


Review:
Bob Howard is a low-level computer geek at a covert government agency. He has plenty to handle in his paperwork and data recovery, and although he might like more challenges, he doesn't plan on being heroic. Then he manages to get noticed by taking right action at the right time. Although his immediate supervisors aren't happy with him, another department head thinks he has potential for "active duty". They commandeer him for a different job to gain information about a British Citizen, Mo, who is 'trapped' in California. Things go awry but again, Bob helps the mission succeed.
On one trip he is sent into the archival library where he finds history of monsters and unspeakable horrors. He and Mo are sent out to lure in a suspected killer. They all get more than they bargained for in a very strange world of monsters. And of course, when he is pulled even further into the covert operations, his coworkers become even more angered.
The story starts a little slowly and it took some attention to follow the story line. Bob is a likeable, if nerdish guy. His difficult relationships with his coworkers are amusing. The atrocity archives are truly awful. I like the mystery and monster hunting, so I enjoyed that part of the story, with aliens/demons as it progressed.
There is a second short story, The Concrete Jungle, that continues the action and some crazy monster mess. I'll keep this series in mind but won't be rushing to get the next books. Fantasy fans who like monster hunting and a bit of zany might want to check this out.
Audio Notes:
Gideon Emery does a nice job with the narration. Gideon captures the lackadaisicalness side of Bob's character. The audio enhanced this book for me.
Source: 3/28/2020 Audiobooks.com Two For One Credit. This qualifies for 2021TBR and 2021Audiobook goal.