This is a delightful listen sharing three romance stories.
Mistletoe Miracles
Written By: Jodi Thomas
Narrated By: Julia Gibson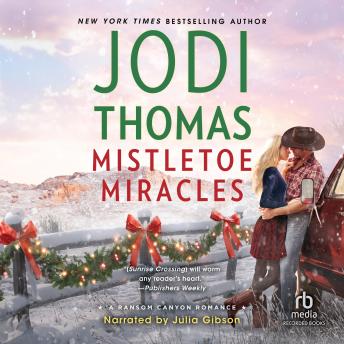 Duration: 9 hours 52 minutes
Date: November 13, 2018
Publisher: Recorded Books
Genre: Christmas, Contemporary Romance, Western
My Rating: 4.5 of 5.0 Overall; Story 4.5; Narration 4.5.


Summary:
A small-town Texas Christmas story, where hearts are lost, love is found, and family always brings you back home. Griffin Holloway is desperate: the Maverick Ranch has been in his family for generations, but lately, it's a money pit. He'd sooner marry one of his horses than sell the ranch. Marriage, though, could be a solution. If he can woo a wealthy bride, he might save the ranch-just in time for Christmas. Jaxon O'Grady likes his solitude just fine, thank you very much. But when a car accident brings the unexpected to his door, he realizes just how much one person can need another. Crossroads is the perfect place for Jamie Johnson: avoiding nosy questions about why she's single, she's happy to keep to her lakeside home. So she's baffled when she gets the strangest Christmas present of all, in the form of a Mr. Johnson, asleep on her sofa. Who is he, and why does everyone think he's her husband? In this uplifting novel, three unlikely couples discover just what Crossroads, Texas, can offer: romance, belonging, and plenty of Christmas spirit.


Review:
Griffin Holloway decides the only way to save the family cattle ranch, Maverick Ranch, is to marry a woman with money. Griffin seeks the help of the Franklin sisters, two elderly spinsters who run a boarding house in town. They agree to match-make but then introduce him to a fancy lady who would seem to be a woman out of his class. Sunlan is the daughter of a rich rancher who finds herself pregnant and in need of a husband to avoid scandal for her father. She is willing to pay off the Holloway note in exchange for a marriage of convenience before Christmas, and the agreement that she maintain sole control of her own small horse ranch. Can they keep things cool, especially after Griffin rushes to help her save her horses from a barn fire?
Jaxon O'Grady is an injured fireman who has become a recluse, a hermit living by himself. He witnesses a woman crash her car and rescues a dog at the scene of the crash. He soon realizes the dog is hers and he decides to take her in while she is recuperating. The problem is Mallory is being hunted by a brutal ex-boyfriend. Jax and Mallory develop a friendship but they have to fend off the threat of her ex. Will their friendship and shared danger be enough to bring Jax out of his isolation?
Jamie Johnson is a single teacher who is tired of having to fend off unwanted advances and friendly set-ups for dates. She has moved to Crossroads pretending to be married to a soldier who is away. Even the hoax of marriage doesn't keep all creeps away. When the local sheriff finds an exhausted soldier walking down a road to town it is only natural to think he is Jamie's husband. Jamie, who was away for the weekend, is surprised to come home and find a man in her house. When she learns that the sheriff delivered Captain James Johnson to her house, she has to figure a way to keep her secret. Maybe they can work out something together until he has to return to his next assignment.
The couples are wonderful even if their situations are somewhat contrived. The Franklin sisters are fun and other side characters (the Holloway brothers and Jax's brother) probably have stories of their own to come. This story alternates between the couples and moves along well. I was glad to have a nice Christmas HEA for all three couples. I recommend this to fans who enjoy HEA, sweet romance.
Audio Notes:
I enjoyed the narration by Julia Gibson. She provided distinct voices and portrayed the characters to fit the story. I would be glad to listen to more books narrated by Ms. Gibson.
Source: December 2020 - Two for one credit at Audiobooks.com. This qualifies for 2020TBR and 2020Audiobook goals.