This is another fun "Hallmark" story.
Christmas In Evergreen
by Nancy Naigle
Read by Kathleen McInerney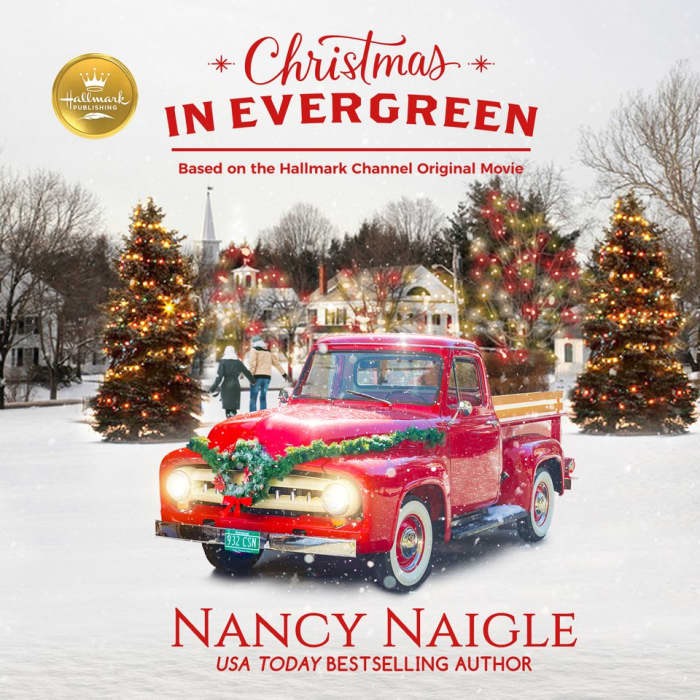 Run Time 6h 34min
Release Date: June 18, 2019
Publisher: Dreamscape Media
Genre: Christmas, Contemporary Romance, Romance
My Rating: 4.0 of 5.0 Overall; Story 4.0; Narration 4.25.


Publisher Description
Evergreen, Vermont is about to be in the rearview mirror of Allie Shaw's vintage red pickup truck. It's hard to say goodbye to her small town and her veterinarian practice, but she's moving to Washington D.C., where her big-city-loving boyfriend lives. Ever since Ryan Bellamy's wife died, he hardly knows how to celebrate Christmas. He's decided to take his daughter Zoe to Florida, and Evergreen is just a quick stop on the way to the airport. While they're there, Zoe partakes in a local tradition, making a Christmas wish on the snow globe at the town diner. But neither Allie's nor Ryan's Christmas goes as planned. They've checked their wish lists twice, and they didn't say anything about meeting someone new…or about a fresh chance at love. This sweet holiday romance includes a free Hallmark original recipe for Vermont Christmas Card Cookies. Includes an exclusive preview of Christmas in Evergreen: Letters to Santa, book two in the Christmas in Evergreen series.


Review:
Allie is a veterinarian in the small town of Evergreen, Vermont, where she has headed the organization of the Christmas Festival for years. But not this year. This year Allie has made arrangements for her customers to call on another vet and her good friend is organizing the festival. Allie is on her way to Washington, D.C. to be with her on again and off again, long-distance beau, Spencer, who wants her to move to the city full time.
Ryan has been raising his daughter Zoe since his wife died. This year, to celebrate the Christmas holidays away from his wife's memories, he has planned a trip to take Zoe to Florida and on a cruise. When the airport is shut down due to the weather, Ryan and Zoe head towards Evergreen. On the way, they run across Allie trying to get her red, vintage truck to start. Allie offers to show Ryan and Zoe around her beloved town.
Zoe is enchanted watching Allie as she helps a farmer's cow give birth to a calf. And Zoe gets to make a wish on the local snow globe and then shares in the excitement of making cookies and decorating stockings. Ryan and Allie make wishes on the globe too, but as they spend more time together, somehow their plans and wishes are changing.
This is true Hallmark fare with the heroine meeting a new man and having to sort out her dreams as well as facing a boyfriend who doesn't share the same interests. Zoe adds a nice element and of course there is Christmas cheer abounding and perhaps a little Santa magic. It is not a Christian story but it is a nice holiday romance. I enjoyed this easy-going story and would be glad to try the cookie recipe. I recommend this to fans of the Hallmark genre.
Audio Notes:
Kathleen McInerney does a nice job with the narration. She provides suitable voices as she conveys the Christmas spirit. I am glad I got to listen to this as my last Christmas story for 2021.
Source: 12/4/2021 Purchase at Chirp for $.99. This qualifies for 2021Audiobook goal and a 2021color title.