This is a sweet children's story about family issues.
Wish
By Barbara O'Connor
Narrated By: Suzy Jackson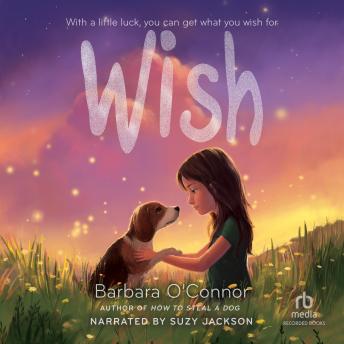 Publisher: Recorded Books
Date: August 2016
Duration: 4 hours 41 minutes
Genre: Children, Family Issues
My Rating: 4.5 of 5.0 Overall; Story 4.5; Narration 4.75.

Summary:
From award-winning author Barbara O'Connor comes a middle-grade novel about a girl who, with the help of the dog of her dreams, discovers the true meaning of family. Eleven-year-old Charlie Reese has been making the same silent wish since fourth grade, hoping that some day it will come true. When her irresponsible parents send her to the Blue Ridge Mountains of North Carolina to live with family members she doesn't know, she needs that wish to come true more than ever. A stray dog, a great friend, and the love of a big-hearted aunt and uncle just might make it happen.


Review:
Charlie is an eleven-year-old who has been placed with an Aunt and Uncle she doesn't know in what she views as a "hillbilly" community. Charlie is angry that her father is in jail and her mother is irresponsible. Charlie is also upset that her seventeen-year-old sister is allowed to stay in her hometown of Raleigh with a school friend.
Charlie expresses her sullenness around her homemaker Aunt, her easy-going Uncle, and even her new teacher. She takes her anger out on other school children in words and sometimes pushes or kicks. Surprisingly Charlie slowly makes friends with a young boy who lives down the lane. Howard has been assigned as her classroom "Backpack Buddy", to show her around. He has a physical handicap which she says results in an "up-down" walk. Howard tries to help Charlie with her anger by giving her a special word to say when she finds her anger rising. Sometimes, when he is nearby, he whispers it into her ear.
At first, Charlie feels the only favorable thing that happens is finding a stray dog. Howard and her guardians help her to capture the cute dog and Charlie is thrilled to have such a loving friend.
Through all of these events, Charlie holds onto the secret of her daily wish. She has learned multiple ways to express a wish even beyond wishing on a four-leaf clover or a shooting star. Even with her persistent wishing, she wonders if her wish could ever come true.
This is a very sweet story of a hurt little girl. The dysfunction of her parents has landed her in the social service system leaving her scared with strangers and feeling abandoned. The story is told from Charlie's view. I learned lots of new ways to make a wish which is fun. It is very wonderful to watch how her life and attitude changes over the months that she remains with her Aunt and Uncle. I do recommend this for middle graders and even younger although parents may want to read or listen first or at least with their child to help address the abandonment and anger issues.
Audio Notes:
Suzy Jackson does an excellent job portraying a little girl. She manages to give voice to the child's confusion, anger, frustration, and fear. I am glad that I listened to the audio version.
Source: July 2019 Audiobooks.com two for one credit pick. This qualifies for 2020TBR, 2020Audiobook and 2020Alphabet goals.