I am linking with Sunday Post at
Caffeinated Book Reviewer.
It's Monday! What Are You Reading now at
The Book Date (at Wordpress)
.
What Are You Reading, is where we gather to share what we have read this past week and what we plan to read this week. It is a great way to network with other bloggers, see some wonderful blogs, and put new titles on your reading list.

I have done some work on and off but am trying to keep it to a minimum so I can enjoy family time. I am playing with the 2 year old twins, reading with all three children and we are playing Uno with the 5 year old. I get to take them for walks (or me walking and them riding their little bikes) after dinner.
The weather here was very hot last week until Friday when rain preceded a cold front. So we went from 90 degrees to 56 degrees.
We will head home later this week but that means I will be without internet again unless I purchase a plan or work through my phone service.


My reading was good with more listening than blogging. I finished one ebook and three audible titles. I posted one review with Giveaway, as well as all of my usual memes.
I visited only 20 blogs again last week.
Shout Out this week to
Words I Write Crazy
, who has cute dogs and plenty of reviews.
Thank you to all the nice people who visit me.
These were last week's posts:
Finished Reading:
1. eBook/Kindle (Review)
2. Audible Smartphone (A2018)
The Watchmaker's Daughter
Glass and Steele, Book 1
By: C. J. Archer
Narrated by: Emma Powell
Series: Glass and Steele, Book 1
Length: 9 hrs and 21 mins
I really liked this and want to get more in the series.
Source: Audible Sale Purchase February 2018.
Click on book title for full description.
3. Audible Smartphone (ATBR)
Genesis: Arisen, Book 0.5
By: Michael Stephen Fuchs
Narrated by: R. C. Bray
Series: Arisen, Book 0.5
Length: 6 hrs and 15 mins
This has strong characters and good action in the zombie genre.
Source: Audible 2017 December Sale Purchase.
Publisher's Summary
Tucked away in a high-tech Tactical Operations Center, inside an isolated safehouse in the Horn of Africa, sits Agency analyst Zack Altringham. He is Kenyan-born, Princeton-educated, badly burnt-out - and condemned by his language and cultural skills to a lifetime of fighting America's shadow counter-terror wars. But when another mystery epidemic breaks out, terrifyingly quickly it reaches a tipping point and chaos descends - and Zack and his team (including two former Team Six SEALs) are trapped between the millstones of the sick and the dying on one side, and heavily armed militias on the other. Soon their "safe" house is in flames, and their only remaining option is to get in their up-armored SUV and try to escape the imploding gravity well of the city, to the safety of the American military base in Djibouti. But by then, will there be anywhere safe left on Earth to escape to?
©2012 Michael Stephen Fuchs (P)2014 Podium Publishing
4. Audible Smartphone (ATBR)
Gallagher's Pride
By: MK McClintock
Narrated by: Alan Philip Ormond
Series: Gallagher, Book 1
Length: 5 hrs and 57 mins
This historical romance was a nice change of pace after the zombie apocalypse listen.
Source: Audible 2017 April $1.99 Purchase.
Publisher's Summary
She was a on a quest of discovery. He was on a quest for revenge. Together they would discover a second chance.
Brenna Cameron travels from Scotland after losing someone she loves in search of family she didn't know existed. Alone now in the world, Brenna makes an arduous journey, following the trail of discovery to Briarwood, Montana. Here she meets Ethan Gallagher, and the rest of the Gallagher clan. Only with their help is she able to discover lost family, heal old wounds and embark on a treacherous confrontation with a man who destroyed her family.
As head of the Gallagher clan, Ethan has more than enough to occupy his thoughts and time-he didn't need the complication of Brenna Cameron and he certainly didn't need the trouble that came with her. Ethan takes on the unwanted duty of self-appointed protector to the headstrong Scot, only to discover there is such a thing as second chances and more to life than revenge.
The Historical Western Romance Montana Gallagher Series:
Book One - Gallagher's Pride
Book Two - Gallagher's Hope
Book Three - Gallagher's Choice
©2012 MK McClintock (P)2014 MK McClintock
Currently Reading:
1. eBook/Kindle (NG2018)
2. Audible Smartphone (A2018)
The Lilac Bouquet
By: Carolyn Brown
Narrated by: Brittany Pressley
Length: 8 hrs and 31 mins
I selected this as an "L" title and
I am enjoying the story at 25% in.
Source: Audible January 2018 Daily Deal $2.95.
Publisher's Summary
Come hell or high water, Emmy Jo Massey will have a wedding. After three generations of Massey women with children out of wedlock, she wants the whole town of Hickory, Texas, to witness the legitimacy of her union with Logan Grady. But dream weddings aren't cheap. So she accepts a highly lucrative stint as a home health assistant to retired realtor, and town recluse, Seth Thomas - a decision her great-grandmother Tandy is dead-set against.
Seth isn't happy about it, either. The eighty-two-year-old doesn't want a "babysitter" - much less a Massey - something he makes clear when Emmy arrives at his house, an empty mansion built for the woman who broke his heart. But as Emmy stays and the two eventually open up to each other, she learns the reason behind a feud between Seth, Tandy, and Logan's grandfather Jesse Grady that goes back six decades. She also uncovers a secret that forever changes how she sees her past and her future...
©2017 Carolyn Brown (P)2017 Brilliance Audio, all rights reserved.
3. Audiobooks.com Smartphone (A2018)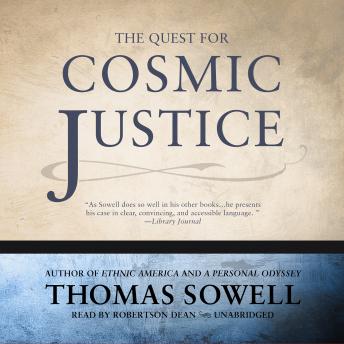 The Quest for Cosmic Justice
Written By: Thomas Sowell
Narrated By: Robertson Dean
Publisher: Blackstone Audiobooks
Duration: 5 hours 52 minutes
This is a "Q" title which I think I will find very interesting.
Source: Audiobooks July 2018 credit purchase.
Summary:
This book is about the great moral issues underlying many of the headline-making political controversies of our times. It is not a comforting book but a book about disturbing and dangerous trends.
The Quest for Cosmic Justice shows how confused conceptions of justice end up promoting injustice, how confused conceptions of equality end up promoting inequality, and how the tyranny of social visions prevents many people from confronting the actual consequences of their own beliefs and policies. Those consequences include the steady and dangerous erosion of fundamental principles of freedom-amounting to a quiet repeal of the American revolution.
The Quest for Cosmic Justice is the summation of a lifetime of study and thought about where we as a society are headed-and why we need to change course before we do irretrievable damage.
4. eBook/Kindle (Tour)
Operation Earth
by Maria Hammarblad
I am looking forward to reading this
sci fi Alien Invasion story.
Source: Review book from Bewitching Book Tours:
Tour date 10/3/18

.
Seven billion people on Earth go about their daily lives, and no one is prepared when a global EMP slows the world to a crawl. Within days alien soldiers line the streets, and life will never be the same. In the midst of chaos, Rachael Hill struggles to adapt to the new order, doing her best to keep herself and her cat alive.
On a ship far above the planet surface, Peter just got his new Earth name, and can't even remember his identity from the last world he visited. It's another day on the job, one more planet on a never-ending list. That is, until Rachael bumps into him, dropping exotic objects all around his feet. His culture taught him females should be obeyed and protected, but he never had an urge to leave himself at a woman's mercy until now.
September 23, 2018 - I enjoy my You Version App where I get to highlight passages and create Biblical images. I am on track with my morning reading the One Year Bible plan on my smartphone. You can check out audio of the One Year Bible Plan on the
companion commentary online
.
I completed 4 books and posted two reviews. That puts me at six reviews to post.
I'm doing pretty good adding current reviews to Goodreads, Amazon and Audible. I still have older ones to catch up on.
My NetGalley shelf is still at 13. I still have one author title in queue . Still many through InstaFreebie and many new author requests I haven't replied to.
Welcome to Mailbox Monday.
Mailbox Monday is a gathering place for readers to share the books that came into their house last week and explore great book blogs. This Meme started with Marcia at A Girl and Her Books (fka The Printed Page) and after a tour of hosts has returned to its
permanent home
at
Mailbox Monday
. Thanks to the ladies sharing hosting duties: Leslie of
Under My Apple Tree
, Serena of
Savvy Verse & Wit
and (yours truly).
Warning: Mailbox Monday can lead to envy, toppling TBR piles and humongous wish lists.
I have no new review titles.
I picked up two Audible Credits, one Daily Deal and five Audible titles at discounted prices.
I also picked up two for one audios at Audiobooks.com.
Plus two free Audibles.
I didn't pick up any Kindle paid titles.
I picked up 19 free kindle titles this week. (Note these are in my Amazon library, NOT on my Kindle until I download and transfer them.)
Are your mailbox and TBR piles blooming?
NONE
NONE
Purchased
9/21/18 Audible Daily Deal $1.95
Noble Beginnings
By: L. T. Ryan
Narrated by: Dennis Holland
Length: 5 hrs and 30 mins
Release date: 10-13-15
9/18/18 AUDIBLE PURCHASES
Two August Credits:
Catalyst Downward Cycle
by J K Franks
Narrated by: Steven Varnum
Series: Catalyst, Book 1
Length: 12 hrs and 8 mins
(Post-Apocalyptic Dystopian.)
Wolves
by D. J. Molles
Narrated by: Christian Rummel
Length: 18 hrs and 19 mins
(I liked this author's
Remaining
Series.)
Purchased at Discounted Prices as I already have the ebook:
$2.95
First Death
A Seventeen Series Short Story #1
By: AD Starrling
Narrated by: Michael Bower
Series: Seventeen, Book 1.1
Length: 44 mins
(**Thriller- A title for FraterFest in October.)
Four at $1.99
Defiance
by William H. Weber
Narrated by: Kevin Pierce
Series: Defending Home, Book 1
Length: 5 hrs and 9 mins
(Post-apocalyptic, Prepper.)
Where Wolves Run
A Novella of Horror
By: Jason Parent
Narrated by: Jonathan Ip
Length: 1 hr and 55 mins
(**Horror- A title for FraterFest in October.)
The Ghost and the Graveyard
Knight Games, Book 1
By: Genevieve Jack
Narrated by: Brittany Pressley
Series: Knight Games, Book 1
Length: 8 hrs and 35 mins
(** A possible title for FraterFest in October.)
Malevolent
Shaye Archer Series, Book 1
By: Jana DeLeon
Narrated by: Julie McKay
Series: Shaye Archer Series, Book 1
Length: 8 hrs and 22 mins
(Psychological Mystery Suspense.)
9/22/18
Audiobooks.com Two for One credit:

Warbreaker
By: Brandon Sanderson
and

The Judging Eye
By: R. Scott Bakker
Don't Mainstream the Alt-Right
by Ben Shapiro
Release date: 11-22-16
I have recently been watching debates with Ben Shapiro and am impressed with how brilliant this guy is.
Free Audible Original
I'm From the Sun
The Gustafer Yellowgold Story
By: Morgan Taylor
Length: 4 hrs and 10 mins
Release date: 10-05-18
I added 19 free titles to my Kindle library this week. Another week of no time even to download free titles. Titles found linked through Bookbub, Bookfun, Ereader News Today, Free Par-tay, Ignite Your Book, Inspired Reads, Pixel of Ink or Kindle ebooks.