This is a YA story with strong, sometimes dark, magic elements.
The Raven Boys
by Maggie Stiefvater
Read by Will Patton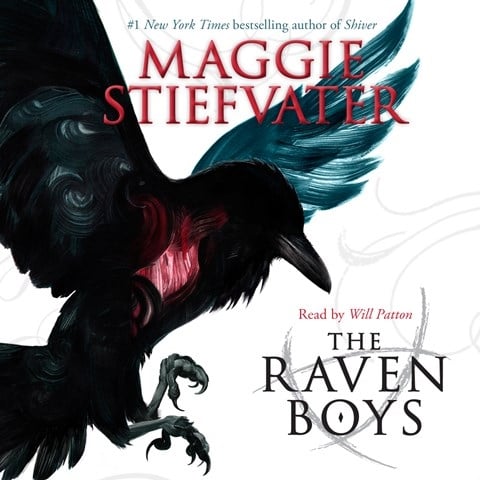 Young Adult Ages 12+ • 11 hrs. • Unabridged • © 2012
Genre: Fantasy, Romance, Teens, YA
My Rating: 4.0 of 5.0


"Do you believe in magic?" Answer that after you've listened to the first title in Stiefvater's new Raven Boys series. Narrator Will Patton takes you into a world of psychic powers, legends of the Welsh King Glendower, and the ley lines (mystical energy fields) that transect a sleepy Virginia town. Patton inhabits young Blue Sargent, who is raised in a family of psychics but whose own power amplifies what others see or sense. Blue is justly wary of the boys from the elite private academy, known as the Raven Boys. Listeners, like Blue, are fascinated and snared by the quest for Glendower led by Raven Boy Gansey. Patton is masterful with the suspense and the mysticism and seductively plays the emotional line of real and imagined events. Don't miss this compelling listen, and pray that Will Patton has already signed on for the other titles of the series. R.F.W. Winner of AudioFile Earphones Award © AudioFile 2012, Portland, Maine [Published: SEPTEMBER 2012]


Review:
Blue is a teen who has been raised by a psychic mother and two other eccentric female relatives. Blue isn't psychic but her presence amplifies the skills of the others. Blue's mother has drilled into her how she can't trust boys… not only because they are male but also because of a unique reading for Blue herself and what will happen to the first boy she loves.
The Raven Boys are mostly wealthy young students of the local elite academy. The strongest of these boys, Gansey, gathers others around who need his help even as they resist his handouts and leadership. Gansey is stubbornly set on finding the ley lines that will lead to Welsh King Glendower and a legendary favor.
But Gansey isn't the only one seeking the powers of the lines and the favor of the legend. And at least one of these seekers is willing to try any ritual and go to any lengths to be the first to find the lines.
I really liked the Wolves of Mercy Falls series by Ms. Stiefvater so I have been meaning to try this. I liked Blue and her strange family. I also liked the varied Raven Boys and was surprised by the revelation of one of the characters. The rival seeker is an evil man and poses great danger. The story is a bit disjointed, as it jumps among the characters and scenes. Still, it is very entertaining. I may not get the rest of the series as I enjoy werewolves more than relying on magical elements. I would recommend this to readers who enjoy stories about ley lines and magic – some good, some bad.
Audio Notes:
I thoroughly enjoyed the narration by Will Patton. His voice is whispery to fit the magical tone and he delivers the characters with good personality, emotion and energy. I am glad I listened to this.
Source: 2013 SYNC.This qualifies for 2018TBR, Audio Book and Alphabet ("R" title) Challenges.