I am linking with Sunday Post at
Caffeinated Book Reviewer.
It's Monday! What Are You Reading? now at
The Book Date (at Wordpress)
What Are You Reading? is where we gather to share what we have read this past week and what we plan to read this week. It is a great way to network with other bloggers, see some wonderful blogs, and put new titles on your reading list.
.
I hope everyone who celebrates had a beautiful, blessed Easter day!

Heather still had days out this week with doctor appointments for her, her significant other and the children.
I had to do a rush hire for a new clerk this week so we had time spent on training. But I do feel we are getting work done, bit by bit. Have to do some bookkeeping these next two weeks for tax preparation.

Stock market started to pick up at the end of the week. I watch closely but am comfortable right now.

We got to enjoy a few hours visit with our grandchildren Friday night! Saturday I took my granddaughters to the nail salon with me. They left earlier since I was getting pedicure too.
I wanted to get a picture of their nails too but right now I just have mine.

I had a good reading/listening week. I finished three audio books and one NetGalley ebook. I posted three reviews and my usual memes.
I visited 19 blogs last week.
Shout Out
this week to
Let Them Read Books
. Jenny Q says "I love books! I love to read books, talk books, smell books, dream books! I love to escape into a different world,…"
Don't forget- Audible is offering free children's titles during these days at home.
Audiobooks.com is also offering free listens for children.
These were last week's posts:
Finished Reading:
1. Audible/Smartphone (ATBR)

Ever Winter
By: Peter Hackshaw
Narrated by: Dan Stevens
Length: 9 hrs and 58 mins
Release date: 01-26-21
Publisher: Podium Audio
This is a suspenseful dystopian, revenge story with strong characters.
Source: 2021 NetGalley.
Click on book title for full description.
2. Audible/Smartphone and MP3 (ATBR)

The Lion, the Witch, and the Wardrobe
The Chronicles of Narnia
By: C.S. Lewis
Narrated by: Michael York
Length: 4 hrs and 21 mins
Release date: 12-26-04
I enjoyed listening to this Christian Classic.
Hubby and I look forward to discussing this with our granddaughter.
Source: 11/3/18 Audible Daily Deal $1.95.
Click on book title for full description.
3. Kindle App on/Smartphone (eTBR)
4. Audible/Smartphone (ATBR)
After the Galaxy: The Unsung
By: Scott Bartlett
Narrated by: Mark Boyett
Length: 11 hrs and 39 mins
Release date: 03-27-19
This is a mix up of sci fi ideas - with some strange twists.
Source: 9/21/19 Audible Daily Deal $3.95.
Publisher's Summary
The galaxy's not big enough....
Commander Joe Pikeman has his share of demons. But after a long deployment, he just wants to enjoy some home leave with his daughter.
The galaxy has other plans.
His last assignment takes him to Earth, humanity's deserted homeworld. There, he finds Earth's last settlement littered with the bodies of the people who lived there.
As he hunts down those responsible, he runs head-first into some galaxy-shaking questions.
Why did humanity really abandon the galaxy for a computer simulation?
Who would want to start killing off the last real humans left?
There's one thing Joe knows for sure. If they're going after his neighbors...his family...his daughter....
They'll need to go through him first.
If you like action-packed, run-and-gun military science fiction, you'll love After the Galaxy. Fans of Firefly will also love After the Galaxy. Download this military space opera now and jump into the action.
©2018 Scott Bartlett (P)2019 Mirth Publishing
Currently Reading:
1. Print (TBR)
The Faith of Condoleezza Rice
by Leslie Montgomery
I like how this started.
I expect to push into this more this week.
Source: February 2018 Discounted price at Christianbooks.com
Click on book title for full description.
2. Audible/Smartphone (ATBR)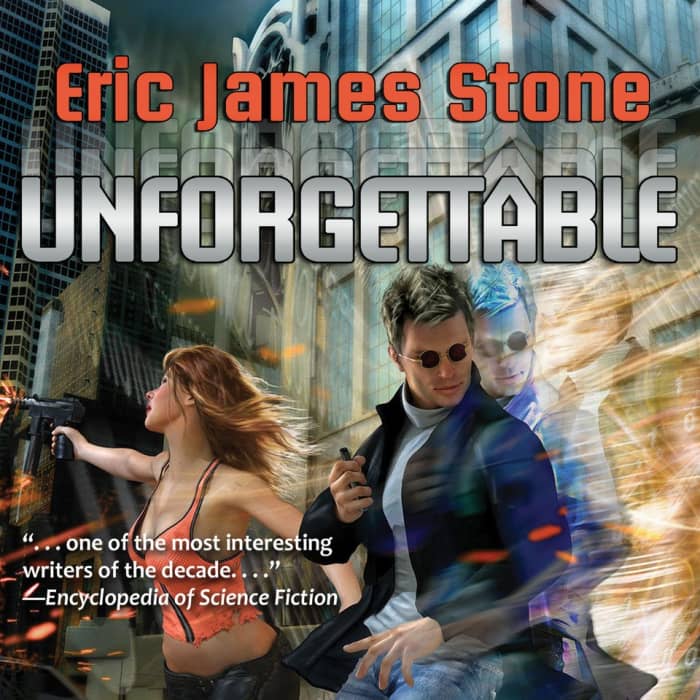 Unforgettable
by Eric James Stone
This looks like one I will like.
Source: 8/30/2020 Chirp $2.99.
Publisher Description
In the near future, a fluke of quantum mechanics renders Nat Morgan utterly forgettable. No one can remember he exists for more than a minute after he's gone. It's a useful ability for his career as a CIA agent, even if he has to keep reminding his boss that he exists. Nat's attempt to steal a quantum-chip prototype is thwarted when a former FSB agent, Yelena Semyonova, attempts to steal the same technology for the Russian mob. Along with a brilliant Iranian physicist who wants to defect, Nat and Yelena must work together to stop a ruthless billionaire from finishing a quantum supercomputer that will literally control the fate of the world.
3. Kindle App on/Smartphone or Fire Tablet (NG2020)
Rescuing Harmony Ranch
Jennie Marts
I expect to enjoy this clean romance.
Source: NetGalley 2020.
A bearded blacksmith
and a marketing exec
join forces...and sparks fly.
After her grandmother calls her asking for help, Jocelyn drops everything and heads back home to Harmony Creek, Colorado. Her grandmother runs a living history museum: a ranch and homestead where volunteers wear clothing from the early 1900s and demonstrate how things were done in the old West, from making soap to shearing sheep. The place is in financial trouble, and it needs the revenue from the annual festival to survive.
There's just one thing that makes this a little awkward: Mack, who's divorced, and who's now the caretaker and blacksmith at the homestead. Jocelyn and Mack have their own shared history, which includes both stolen kisses and teenage rivalry.
Even as the past and present collide, they have to save Harmony Ranch. Matchmaking grannies, a meddling mutt, and a flood of fun festival activities might just be enough to overcome their differences and forge two broken hearts back together.
This heartwarming romance includes a free Hallmark original recipe for Turkey Sliders with Mac and Cheese.
April 4, 2021 - I love seeing new things each time I read the Bible. I am glad to still be current with morning reading. (I got one day behind but and caught up again.)
I am reading/listening to the NLT Tyndale version of the Bible on You Version App so Hubby and I are reading the same passages each day.
I enjoyed another Easter study this week:
Holy Week: Pause, Ponder, Pray
.
I completed four books and plan to get those reviewed this week.
NetGalley shelf is still at 7. I added one to the shelf and added one to reading this week.
Three author titles now in queue.
(Plus a few that I received from facebook links and newsletter sign-ups, not specific review requests.)
Still many titles through InstaFreebie and many new author requests I haven't replied to.
Welcome to Mailbox Monday.
Mailbox Monday is a gathering place for readers to share the books that came into their house last week and explore great book blogs. This Meme started with Marcia at A Girl and Her Books (fka The Printed Page) and after a tour of hosts has returned to its
permanent home
at
Mailbox Monday
. Thanks to the ladies sharing hosting duties: Leslie of
Under My Apple Tree
, Serena of
Savvy Verse & Wit
and (yours truly).
Warning: Mailbox Monday can lead to envy, toppling TBR piles and humongous wish lists.
A smaller mailbox this week which is just fine.
One new review book this week.

I had no purchases this week.
I didn't pick out any audios this past week.
I picked out March Prime First Reads and received one title from an author on Facebook.

I added no other free Kindle titles this week.
(Note these are in my Amazon library, NOT on my Kindle until I download and transfer them.)
Are your mailbox and TBR piles blooming?
Received from NetGalley Read Now:
The Madman's Library
The Strangest Books, Manuscripts and Other Literary Curiosities from History
by Edward Brooke-Hitching
This looks really interesting!
NONE
Purchased

NONE
I selected this title as my free Prime First Reads for March:
The Secret Stealers: A Novel
Jane Healey
I downloaded another book from author Facebook post:

Black Autumn: Surviving the Crash (The Black Autumn Series Book 1)
by Jeff Kirkham & Jason Ross
"Black Autumn is a survival/military thriller, post-apocalyptic saga."
No free titles this week. Free titles often found at
Bookbub
,
Bookfun
,
Ereader News Today
,
Free Par-tay
,
Ignite Your Book
,
Inspired Reads
,
Pixel of Ink
or
Kindle ebooks
.