I am linking with Sunday Post at
Caffeinated Book Reviewer.
It's Monday! What Are You Reading? now at
The Book Date (at Wordpress)
What Are You Reading? is where we gather to share what we have read this past week and what we plan to read this week. It is a great way to network with other bloggers, see some wonderful blogs, and put new titles on your reading list.
.
We got Heather a new laptop to help her work from home as she continues to be out with dizziness and doctor visits for her ear and her beau's severely dislocated shoulder. (He has surgery on Monday.)

I continue to juggle title real estate closings and legal work.

I had a comfortable week on stocks last week. I hope that will continue.

This flowering weed - I believe it is a Bull Thistle - popped up at the end of our walkway. It is about a foot and a half wide (based on my 81/2" boots). We are expecting to start lawn service again this week after the slow winter months.

I had another good reading/listening week. I finished two audio books and one NetGalley ebook. I posted four reviews and my usual memes.
I visited 22 blogs last week!
Shout Out
this week to
AMY IMOGENE READS
. Amy says she loves reading and sharing through reviews. Hop over and check out her blog.
Don't forget- Audible is offering free children's titles during these days at home.
Audiobooks.com is also offering free listens for children.
These were last week's posts:
Finished Reading:
1. Audible/Smartphone (ATBR)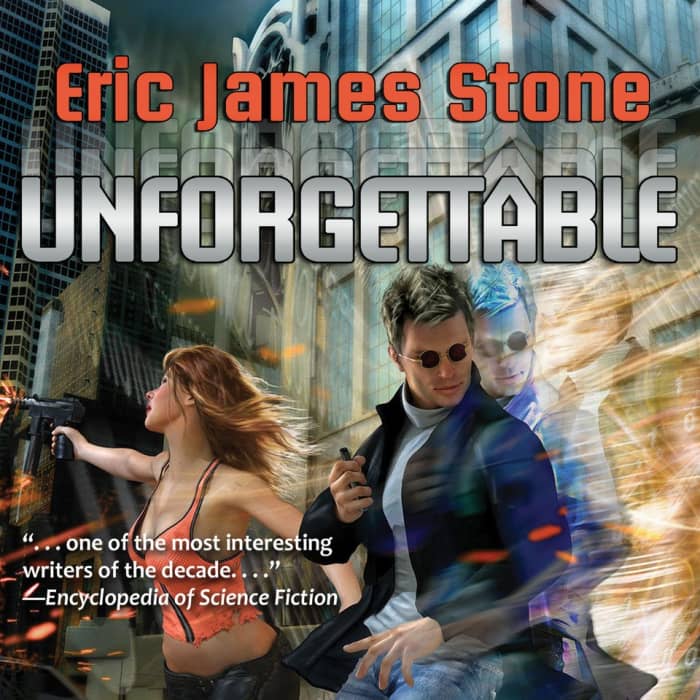 Unforgettable
by Eric James Stone
I enjoyed this entertaining futuristic spy adventure.
Source: 8/30/2020 Chirp $2.99.
Click on book title for full description.
2. Audible/Smartphone (ATBR)

Dust: Before and After: The Dust Series, Book 1
By: S.E. Smith
Narrated by: Paul Heitsch
Series: The Dust Series, Book 1
This is an engaging Teen/YA fantasy with paranormal characters - good and evil.
Source: September 2020 Audible Plus Catalogue.

Publisher's Summary
New York Times and USA Today best-selling author returns with an emotionally charged fantasy adventure story filled with heart-pounding action and suspense for listeners of all ages.
After fragments of a comet hit Earth, Dust wakes to discover the world as he knew it is gone. It isn't the only thing that has changed though; so has Dust. He now possesses powers that continue to grow, but they also come with a price.
A deadly encounter after Dust leaves his home leads to a new discovery - other survivors. Dust soon learns that another creature has risen from the ashes, one that is determined to possess the powers he now has. On a journey filled with danger, it will take the skills of not just Dust, but those of his friends, if they are to survive.
This time the race is not to the swift but to the deadliest in a world where a changed human boy and an odd assortment of friends must face their worst nightmares and accept that life on Earth will never be the same again.
Join Dust and his friends as they fight to overcome an evil force determined to create a new species unlike any the world has ever known.
©2016 Susan E. Smith (P)2016 Blackstone Audio.
3. Kindle App on Fire Tablet (NG2020)
Rescuing Harmony Ranch
Jennie Marts
This second chance romance brought tears to my eyes near the end.
Source: NetGalley 2020.
Click on book title for full description.
Currently Reading:
1. Print (TBR)
The Faith of Condoleezza Rice
by Leslie Montgomery
This is moving along a bit slowly but I do like it.
Source: February 2018 Discounted price at Christianbooks.com
Click on book title for full description.
2. Audible/Smartphone (ATBR)

The Witch of Hebron: A World Made by Hand Novel, Book 2
By: James Howard Kunstler
Narrated by: Jim Meskimen
Series: World Made By Hand, Book 2
Length: 10 hrs and 14 mins
Release date: 09-07-10
I am continuing this post-apocalyptic series.
Source: 12/21/2020 Audible Plus Catalog.
Publisher's Summary
In the sequel to his best-selling World Made by Hand, James Howard Kunstler expands on his vision of a post-oil society with a new novel about an America in which the electricity has flickered off, the Internet is a distant memory, and the government is little more than a rumor.
In the tiny hamlet of Union Grove, New York, travel is horse-drawn and farming is back at the center of life. But it's no pastoral haven. Wars are fought over dwindling resources and illness is a constant presence. Bandits roam the countryside, preying on the weak, and a sinister cult threatens to shatter Union Grove's fragile stability. Here is a novel that seamlessly weaves hot-button issues like the decline of oil and the perils of climate change into a compelling narrative of violence, religious hysteria, innocence lost, and love found—a cautionary tale with an optimistic heart.
Already a renowned social commentator and a best-selling novelist and nonfiction writer, Kunstler has recently attained even greater prominence in the global conversation about energy and the environment. In the last two years he has been the focus of a long profile in the New Yorker, the subject of a full-page essay in the New York Times Book Review, and his wildly popular blog and podcast have made him a sought-after speaker who gives dozens of lectures and scores of media interviews each year.
©2010 James Howard Kunstler (P)2010 Blackstone Audio, Inc.
3. Kindle App on Fire Tablet (NG2020)
A Cowboy for Keeps
by Jody Hedlund
I am looking forward to this Christian, Historical Romance.
Source: NetGalley 2020.
Greta Nilsson's trip west to save her ailing little sister, Astrid, could not have gone more wrong. First, bandits hold up her stagecoach, stealing all her money. Then, upon arriving in Fairplay, Colorado, she learns the man she was betrothed to as a mail-order bride has died. Homeless, penniless, and jobless, Greta and her sister are worse off than when they started.
Wyatt McQuaid is struggling to get his new ranch up and running and is in town to purchase cattle when the mayor proposes the most unlikely of bargains. He'll invest in a herd of cattle for Wyatt's ranch if Wyatt agrees to help the town become more respectable by marrying and starting a family. And the mayor, who has promised to try to help Greta, has just the candidate in mind for Wyatt to marry.
April 11, 2021 - I love seeing new things each time I read the Bible. I am glad to still be current with morning reading. (I got one day behind but and caught up again.)
I am reading/listening to the NLT Tyndale version of the Bible on You Version App so Hubby and I are reading the same passages each day.
No extra study this week
.

I completed three books and plan to get those reviewed this week.
NetGalley shelf is now at 6 as I added one to reading this week.
Four author titles now in queue - I need to start these now that NG titles are lower.
(Plus a few that I received from facebook links and newsletter sign-ups, not specific review requests.)
Still many titles through InstaFreebie and many new author requests I haven't replied to.
Welcome to Mailbox Monday.
Mailbox Monday is a gathering place for readers to share the books that came into their house last week and explore great book blogs. This Meme started with Marcia at A Girl and Her Books (fka The Printed Page) and after a tour of hosts has returned to its
permanent home
at
Mailbox Monday
. Thanks to the ladies sharing hosting duties: Leslie of
Under My Apple Tree
, Serena of
Savvy Verse & Wit
and (yours truly).
Warning: Mailbox Monday can lead to envy, toppling TBR piles and humongous wish lists.
One new author review book this week.
I picked my two March Audible credits (hubby needed another book) and purchased two Daily Deals.
I'm trying to decide on my April VIP pick at Audiobooks.com. I have reduced the choices to 4.

I added
87
free Kindle titles this week.
(Note these are in my Amazon library, NOT on my Kindle until I download and transfer them.)
Are your mailbox and TBR piles blooming?
Received from Author:
Save Me (Broken Idols #2)
by M.C. Frank
A New Adult romance.
NONE
Purchased

4/4/2021 Audible Daily Deal $3.95.

Starfish Pier
By: Irene Hannon
Narrated by: Therese Plummer
Length: 9 hrs and 39 mins
Release date: 03-31-20
4/5/2021 Audible Daily Deal $2.95.
Perestroika in Paris
By: Jane Smiley
Narrated by: Suzanne Toren
Length: 8 hrs and 20 mins
Release date: 12-01-20
4/8/2021 March Audible Credits - for the hubby (and me).
North! Or Be Eaten
The Wingfeather Saga, Book 2
By: Andrew Peterson
Narrated by: Andrew Peterson
Length: 12 hrs and 1 min
Release date: 01-05-21
Verses for the Dead
A Pendergast Novel
By: Douglas Preston, Lincoln Child
Narrated by: Rene Auberjonois
Length: 10 hrs and 33 mins
Release date: 12-31-18
I added 87 titles this week - I got on Kindle orders that had multiple links to free titles that went on for pages. Free titles often found at
Bookbub
,
Bookfun
,
Ereader News Today
,
Free Par-tay
,
Ignite Your Book
,
Inspired Reads
,
Pixel of Ink
or
Kindle ebooks
.