I am linking with Sunday Post at
Caffeinated Book Reviewer.
It's Monday! What Are You Reading now at
The Book Date
.
Thank you to Sheila for the years that she handled this meme.
Thank you to Kathryn for taking up the baton.
What Are You Reading, is where we gather to share what we have read this past week and what we plan to read this week. It is a great way to network with other bloggers, see some wonderful blogs, and put new titles on your reading list.
This was another rather crazy week but worked pretty good. I have some good file work going on..
We had rain today but we are expected 80 degree days this week.
I just keep praying for the many areas of distress in the states and around the world.
Reading was enjoyable as I finished four titles (only one on review deadline). I finished one ebooks and one audio for review and two audios from TBR. I posted two reviews plus I posted all of my usual memes.
I continue to enjoy my brief blog visiting to 25+ blogs again last week.
Blog shout out: This is a blog acquaintance of several years - she does a book review everyday!
PussReboots.
Thank you to all the nice people who visit me.
These were last week's posts:
Finished Reading:
1. eBook/Kindle (Providence Book Promotions)
Ashes
by Steven Manchester
This is well done, interesting family drama.
I received this from Providence Book Promotions.
Click on book title for full description.
2. Audio (ABJ)
The Fifth Sacred Thing
Written by: Starhawk
Narrated by: Maya Lilly
This is a fascinating story.
I received this audio book from the publisher
through Audiobook Jukebox
Click on book title for full description.
3. Audio (TBR)
Excerpts from The Encyclopaedia Britannica: A Dictionary of Arts, Sciences, Literature and General Information, Eleventh Edition
Written by: Various
Narrated by: full cast
This was a fun, quick listen from my Audible TBR shelves (2016).
Publisher's Summary
Prepare yourself for the ultimate multicast performance. We've gathered many of Audible's most popular narrators to bring to life some of the most extraordinary words ever written. 19 words, in fact, carefully selected and arranged alphabetically as in their original source: the 11th edition of the Encyclopædia Britannica. We created this enlightening journey from AUDIENCE to LITERATURE because you asked for it. You said you could listen to your favorite narrators read the phone book, bookcase assembly instructions, or a restaurant menu. With this production we've proven that a truly talented narrator can, in fact, take any work and make it extraordinary. Enjoy!
4. Audio (TBR)
We Like You so Much and Want to Know You Better
Written by: Dave Eggers
Narrated by: Dion Graham
This is an engaging brief introduction to The Circle. from my Audible TBR shelves (2013).
Publisher's Summary
A million people, a billion, wanted to be where Mae was at this moment, entering this atrium, 30 feet high and shot through with California light, on her first day working for the only company that really mattered at all.
A story from The New York Times Magazine, adapted from The Circle, a new novel by Dave Eggers.
Listen to the rest of The Circle and listen to more from The New York Times.
©2013 The New York Times Company (P)2013 The New York Times Company
Currently reading:
1. eBook/Kindle (iReads Book Tours)
Xenogeneic: First Contact
by Lance Erlick
This jumps into action and danger.
Reviewing for iReads Book Tours with Author Guest Post on March 30, 2017.
Xenogeneic: First Contact is a science fiction thriller about first contact with an alien race that lost their civil war and wants to take over Earth.
Click on book title for full description.
2. Audio (ABJ)
The Hollow Hills: The Arthurian Saga, Book 2
Written by: Mary Stewart
Narrated by: Derek Perkins

This is a book I read back in the 70s!
I am loving the audio so far.
I received this audio book from the publisher
through Audiobook Jukebox
Publisher's Summary
The spellbinding, suspenseful story of how Merlin, the Enchanter, helped Arthur become the king of all Britain - a magnificent novel set in a time when no life is safe, no law stable.
Keeping watch over the young Arthur Pendragon, the prince and prophet Merlin Ambrosius is haunted by dreams of the magical sword Caliburn, which has been hidden for centuries. When Uther Pendragon is killed in battle, the time of destiny is at hand, and Arthur must claim the fabled sword to become the true High King of Britain.
The prophetic voice of Merlin communicates not only the bristling atmosphere of the story's ancient setting, but also its profound relevance to our own time. Once again, as she did in her best-selling The Crystal Cave, Mary Stewart provides a glowing recreation of pre-Camelot England.
©2016 Mary Stewart (P)2016 Blackstone Audio, Inc.
3. eBook/Kindle (NG)
Codename Lazarus: The Spy Who Came Back From The Dead
by A.P. Martin
This looks like a good spy story.
I received this through NetGalley.
Spring 1938 and Great Britain is facing potentially lethal threats: the looming war with Germany; the fear that her Secret Service has been penetrated by Nazi agents and the existence of hundreds of British citizens, who are keen to pass information to her enemies.
John King, a young academic, is approached by his Oxbridge mentor to participate in a stunning deception that would frustrate Britain's enemies. As King struggles to come to terms with the demands of his mission, he must learn to survive in a dangerous and lonely 'no man's land', whilst remaining one step ahead of those in hot pursuit.
Adapted from a true story, 'Codename Lazarus' takes the reader on a journey from the dark heart of Hitler's Germany, across the snowy peaks of Switzerland to the horrors of Dunkirk, the Battle of Britain and the London Blitz, before reaching a thrilling and decisive conclusion, from which none of those present emerges unscathed.
March 26, 2017 - I am up to date with the One Year Bible; reading along with my husband and others from our church. I hope to take more time this year, staying on the day and listening to the
companion commentary online
.
I completed four new books and posted two reviews; this will mean I have three reviews for this week plus the scheduled tour review.
I have 14 NetGalley Titles remaining and 10+ author titles in my queue.
We're working on a new poetry collection that should be on NetGalley this week. eTreasure's NetGalley page.
Welcome to Mailbox Monday.
Mailbox Monday is a gathering place for readers to share the books that came into their house last week and explore great book blogs. This Meme started with Marcia at A Girl and Her Books (fka The Printed Page) and after a tour of hosts has returned to its
permanent home
at
Mailbox Monday
. Thanks to the ladies sharing hosting duties: Leslie of
Under My Apple Tree
, Serena of
Savvy Verse & Wit
and (yours truly).
Warning: Mailbox Monday can lead to envy, toppling TBR piles and humongous wish lists.
I didn't receive any review books this week.
I did purchase two Audible daily deals.
I didn't purchase any ebooks again this week!
I picked up a good number of free kindle titles again. (Note these are in my Amazon library, NOT on my Kindle until I download and transfer them.)
Are your mailbox and TBR piles blooming?
NONE
NONE
Purchased
I bought two Daily Deals at Audible:
• The Life She Wants
• By: Robyn Carr
• Narrator: Therese Plummer
• Duration: 11 hrs and 26 mins
(Daily Deal $3.95) I figured this was worth the price for a reliable author/narrator team.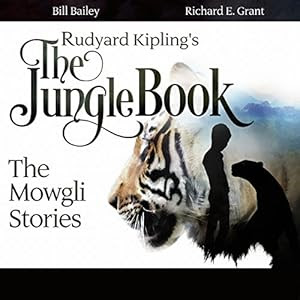 • Rudyard Kipling's The Jungle Book: The Mowgli Stories
• By: Rudyard Kipling
• Narrator: Bill Bailey , Richard E. Grant , Colin Salmon , Tim McInnerny , Bernard Cribbins , Celia Imrie , Martin Shaw
• Duration: 2 hrs and 32 mins
(Daily Deal $.99) I thought this would be good to share with the grandchildren.
I added only 58 free Kindle titles to my library this week. Titles found linked through Bookbub, Bookfun, Ereader News Today, Free Par-tay, Ignite Your Book, Inspired Reads, Pixel of Ink or Kindle ebooks.