I enjoyed this quick, sweet western romance.
A Bargain For A Bride
Written by Amelia Rose
Narrated by Charles D. Baker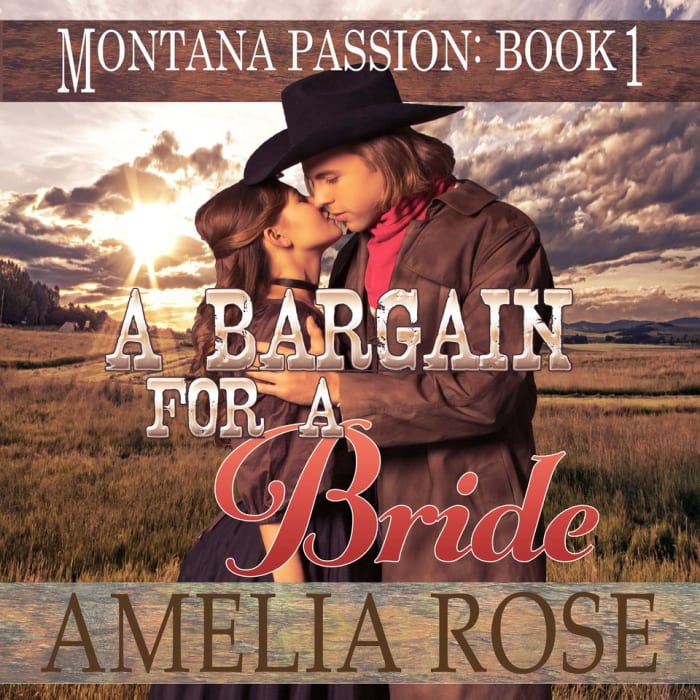 Run Time 4h 10min
Release Date: June 15, 2016
Publisher: Gold Crown Publishing
Genre: Historical Romance, Western Romance
My Rating: 4.5 of 5.0 Overall; Story 4.5; Narration 4.5.

Publisher Description
When Lady Moira Brennan leaves her home at Brennan Castle for the wilds of her own homestead claim in the Montana territory, she had no idea that a husband awaited her. Sold into marriage by her uncle, she arrives to find a bleak landscape of scarce farmers, all desperately trying to scratch out a living on their claims.
Pryor MacAteer came to Montana himself only three years ago, and his farm has prospered. All that he needs to make it complete is a wife and family, one whose passage he paid, and whose name is on the marriage contract.
Will Moira realize her dream of owning her own land and uncover the truth behind a marriage contract with her name on it?



Review:

Lady Moira leaves her Castle in Ireland rather than be forced to marry an elder nobleman at the direction of her uncle. Moira takes along her lady's maid, Gretchen, to travel by boat to New York where she will pick up the paperwork for her homestead claim in the Montana territory. She has no idea how much work a homestead will take but she plans to heir local workers to help. Again, she has no idea how isolated the location is.
When Moira and Gretchen arrive in New York she manages to get the claim paperwork although the situation seems awkward. Then the women arrive in Montana to an empty train station. Finally, a man appears to pick them up and announces that Moira is to marry him. Pryor paid for a mail order bride since he has put the beginning work into his homestead, and he is ready to have a helpmate to begin a family. He is disappointed that Moira says "no" but he knows that he will have to help her if she is to survive the winter until she can return to where she came from.
Moira realizes that her uncle has somehow cheated Pryor with the false bride papers, but she isn't going to submit to become a wife when that is why she left Ireland behind. She and Gretchen are willing to help cook and clean for shelter, and she has no intention of returning to Ireland. Moira soon realizes she is facing a daunting job to do the work necessary, including fencing, to complete the homestead claim. She had planned one use for the land, but her claimed land isn't suitable.
Can Moira survive and get her land ready or will she have to return to Ireland? What can Pryor do to convince Moira to stay and accept his help?
I enjoyed these characters and their different but strong foundations of faith. There was interesting detail about the homestead claims and the struggles that the homesteaders had to face. Many did not get to keep the land because they could not fulfill the requirements. The plot has some twists and the romance is sweet. I recommend this to readers who enjoy historical, western romance.

Audio Notes:
Charles D. Baker does a very nice job with the narration. He provides clear voices and fitting emotions for each of the characters. I am glad I had this on audio to listen to.
Source: 11/22/2020 Chirp purchase for $.99. This qualifies for 2022TBR and 2022Audiobook goals.