I am linking with Sunday Post at
Caffeinated Book Reviewer.
It's Monday! What Are You Reading now at
The Book Date (at Wordpress)
?
What Are You Reading, is where we gather to share what we have read this past week and what we plan to read this week. It is a great way to network with other bloggers, see some wonderful blogs, and put new titles on your reading list.
Staff and I had a fun week in between work. I have a trial on Friday I will be preparing for. I hope to get a bit of time to update finances before year-end.

I am still struggling with my eyes. A week or so ago the eye specialist said I would still have blurring and floaters for a few more months. He also said the itching and burning are related to allergies. I have trouble at night working on the computer as my eyes get blurry and sore. I spent half of Saturday listening to books with an eyepatch trying to rest a sore, swollen eye. I am going to try to see the local eye doctor this week. Maybe it's just a matter of eye drops.
Please forgive the errors in my posts which I don't see to fix until another day.


This is one of several pictures of our pets at the chef's feet.

Obviously he has spoiled them with tastes.


Our temperatures have been in the 50s with an occasional rise to 70s. We've had some rain which keeps it on the chilled side.
I am doing laundry as we are packing warm clothes for our visit to Illinois.


I enjoyed my reading and listening this past week although it was slow again. I finished two audiobooks (and I am far into another). I posted four reviews and my usual memes.
I visited 17 blogs last week.
Shout Out this week to
Just One More Page
.
Jen, is a 29-year-old who says books have taken over her life. Many of us can relate!
Thank you to all the nice people who visit me.
These were last week's posts:
Finished Reading:
1. Audio/Smartphone (ATBR)
Push Back
The Disruption Series, Book 2
By: R.E. McDermott
Narrated by: Kevin Pierce
Length: 12 hrs and 58 mins
Release date: 09-12-16
This is a story I didn't want to put down.
I plan to pick up book three.

Source: July 2018 Audible Credit.
Click on book title for full description.
2. Audio/Smartphone (A2019)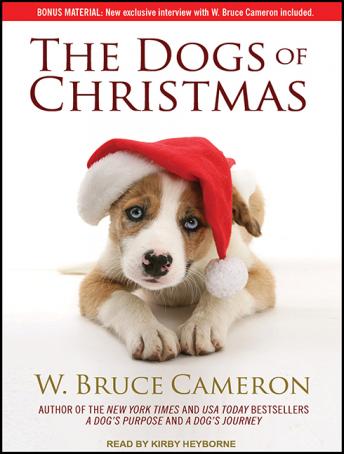 The Dogs of Christmas
Written By: W. Bruce Cameron
Narrated By: Kirby Heyborne
Publisher: Tantor Media
Date: October 2013
Duration: 6 hours 14 minutes
This is a delightful little holiday romance.
Source: November 2019 $4.99 Sale Purchase at Audiobooks.com.
Summary:
While nursing a broken heart, Josh Michaels is outraged when a neighbor abandons his very pregnant dog, Lucy, at Josh's Colorado home. But Josh can't resist Lucy's soulful brown eyes, and though he's never had a dog before, he's determined to do the best he can for Lucy-and her soon-to-arrive, bound-to-be-adorable puppies.
Soon in over his head, Josh calls the local animal shelter for help, and meets Kerri, a beautiful woman with a quick wit and a fierce love for animals. As Kerri teaches Josh how to care for Lucy's tiny puppies and gets them ready to be adopted through the shelter's 'Dogs of Christmas' program, Josh surprises himself by falling for her.
But he's fallen even harder for his new furry family, which has brought incredible joy into Josh's life. He barely has time to sit down, between chasing after adventurous Sophie and brave Oliver, but when he does, his lap is quickly filled by the affectionate Lola. And Rufus and Cody's strong bond makes Josh wonder about his own relationships with his family.
With Christmas and the adoption date looming, Josh finds himself wondering if he can separate himself from his beloved puppies. At odds with Kerri, Josh isn't willing to lose her, but doesn't know how to set things right. Can a surprise litter of Christmas puppies really change one man's life?
W. Bruce Cameron's The Dogs of Christmas is a charming and heartwarming holiday tale that explores the power of love, trust, and a basket full of puppies....
Currently Reading:
1. Pdf/Computer (eBook)
2. eBook/Kindle (NG2019)
Strands of Truth
by Colleen Coble
I am at 70% and I am really enjoying this Christian Romantic Suspense.
Source: 2019 NetGalley.
Click on book title for full description.
3. Audio/Smartphone (ATBR)
Orphan X
By: Gregg Hurwitz
Narrated by: Scott Brick
Series: Evan Smoak, Book 1
Length: 11 hrs and 15 mins
This is a remarkably entertaining suspense with good twists.
Source: February 2017 $4.95 Sale purchase at Audible.
Publisher's Summary
The Nowhere Man is a legendary figure spoken about only in whispers. It's said that when he's reached by the truly desperate and deserving, the Nowhere Man can and will do anything to protect and save them.
But he's no legend.
Evan Smoak is a man with skills, resources, and a personal mission to help those with nowhere else to turn. He's also a man with a dangerous past. Chosen as a child, he was raised and trained as part of the off-the-books black box Orphan program, designed to create the perfect deniable intelligence assets - i.e. assassins. He was Orphan X. Evan broke with the program, using everything he learned to disappear.
Now, however, someone is on his tail. Someone with similar skills and training. Someone who knows Orphan X. Someone who is getting closer and closer. And will exploit Evan's weakness - his work as The Nowhere Man - to find him and eliminate him.
Grabbing the listener from the beginning, Orphan X is a masterful thriller, the first in Gregg Hurwitz's electrifying new series featuring Evan Smoak.
©2016 Gregg Hurwitz (P)2015 Brilliance Audio, all rights reserved.
December 15, 2019 - I am still enjoying the devotions and readings with the One Year Bible plan through You Version App. I plan to start another Advent study tonight as I didn't get to one last week.
I completed two books and posted four reviews. I am current on reviews.
My NetGalley shelf is at 10. I still have one more NG title from July that has released. I will read that one next. [Plus I have 4 old titles (2012-13) which I guess are moving into 2020.]
I still have two author titles that I expect to carry into January 2020.
Still many titles through InstaFreebie and many new author requests I haven't replied to.
Welcome to Mailbox Monday.
Mailbox Monday is a gathering place for readers to share the books that came into their house last week and explore great book blogs. This Meme started with Marcia at A Girl and Her Books (fka The Printed Page) and after a tour of hosts has returned to its
permanent home
at
Mailbox Monday
. Thanks to the ladies sharing hosting duties: Leslie of
Under My Apple Tree
, Serena of
Savvy Verse & Wit
and (yours truly).
Warning: Mailbox Monday can lead to envy, toppling TBR piles and humongous wish lists.
I received no review titles but
I picked up Seven Audible titles on sale. title at Chirp.
I added 2 free kindle titles this week. (Note these are in my Amazon library, NOT on my Kindle until I download and transfer them.) Are your mailbox and TBR piles blooming?
These are two books for Ladies Book Club. I purchased the print books for $2.99 each at Christianbook.com and passed them out to the book club in November for us to discuss in January.
I picked up these copies this week for my reading/listening over the holidays:
Kindle Edition $3.99
An Endless Christmas: A Novella
by Cynthia Ruchti
Audible Sale purchase $5.24
12 Days at Bleakly Manor
Once Upon a Dickens Christmas, Book 1
By: Michelle Griep
Narrated by: Nan McNamara
Length: 5 hrs and 35 mins
Release date: 01-11-18
NONE
Purchased
12/13/2019 Audible Member Sales - 7 books fo $24.27
. I picked the first title as it was such a good price. The others were all originally priced under $16.99 so I prefer to buy them on sale rather than use a credit.
Southlands $5.98
Lee Harden, Book 2
By: D.J. Molles
Narrated by: Christian Rummel
Length: 9 hrs and 55 mins
Release date: 05-28-19
Hour of Need $5.24
Scarlet Falls, Book 1
By: Melinda Leigh
Narrated by: Cris Dukehart
Length: 10 hrs and 13 mins
Release date: 12-09-14
Iron Garland $4.50
Harbinger, Book 3
By: Jeff Wheeler
Narrated by: Kate Rudd
Length: 10 hrs and 25 mins
Release date: 11-13-18
Tier One $3.15
By: Brian Andrews, Jeffrey Wilson
Narrated by: Ray Porter
Length: 11 hrs and 39 mins
Release date: 09-01-16
Jingle Bell Pop $2.98
By: John Seabrook
Narrated by: Erin Moon
Length: 1 hr and 14 mins
Release date: 12-06-18
Spring in Geneva $1.50
By: Sylvia Kelso
Narrated by: Jesse Einstein
Length: 3 hrs and 17 mins
Release date: 08-18-15
Carniepunk: The Demon Barker of Wheat Street $.94
By: Kevin Hearne
Narrated by: Kirby Heyborne
Length: 1 hr and 4 mins
Release date: 09-09-14
Kindle Purchase $.99
Universe in Flames - Ultimate 10 Book Box Set: An Epic Space Opera Adventure
By: Christian Kallias
I added 2 free Kindle titles to my Kindle library. Titles found linked through Bookbub, Bookfun, Ereader News Today, Free Par-tay, Ignite Your Book, Inspired Reads, Pixel of Ink or Kindle ebooks.