This is a delightful little holiday romance.
The Dogs of Christmas
Written By: W. Bruce Cameron
Narrated By: Kirby Heyborne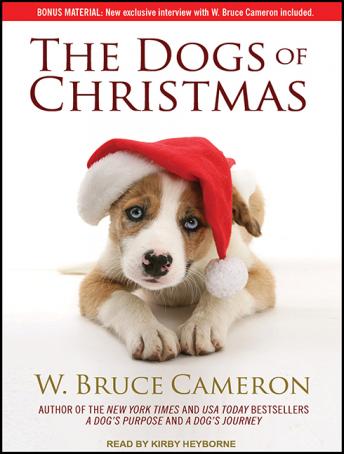 Publisher: Tantor Media
Date: October 2013
Duration: 6 hours 14 minutes
Genre: Animals, Dogs, Holiday, Romance
My Rating: 4.0 of 5.0 Overall; Story 4.0; Narration 4.25.

Summary:
While nursing a broken heart, Josh Michaels is outraged when a neighbor abandons his very pregnant dog, Lucy, at Josh's Colorado home. But Josh can't resist Lucy's soulful brown eyes, and though he's never had a dog before, he's determined to do the best he can for Lucy-and her soon-to-arrive, bound-to-be-adorable puppies.
Soon in over his head, Josh calls the local animal shelter for help, and meets Kerri, a beautiful woman with a quick wit and a fierce love for animals. As Kerri teaches Josh how to care for Lucy's tiny puppies and gets them ready to be adopted through the shelter's 'Dogs of Christmas' program, Josh surprises himself by falling for her.
But he's fallen even harder for his new furry family, which has brought incredible joy into Josh's life. He barely has time to sit down, between chasing after adventurous Sophie and brave Oliver, but when he does, his lap is quickly filled by the affectionate Lola. And Rufus and Cody's strong bond makes Josh wonder about his own relationships with his family.
With Christmas and the adoption date looming, Josh finds himself wondering if he can separate himself from his beloved puppies. At odds with Kerri, Josh isn't willing to lose her, but doesn't know how to set things right. Can a surprise litter of Christmas puppies really change one man's life?
W. Bruce Cameron's The Dogs of Christmas is a charming and heartwarming holiday tale that explores the power of love, trust, and a basket full of puppies....


Review:
Josh is nearly a recluse especially after his girlfriend walked away. He wasn't much of a social fellow anyway as a software programmer who works on the computer from home. He isn't thrilled when his neighbor delivers his dog to his door claiming he needs Josh to dog sit for the weekend until he can make other arrangements. Then Josh realizes that Lucy, the dog, is very pregnant. Josh has never had a dog, much less puppies. He is practically panicked when he calls the vet. But being the precise person that he is, Josh begins to research how to take care of the dog and puppies.
When Josh seeks help from the local animal shelter, he meets the lovely, strong-minded Kerri. Kerri is more than happy to help and finds herself interested in Josh who is willing to care so diligently for the dogs. The problem is, Josh is becoming attached to Lucy and the puppies. Kerri insists he cannot keep them and she wants to include the puppies to be delivered to new homes as part of the Dogs of Christmas adoption program. But Josh has learned the unique personalities of each dog and isn't sure anyone else can care for them as he does. He now has a family of his own and doesn't know how he will give them up.
Josh's character is a little difficult as, at age 28, he is very socially immature. He becomes flustered like a teen boy in Kerri's presence. Still, it is sweet and not totally unrealistic for a computer nerd. In addition to the conflict between Josh's feelings for Kerri and the dogs, Josh's unresolved feelings for his ex impacts his relationship with Kerri with a little twist.
The story flows well with humor and lovely dog antics, including one that has a handicap. The romance is light and gently presented. I enjoyed the easy, light, sweet story. I recommend it to readers who enjoy dogs and gentle romance.
Audio Notes:
Kirby Heyborne does a very nice job with the narration. He aptly portrays the distress, confusion, enthusiasm, and other emotions, especially of the main character. The narration helped me enjoy the story and I would be comfortable listening to other books narrated by Heyborne.
Source: November 2019 $4.99 Sale Purchase at Audiobooks.com. This qualifies for 2019Audiobook goal.