I like these characters and the mystery of this series.
Manners and Monsters Collection: A Regency paranormal mystery series
by Tilly Wallace
Narrated By: Marian Hussey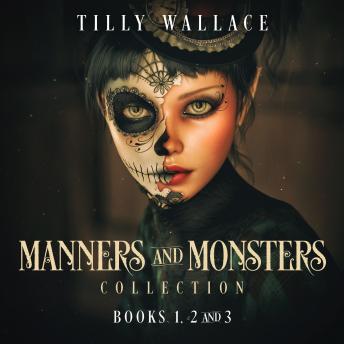 Duration: 23 hours 46 minutes;
book 2, Galvanism and Ghouls.
Book 2 Length: 8 hrs and 36 mins
Release date: 03-03-21
Publisher: Tilly Wallace
Genre: Cozy Mystery, Gaslamp, Paranormal

My Rating: 4.25 of 5.0 Overall; Story 4.25; Narration 4.25.



Galvanism and Ghouls Publisher's Summary
Time reveals all secrets....
A new unnatural horror is about to rattle Hannah Miles' quiet existence, and it's not the short-tempered viscount prowling the hallways. Someone is creating a monster by stitching together pieces of different people. When a limb makes an escape attempt, Viscount Wycliff is called to investigate. All of London knows there is one mad scientist among them capable of creating such an ungodly monster...Sir Warren Miles.
Hannah's father is suspected of a most heinous crime, and she is determined to clear his name, even as Wycliff works to see the murderer hang. Buried secrets that touch all their lives will be brought to the surface. One such secret belongs to Hannah and could tear her world apart.
With Hannah and Wycliff on opposing sides, can they find the real monster, and will it be the hand that wields the scalpel or the creature hiding in the dark?
©2019 Tilly Wallace (P)2019 Tilly Wallace

Review:
Growly Viscount Wycliff is called out to investigate a "monster" terrorizing the public. He doesn't immediately find the monster but he finds a dismembered arm and hand…that is still moving. Wycliff brings it back to the Miles' household where Hannah and her father get to examine the specimen. Hannah realizes that the hand is sentient, and she makes a 'pet' out of it. Next thing, they are using the hand as a blood hound to search out the rest of its body!
As other citizens go missing and stitched up bodies are discovered, the public begins to call for the arrest of the scientist they believe capable of these atrocities – Hannah's father, Sir Warren Miles. Wycliff has no choice but to allow the arrest of Sir Wiles. Hannah is horrified and now opposes the mysterious viscount more than ever.
But both Hannah and Wycliff are hiding secrets. When the secrets are revealed, will their animosity create a complete divide, or will they learn to empathize for each other? Meanwhile, what happens to the hand and the monster?
I enjoy the mystery and the humor of these characters and their situations. I like how the author is developing the relationship between Hannah and Wycliff. I suspect I will listen to book three, Gossip and Gorgons, sooner than later. I recommend this series to fans of paranormal and historical mysteries.
Audio Notes:
Marian Hussey does a wonderful job with the narration. She provided distinct voices and I get caught up in listening. The narration added to my enjoyment of the story.
Source: 11/1/2020 Audiobooks.com Credit Purchase. This qualifies for 2022TBR and 2022Audiobook goals.