This is a lovely historical romance.
The Accidental Guardian
Written by Mary Connealy
Narrated by Morgan Hallett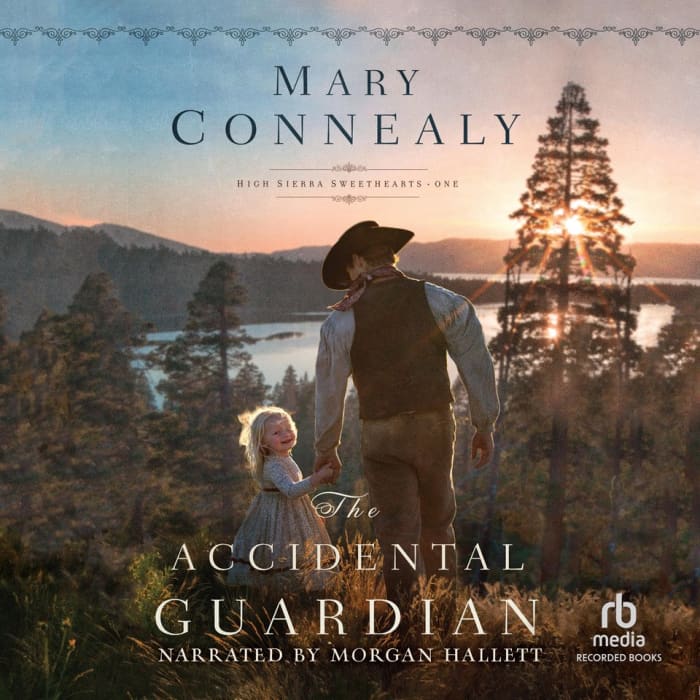 Run time: 8 hours and 17 minutes
Release Date: April 3, 2018
Publisher: Recorded Books
Genre: Christian, Historical, Romance, Western
My Rating: 4.5 of 5.0 Overall; Story 4.5; Narration 4.5.


Publisher Description
Trace Riley has been self-appointed guardian of the trail ever since his own wagon was attacked. When he finds the ruins of a wagon train, he offers shelter to survivor Deborah Harkness and the children she saved. Trace and Deborah grow close working to bring justice to the trail, but what will happen when the attackers return to silence the only witness?
When Trace Riley finds the smoldering ruins of a small wagon train, he recognizes the hand behind the attack as the same group who left him as sole survivor years ago. Living off the wilderness since then, he'd finally carved out a home and started a herd—while serving as a self-appointed guardian of the trail, driving off dangerous men. He'd hoped those days were over, but the latest attack shows he was wrong.
Deborah Harkness saved her younger sister and two toddlers during the attack and now finds herself at the mercy of her rescuer. Trace offers the only shelter for miles around and agrees to take them in until she can safely continue. His simple bachelor existence never anticipated kids and women in the picture, and their arrival is unsettling—yet enticing. Working to survive the winter and finally bring justice to the trail, Trace and Deborah find themselves drawn together—yet every day approaches the moment she'll leave forever.


Review:
Deborah did all the work for her father on a community newspaper while he took all the credit. After her parents deaths, Deb is determined to set out on her own without being under the thumb of a man. Deb and her sister are helping a family take two toddlers west. The four are off in the bushes when the wagon train is attacked. The outlaws left behind arrows to look like an Indian attack, but no one knows that Deborah saw the men and can identify at least one by face and another by voice.
Trace survived as a young teen when his father was murdered during a wagon train attack. Since then, he has become a ghostly, self-appointed guardian of the trail, with his horse Black and his dog Wolf, trying to protect travelers from attacks. He comes across a recent attack that appears to be by the same men who killed his father years before. This triggers his urge to seek revenge by pursuing the men. That plan is delayed as he rescues the two young women and the toddlers and takes them to his cabin which is the only local shelter. Trace has rarely been around women. He and his ranch hands learn they like having the girls clean and cook for them, but Trace is still setting out to hunt down the killers.
Deborah plans to continue traveling west when the winter is over but in the meantime, she insists on going to town with Trace so she can report the truth of the attack and help identify the outlaws. Trace and Deborah don't realize that their discussion of the outlaws is overheard by one of the men. Now they are targets.
Can Trace control his urge for vengeance and still keep the girls and children safe? Will Deb being able to change her mind about sharing life with a man?
I totally enjoyed this story. It isn't perfect as it has some contrived situations. Still, I liked the distinct characters, the setting, the gentle faith, and the sweet romance. I like this author and need to read/listen to her stories more often. I recommend this to fans of sweet historical romance.
Audio Notes:
I enjoyed the narration by Morgan Hallett. Although she doesn't really do great male voices, I was able to tell who was talking and I could tell when she was reading an internal thought. I would be fine listening to more in the series narrated by Ms. Hallett.
Source: 5/3/2020 Chirp $4.99. This qualifies for 2022TBR and 2022Audiobook goals.