This is a suspenseful thriller with a second chance romance.
Night Stalker
Faith in the Face of Crime (FBI: Special Crimes Unit Book 1)
by Shirlee McCoy
Read by Emily Durante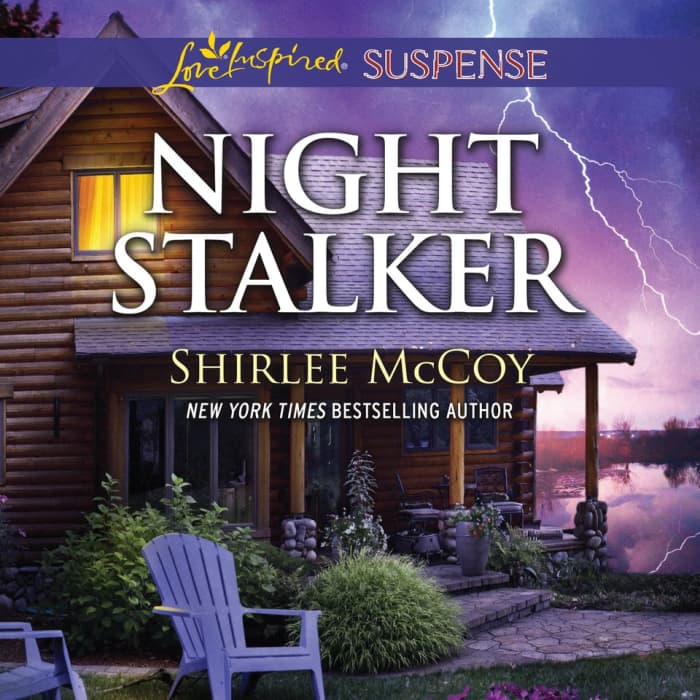 Run Time 5h 37min
Release Date: May 7, 2019
Publisher: Dreamscape Media
Genre: Christian, Mystery, Romantic Suspense
My Rating: 4.0 of 5.0 Overall; Content 4.0; Narration 4.25.
Night Stalker
Faith in the Face of Crime (FBI: Special Crimes Unit Book 1) by Shirlee McCoy
Read by Emily Durante
Run Time 5h 37min
After Special Agent Adam Whitfield's ex-wife is nearly killed when she stops an abduction, the serial killer that Adam's been hunting turns his focus on Charlotte Murray for getting in his way. Now, as the Night Stalker closes in, Adam has two missions: bring the murderer to justice and save Charlotte—because failure isn't an option.
Review:
Charlotte and Adam separated after tragedy struck their family and grief overwhelmed their relationship. Charlotte lives quietly in their little lakeside home that is set away from the busier community. She has adjusted her life and has tried, not fully successfully, to convince herself that she has accepted her circumstance. One night her dog growls and she steps outside to investigate. She prevents an abduction but gets injured in the process. She wakes up in the hospital to find her ex-husband, Adam, hovering.
Since Adam left Whisper Lake, he has been involved with a special FBI unit pursuing a serial killer known as the Night Stalker. He was headed to investigate the abduction which fit the profile and MO of the Stalker, but he was told he couldn't be part of the team as his ex-wife was involved. That only strengthened his reason to go even if he had to go on personal time.
Charlotte and Adam struggle with their painful past and their apparent incomplete relationship. Meanwhile, Charlotte's elderly neighbor is barely saved from an attack and it is clear that the Stalker is now stalking Charlotte as a loose end witness. Can Adam capture the killer, keep Charlotte safe, and maybe win her back too?
The plot isn't totally smooth as I had to wonder why the long illusive Stalker is suddenly making mistakes. It was easy to root for Charlotte and Adam even though there is emotional self-think which isn't always my favorite to read. I was glad that the story moved along at a quick pace. I also like that the author includes a picture of underlying faith. The author shows that people of faith are not exempt from sorrow and struggle, but she also shows that God is faithful to guide the believer who seeks Him. I enjoyed this quick romantic suspense and recommend it to readers who enjoy the genre with a faith foundation.
Audio Notes:
Emily Durante does a very nice job with the narration. The narration is clear and conveys the energy and emotions of the characters. I enjoyed the audio experience.
Source: 12/6/2020 Chirp purchase $3.99. This qualifies for 2021TBR, 2021Audiobook and 2021Alphabet goals.