This is an engaging sci fi/fantasy series.
Apex
Written By: Mercedes Lackey
Narrated By: Amy Landon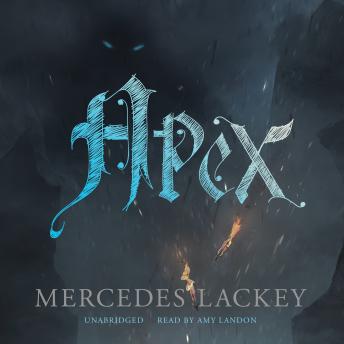 The Hunter Series, Book 2
Publisher: Blackstone Audiobooks
Date: September 2017
Duration: 8 hours 49 minutes
Genre: Fantasy, Magic
My Rating: 4.25 of 5.0 Overall, Story and Narration

Summary:
Being a member of the Elite Hunter Command imperils Joy in more ways than one. In their latest clash with Othersiders, the army of monsters nearly wiped them out. Apex City is safe for now. But within the city barriers, Joy must wage a different kind of war.The corrupt and powerful PsiCorps is determined to usurp the Hunters as chief defenders of Apex City, and Joy is now squarely in their crosshairs. Unused to playing political games, she has very few people she can truly trust-not even Josh, her first friend in Apex City, who broke up with her when it became too dangerous for a Psimon to be dating a Hunter.
Then Josh comes to Joy for help. He fears that Abigail Drift, the head of PsiCorps, will soon use him in her twisted experiments designed to empower PsiCorps and render Hunters superfluous-a scheme that's already killed off dozens of Psimons. Joy manages to smuggle Josh to safety, but he cannot evade Drift forever As Joy faces ever more powerful Othersiders, she is helped by the most surprising ally imaginable-the same Folk Mage she once met in battle on the train to Apex City. But can Joy trust the most cunning and treacherous of all Othersiders?In the thrilling finale to Mercedes Lackey's New York Times bestselling trilogy, Joy must risk everything to end a brutal war before she loses all she's ever loved....


Review:
Joy and the other Elite Hunters are busy defending Apex City from increased attacks by the Othersiders. Many of the engagements are skirmishes but they are repeated and extending to the outer edges of the community including some areas which no longer have fortifications.
The last major attack (in Book Two,
Elite
) was won thanks to the help of the Psimons. But dozens of Psimons have shown up dead or missing. Joy's former boyfriend, Psimon Josh fears that the head of PsiCorps is involved in the deaths and is planning to use the PsiCorps to take over the city government from Joy's Uncle. Joy and her immediate team help to smuggle Josh out of the city but can they keep him safe?
It becomes clear that another major attack is being planned. Joy has unexpectedly made contact with one of the Folk Mages who are believed to be directing the Othersiders. He is offering to be an ally, but can he be trusted?
Should Joy have called on her home hunters for help? Or told Apex officials about the hunters from home? Would she be putting more people at risk? Has her presence caused the escalation of enemy attacks since there are Folk Mage who are clearly focusing on removing her? So many questions and emotional issues to cope with along with daily, exhausting battles. It's a lot for a young woman to handle.
Although there was some personal angst in all the questioning, I still enjoyed the story and the interaction of the characters. There is good character building as well as plenty of action. I especially enjoyed the intrigue and mystery surrounding the Folk Mages. I am not sure if this series is closing at a trilogy or if there will be more. This book does have a closing but I see room for more and would be interesting in listening to more. I recommend this to readers who enjoy fantasy monster hunter genres.
Audio Notes:
As in the first
two books of the series
, Amy Landon continues her strong narration. She appropriately presents Joy's youth, angst and confusion. I like the listening experience for the series.
Source: 2019 Credit Purchase Audiobooks.com. This qualifies for 2019Audiobook Goal.