I am linking with Sunday Post at
Caffeinated Book Reviewer.
What Are You Reading? is where we gather to share what we have read this past week and what we plan to read this week. It is a great way to network with other bloggers, see some wonderful blogs, and put new titles on your reading list.
I have multiple files to work on-- I am pushing to keep up.

Hubby continues to make it to church events but has had continued dizziness so he has to be cautious.



We still have scraggly trees since Hurricane Michael in 2018.
Our former yard crew poisoned our azaleas, blueberry bushes, and most of our roses.
I was pleased to notice the white flowers on this little tree that survived the hurricane and the lawn crew.





I continue to pray for the people and situation in Ukraine and for world leaders.
.


Today was a beautiful sunny day and we expect four days in the 80s before rain on Thursday.
I was happy with my reading and listening again last week. I finished three audiobooks and made progress in the eBook. I posted three reviews and my usual memes.
I visited 20 blogs last week.
Shout Out this week to THE NERDY NOOK
. Jessica fits right in with the Mailbox Monday crowd as "a lover of books, coffee, and good food."
Audible offerings for free children's titles ended June 30, 2021.
Audiobooks.com is still sharing some free listens for children.
These were last week's posts:
Finished Reading:
1. Audible Smartphone (ATBR)
On the Edge of the Dark Sea of Darkness
The Wingfeather Saga, Book 1
By: Andrew Peterson
Narrated by: Andrew Peterson
Length: 8 hrs and 19 mins
Release date: 01-05-21
This is creative and a good story to share with children.
Source: 2/14/2021 January Audible Credit.
Click on book title for full description.
2. Audible Smartphone (ATBR)
On the Duty of Civil Disobedience
By: Henry David Thoreau
Narrated by: Jim Killavey
Length 1h 3m

This essay is timely even 173 years from when it was written.
Source: August 2021 Free Kindle and Audible for $.49.
Publisher's Summary
This essay by Thoreau first published in 1849, argues that individuals should not permit governments to overrule their consciences. It goes on to say that individuals have a duty to avoid allowing the government to make them the agents of injustice. The quote: "That government is best which governs least," sometimes attributed to Thomas Jefferson or Thomas Paine, actually was first found in this essay. Thoreaus' thoughts were motivated by his disgust with slavery and the Mexican-American War but they are still relevant and resonate today.
Public Domain (P)2011 Jimcin Recordings
3. Audible Smartphone (ATBR)
Crucible: A Max Ahlgren Story
By: Ryan W. Aslesen
Narrated by: Jeffrey Kafer
Series: Crucible, Book 0
Length: 2 hrs and 13 mins
This is a quick military story to introduce the primary character.
It portrays a very sad state of military politics.
Source: 7/19/2021 Free download from Audible Plus Catalog.

Publisher's Summary
The War on Terror provides the backdrop for the thriller that introduces the roots of ultimate antihero, Max Ahlgren.
Captain Max Ahlgren is proud to be one of the first team commanders in the Marine Corps' nascent MARSOC detachment. Finally, the Corps' elite warriors are working alongside those of other branches, battling insurgents, not on the front lines but behind them.
After his first mission, however, Max learns he will be replaced as team commander. The new commander, Major Whitbeck, comes from 8th and I: Marine Barracks, Washington DC. His late father, a revered general, died in a terrorist car bombing. The commander is in Afghanistan for vengeance - and redemption. When the team infiltrates the ancient desert fortress of Kazindrak, hunting an elusive Al-Qaeda terrorist, Whitbeck reveals his ineptitude in combat.
Max's fury grows as the body count rises. When the actual nature of the mission is revealed, Max gets a good look at the sordid underbelly of the War on Terror and sees firsthand what monsters men can become. If he is to survive, however, he may have no choice but to become one. Sometimes the greatest enemy is within.
©2018 Ryan W. Aslesen (P)2021 Podium Audio

Currently Reading:

1. eBook/Kindle App on Smartphone (Author2021)
Chinook (Miranda Chase NTSB #6)
by M.L. Buchman
I feel like this is moving well. I am at 20%.
Source: March 2021 from Author (through BookFunnel).
Click on book title for full description.
2. Audible Smartphone (ATBR)
Invasion: Alien Invasion, Book 1
By: Sean Platt , Johnny B. Truant
Narrated by: Ray Porter
Series: Alien Invasion (Platt/Truant), Book 1
It was time for a sci fi although this turned out more anticipating first contact than sci fi. It moved quickly and I expect to finish by Monday.
This is an "I" title for my series alphabet goal.
Source: 3/22/21 Sci Fi title from Audible Plus.
Publisher's Summary
They are coming. The countdown has begun.
First visible only as blips on a telescope image, the discovery of objects approaching from Jupiter's orbit immediately sets humanity on edge. NASA doesn't even bother to deny the alien ships' existence. The popular Astral space app (broadcasting from the far side of the moon and accessible by anyone with Internet) has already shown the populace what is coming. So the news has turned from evasion to triage, urging calm and offering the few facts they have:
The objects are enormous, perfectly round spheres numbering in the dozens, maybe hundreds. They are on an approach vector for Earth. And they will arrive in six days.
©2015 Sean Platt, Johnny B. Truant (P)2015 Podium Publishing
3. Audio Smartphone (ATBR)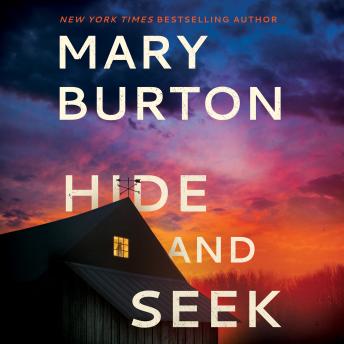 Hide and Seek
By Mary Burton
Narrated By: Christina Traister
Duration: 9 h 57 min

I like this author and this is an "H" title not in a series. Source: 9/22/19 Audiobooks.com Two for One Credit.
Summary:
She's hunting. He's watching.
Special Agent Macy Crow is a survivor. After a vicious hit-and-run nearly kills her, she gets right back to work, and now she's gunning for a spot on the FBI's elite profiling team. As an audition, she offers to investigate the recently discovered bones of Tobi Turner, a high school girl who disappeared fifteen years ago.
While investigating with local sheriff Mike Nevada, a former colleague and onetime lover, Macy discovers a link between Tobi's case and several others that occurred around the same time as her disappearance. As Macy interviews victims and examines old cases, she uncovers a sinister picture of a stalker who graduated to sexual assault—and then murder.
Macy and Nevada race to put this monster behind bars before he can come out of hiding. But the murderer's had years to hone his skills, and soon Macy herself becomes a target. She's no stranger to pain and terror, but will Macy's first profiling case be her last?
March 27, 2022 - These videos are really good - they help me retain more and help explain plot narrative as well as the underlying story of Jesus. Bible Reading Plan:
BibleProject | One Story that Leads to Jesus
. I know it won't match my Hubby's reading but I wanted some different insights/devotions and I am enjoying the devotion video project. I am enjoying keeping up with my reading each day.
No new study although I will probably start looking at an Easter Study soon.
I completed three books for review this week.
My NetGalley shelf is back to the three old ebook titles. I will probably end up letting A Place Called Armageddon go as DNF.
I am reading the last eBook title I had in queue.
(Plus a few that I received from facebook links and newsletter sign-ups, not specific review requests.)
Still many titles through InstaFreebie and many new author requests I haven't replied to.
Welcome to Mailbox Monday.
Mailbox Monday is a gathering place for readers to share the books that came into their house last week and explore great book blogs. This Meme started with Marcia at A Girl and Her Books (fka The Printed Page) and after a tour of hosts has returned to its
permanent home
at
Mailbox Monday
. Thanks to the ladies sharing hosting duties: Serena of
Savvy Verse & Wit
, me and new to the team, Velvet at
vvb32reads
.
Warning: Mailbox Monday can lead to envy, toppling TBR piles and humongous wish lists.


No new review books.
I added my March VIP free audiobook at Audiobooks.com and two titles through a 2 for 1 credit.
6 books added to my Kindle TBR library again.

Are your mailbox and TBR piles blooming?
NONE
Won

NONE
Purchased

3/26/2022 March Audiobooks.com 2 for 1 Deal:

Some Danger Involved
Author Will Thomas
Narrator: Antony Ferguson
Duration: 9 h 29 min
I like the sound and the sample on this historical crime fiction.

Breakthrough
Author Michael C. Grumley
Narrator: Scott Brick
Duration: 10 h 4 min
Compared to Clive Cussler, a suspense author, and The Abyss which is a movie we like.
3/26/2022 March Audiobooks.com VIP pick:


Crimson Phoenix
Author John Gilstrap
Narrator: Kate Forbes
Duration: 11 h 51 min
I want to try this Post-apocalyptic.
I added 6 free Kindle titles to my library this week:
Memoirs of a Time Traveler (Time Amazon Book 1)
Doug Molitor

Murder by the Cup: a witch, paranormal cozy mystery (Le Doux Mysteries Book 1)
Abigail Lynn Thornton

Colony One (The Elderon Chronicles Book 1)
Tarah Benner

Eclipse (Dawnbringer, Book 1 prequel)
Elon Vidal

Kilenya Chronicles Books 1-3
Andrea Pearson

Her Unexpected Roommate: a small town, sweet romance (Bulbs, Blossoms and Bouquets Book 1) by Laura Ann

6 Free titles again this week. Free titles often found at Bookbub, Bookfun, Book Adrenaline, Ereader News Today, Inspired Reads, Pixel of Ink or Kindle ebooks.