I am linking with Sunday Post at
Caffeinated Book Reviewer.
It's Monday! What Are You Reading now at
The Book Date (at Wordpress)
?
What Are You Reading, is where we gather to share what we have read this past week and what we plan to read this week. It is a great way to network with other bloggers, see some wonderful blogs, and put new titles on your reading list.
I enjoyed my week of reading/listening. I finished three books: two audios and one ebook. I posted four reviews on the blog and four at Goodreads (plus I linked the GR review I did last week but failed to post). Plus I posted my usual memes.
I visited 20 blogs last week.
Shout Out this week to
Perspective of a Writer.
Dani uses an interesting, inclusive Bulletin Board to share her weekly news.
Thank you to all the nice people who visit me.
These were last week's posts:
Finished Reading:
1. Audio CD/Car (A2019)
2. Audio/Smartphone (ATBR)
The Phantom of the Opera
By: Gaston Leroux
Narrated by: Ralph Cosham
Length: 7 hrs and 35 mins
Release date: 12-06-04
About midway I did get into this story.
Source: 12/16 Daily Deal $.99 for me since I already had the Kindle version.
Click on book title for full description.
3. eBook/Kindle (NG2019)
The Bakeshop at Pumpkin and Spice
by Donna Kauffman; Kate Angell; Allyson Charles
All three stories are a lovely Treat!
Source: 2019 NetGalley.
Click on book title for full description.
Currently Reading:
1. Audio/MP3 (2019Tour)
The Journals of Octavia Hollows: Books 1-6
by Stacey Rourke
Narrated by: Brenda Scott Wlazlo
I am three stories in with this fun listen!
Source: Audio provided for Tour Blitz on 10/31/19 hosted by Caffeinated PR.
(Check back for blitz with giveaway.)
Do you like urban fantasy and snarky heroines? Then you'll want to meet necromancer Octavia Hollows and her sidekick Bacon.
With a touch of her hand, Octavia Hollows can restore life. Yet, she couldn't save the man she loved from the horrific accident that stole him from her. Octavia thought she could outrun the pain, but ghosts from the past refuse to be silenced. Out of options, she chooses to retrace her wayward journey across the country in search of answers. Surrounded by baffling mysteries of the undead, what she learns about herself along the way might become her greatest weapon.
This six novella series chronicles Octavia's adventures in:
Wake the Dead
Dead Man's Hand
Caught Dead
Drop Dead Gorgeous
Dead Ringer
Dead as a Doornail
"This is Rourke at her finest: sassy and completely unapologetic. Proving again why she's a powerhouse in this industry."
-USA Today Best Selling Author Rue Volley
"This book has it all: a kickass heroine, loads of action... and a pig named Bacon."
-NYT & USA Today Best Selling Author Karen Lynch
©2019 Stacey Rourke (P)2019 The Audio Flow, LLC
2. eBook/Kindle (NG2019)
3. Audio MP3 (ATBR)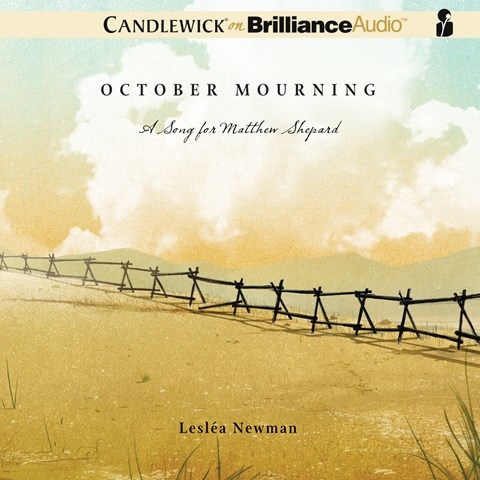 OCTOBER MOURNING:
A SONG FOR MATTHEW SHEPARD
by Lesléa Newman, Narrated by Emily Beresford, Luke Daniels, Tom Parks, Nick Podehl, Kate Rudd, Christina Traister (Brilliance Audio)
I am slipping this TBR in for "month" title.
Source: 2014 SYNC Free Audio.
On October 6, 1998, Matthew Shepard, a gay 21-year-old student at the University of Wyoming, was viciously beaten, tied to a fence, and left to die. Author Newman's intimate reaction to this tragedy, a heartrending collection of 68 poems, is narrated by an outstanding cast. The narrators expertly carry the weight of the poems, excelling on verses that combine more than one voice. The poems present unique perspectives, including those of the fence, the moon, the road, even Matthew's cat. Beautifully articulated, the quiet spaces in each poem add to the emotion, evoking a vast starry sky of memory and loss not soon to be forgotten. Intense, moving, and haunting—a must-listen for ages 14+. E.A.B. Winner of AudioFile Earphones Award, 2013 Audies Finalist, SYNC 2014 © AudioFile 2012, Portland, Maine [Published: OCTOBER 2012]
4. eBook/Kindle (Author)
Reasons to Kill God
by I.V. Olokita
This sounds like a story with a message.
Source: Author Review Request.
"If you are able to write 180 pages of your memoir without putting the pen down, I might let you live…"
Klaus Holland loves no one other than himself. He victimizes people for being Jews or for just being alive.
He is an old Nazi criminal who escaped to Brazil and was caught and prosecuted. He is now forced to write his memoirs as part of his punishment – the same punishment he used to give Jews at the concentration camp. This punishment makes him remember and re-live his cruelty as the concentration camp commander and as a man.
Deus Esperanca learns from his mother that what he believed to be his family's history, was just a bunch of lies. He discovers that his real father is Klaus Holland – the sadistic Nazi fugitive.
Having this information and his father being aware of what he knows, their lives intertwine and create chaos.
I made good progress with the TBR; I just need to read/listen to 12 more TBR titles in 9 weeks.
I have a couple of TBR Christmas books lined up to help finish off this goal.
October 27, 2019 - I am still enjoying the devotions and readings with the One Year Bible plan through You Version App. I didn't do another study but continue to spend time on May it Be So. [You can check out audio of the One Year Bible Plan on the
companion commentary online
.]
I completed three books and nine reviews (one linked from 10/19). I have one review to complete for the short stories I read for Fraterfest plus the three books finished this week.
I have been adding newer reviews to NetGalley, Goodreads, Amazon, and Audible. (Eventually, I will add older reviews.)
My NetGalley shelf just grew to 12 with the addition of 6 titles! Two for Christmas. I am still working on NG titles I received in July. [Plus I have 4 old titles (2012-13.)]
I am reading one author title so I only have two left in queue. I'll finish them this year.
Still many titles through InstaFreebie and many new author requests I haven't replied to.
Welcome to Mailbox Monday.
Mailbox Monday is a gathering place for readers to share the books that came into their house last week and explore great book blogs. This Meme started with Marcia at A Girl and Her Books (fka The Printed Page) and after a tour of hosts has returned to its
permanent home
at
Mailbox Monday
. Thanks to the ladies sharing hosting duties: Leslie of
Under My Apple Tree
, Serena of
Savvy Verse & Wit
and (yours truly).
Warning: Mailbox Monday can lead to envy, toppling TBR piles and humongous wish lists.
Six new review titles from NetGalley.
I picked out the two free Original Audibles for October. I have an Audiobook credit I may use for two for one before the end of the month and I just saw there is another sale at Audible.
20 free kindle titles this week. (Note these are in my Amazon library, NOT on my Kindle until I download and transfer them.) Are your mailbox and TBR piles blooming?
Recieved from NetGalley
.
10/20/19
Enforcing the Paw
by Diane Kelly
I have been eyeing this series thanks to the K-9 dogs.
1
0/21/19 The Ultimate Guide to the 2020 Election
101 Nonpartisan Solutions to All the Issues that Matter
by No Labels; Ryan Clancy; Margaret White
"The Ultimate Guide to the 2020 Election gives a voice to this majority and provides an unbiased education on the true nature of the problems America faces on several key issues,..."
The Possibility of America
How the Gospel Can Mend Our God-Blessed, God-Forsaken Land
by David Dark
As I watch the societal strife in America I pray for a calmer, kinder future.
10/23/19 - Two Christmas titles and an author I like!
All Hearts Come Home for Christmas
by Sarah M. Eden, Anita Stansfield, Esther Hatch, Joanna Barker
by Jodi Thomas
"...takes you back deep into the Texas Panhandle, where the winters are long, the storms fierce—and the Yuletide nights are unforgettable . . ."
by Darynda Jones
"Sheriff Sunshine Vicram finds her cup o' joe more than half full when the small village of Del Sol, New Mexico, becomes the center of national attention for a kidnapper on the loose."
NONE
Purchased
NONE
(for a change!)
Two Free Audible Originals
10/23/2019
Carmilla
By: Joseph Sheridan Le Fanu
Narrated by: Phoebe Fox, Rose Leslie, David Tennant, David Horovitch, James Wilby, Susan Wooldridge, Hannah Genesius
Length: 2 hrs and 22 mins
Release date: 10-27-15
Language: English
10/27/2019
My Lost Family
An Audible Original
By: Danny Ben-Moshe, Dasha Lisitsina
Narrated by: Danny Ben-Moshe
Length: 2 hrs and 13 mins
Release date: 10-03-19
Language: English
I added 20 free Kindle title to my Kindle library. Titles found linked through Bookbub, Bookfun, Ereader News Today, Free Par-tay, Ignite Your Book, Inspired Reads, Pixel of Ink or Kindle ebooks.