I am linking with Sunday Post at
Caffeinated Book Reviewer.
What Are You Reading? is where we gather to share what we have read this past week and what we plan to read this week. It is a great way to network with other bloggers, see some wonderful blogs, and put new titles on your reading list.
The children are all back to healthy and looking forward to a short school week.

My office work continues steady.

My son has been working on the computer and internet intermittently trying to get them to work better together. I had two nights last week where my computer crashed and I had to recreate documents. Usually they can be recovered but for some reason this week they weren't backing up properly.

My son had to install a new pool cover and has had to work around two periods of rain.

The children have been raking up piles of leaves.

I am still praying that people would study the history of the Israel and Palestine nations more before they do all this protesting and particularly I pray that no one would seek the annihilation of another people. And continuing prayers for Israel and Gaza and all the innocents who are being impacted by the war.

The weather here is now consistently in the 40s and 50s, occasionally getting into the 60s. Night time temps are in the 30s.
I've finished two audios and posted two reviews with my Sunday memes.
Maybe I'll get to September and October Wrap Ups this coming week with November!

I only visited about 5 blogs last week and still no new Shout Outs lined up.

Audiobooks.com is still sharing some free listens for children.
Finished Reading:
1. Audio on Smartphone (ATBR).
The Cold Dish
By Craig Johnson
Duration: 13 h 20 min
I found this a little depressing.

Source 7/28/19 Audiobooks.com Free VIP pick.
Click on book title for full description.
2. Audio on Smartphone (ATBR).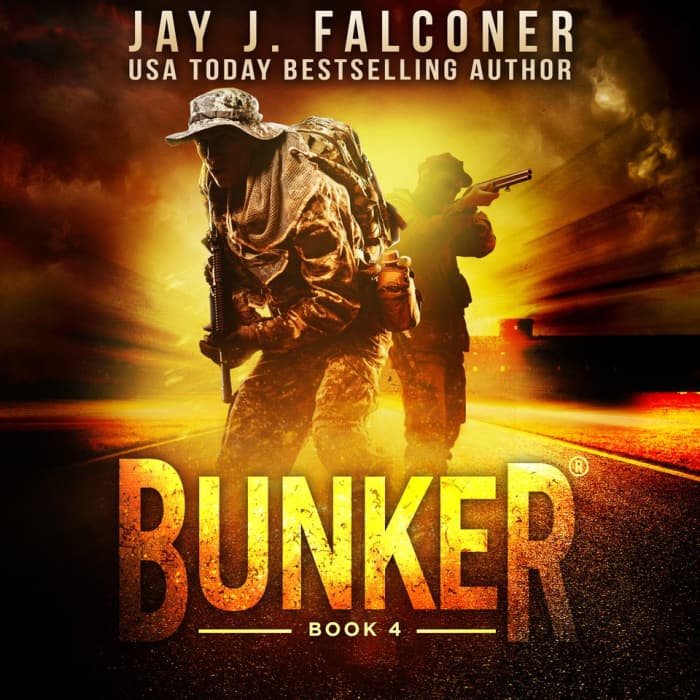 Bunker (Book 4) Lock and Load
Written by Jay J. Falconer
Read by Gary Tiedemann

Run Time 6h 45min
I wanted to listen to something fast paced and I knew I would like this series. My disappointment is it ending and I'll have to go to book 5 for more.
10/2/2021 Chirp Purchase $2.99.
Machine Guns. Murder. Mayhem.
The insurgents rule of terror is complete. They control everything. Everything except a band of patriots who want their town back.
Reclaiming their home won't be easy. Not against overwhelming firepower. But Jack Bunker is ready. He has the skills and training to lead them in an explosive battle of survival.
Victory will come at a steep price; however, when dark secrets are revealed, exposing some while protecting others. Treachery abounds as tempers boil, romance blossoms, and codes are deciphered, leading some to make deals with the enemy to settle old scores.
For Jack Bunker, trust becomes a luxury. So does time, when the grand conspiracy finally reveals itself.
Currently Reading:

1. Kindle App on Smartphone (eBTBR)
Harvest Wishes (Starlight Inn)
by Jessica Anne Renwick


My kindle reading is still pretty slow so I am only at 35%.




Source: 6/12/22 Free on Kindle.
Click on book title for full description.
2. Audio on Smartphone (ATBR).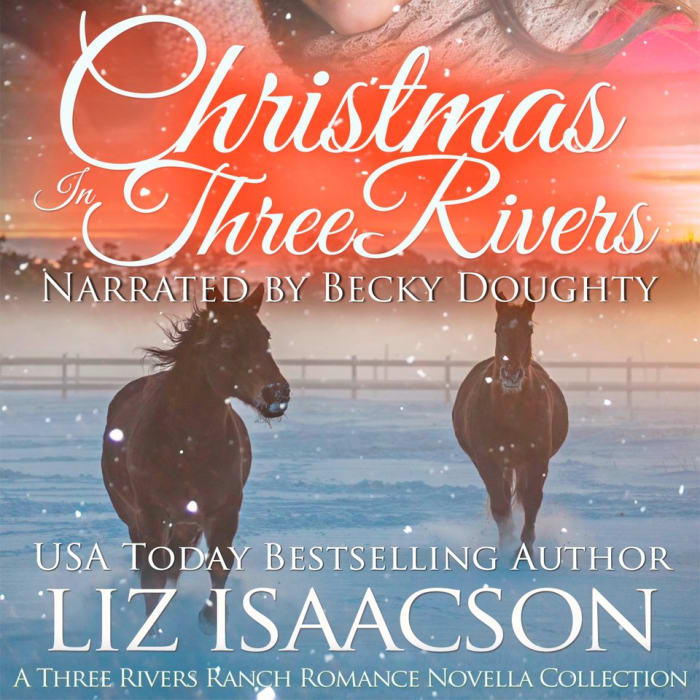 Christmas in Three Rivers
Written by Liz Isaacson
Narrated by Becky Doughty
I was ready for more Christmas and this adds to my Number Challenge also.
I'm enjoying the easy romances.
Source: January 2021 Chirp $.99
Publisher Description
Isn't Christmas the best time to fall in love? The cowboys of Three Rivers Ranch think so. Join FOUR of them in this Christmas cowboy romance collection as they journey toward their path to happily ever after!
THE NINTH INNING: The Christmas season has never felt like such a burden to boutique owner Andrea Larsen. But with Mama gone and the holidays upon her, Andy finds herself wishing she hadn't been so quick to judge her former boyfriend, cowboy Lawrence Collins. Well, Lawrence devises a plan to get her out to the ranch so they can reconnect. Do they have the faith and humility to patch things up and start a new relationship?
TEN DAYS IN TOWN: Sandy Keller is tired of the dating scene in Three Rivers. When her older brother's best friend, Tad Jorgensen, comes to town for the holidays, it is a balm to his weary soul. A helicopter tour guide who experienced a near-death experience, he's looking to start over too–but in Three Rivers. Can Sandy and Tad navigate their troubles to find the path God wants them to take–and discover true love–in only ten days?
ELEVEN YEAR REUNION: Pastry chef extraordinaire, Grace Lewis has moved to Three Rivers to help Heidi Ackerman open a bakery. She doesn't expect to run into her old high school boyfriend, Jonathan Carver. But with her focus on baking and his disdain for small towns, can they make their eleven year reunion stick?
THE TWELFTH TOWN: Newscaster Taryn Tucker has had enough of life on-screen. She takes a job cleaning at Three Rivers Ranch, hoping for a chance to figure out who she is and where God wants her. When she meets happy-go-lucky cowhand Kenny Stockton, she doesn't expect sparks to fly. Will they have the courage and faith necessary to make their opposite worlds mesh?
3. Audible on Smartphone (ATBR).
The Singularity Trap By: Dennis E. Taylor

Narrated by: Ray Porter
Length: 11 hrs and 23 mins

I continue to work on older TBR titles. And I am alternating between my Audio libraries.
Source: 7/24/2019 Audible Daily Deal $4.95.
About This Audible Original
Dennis E. Taylor, author of the best-selling Bobiverse trilogy, explores a whole different, darker world in this sci-fi stand-alone. Determined to give his wife and children a better life back home, Ivan Pritchard ventures to the edge of known space to join the crew of the Mad Astra as an asteroid miner. He's prepared for hard work and loneliness—but not the unthinkable. After coming into contact with a mysterious alien substance, Pritchard finds an unwelcome entity sharing his mind, and a disturbing physical transformation taking place. With his very humanity at stake, Pritchard must save mankind from a full-scale interstellar war.
Brought to life by prolific, award-winning narrator Ray Porter, The Singularity Trap is a thrilling adventure rife with drama and action on a truly cosmic scale.
©2018 Dennis E. Taylor (P)2018 Audible Originals, LLC. Cover illustration by Stephan Martiniere.
November 20, 2023
- I am doing the daily readings of BibleProject plan:
The Full Story - "From the beginning to the Amen"
. I enjoyed the readings in Hebrews and am now in the instructions of James.
I enjoyed the 7 day study: The Blessing Devotional Plan.
I finished two books and posted two reviews. I am still behind with 12 reviews to post.
NETGALLEY STATUS--
I have an older audio on my shelf I should listen to soon.
I still have the two old NetGalley ebook titles.
Other Sources: I have a dozen or so books that I received from Facebook links and newsletter sign-ups, not specific review requests. plus many titles through InstaFreebie over the past few years.
Welcome to Mailbox Monday.
Mailbox Monday is a gathering place for readers to share the books that came into their house last week and explore great book blogs. This Meme started with Marcia at A Girl and Her Books (fka The Printed Page) and after a tour of hosts has returned to its

permanent home

at Mailbox Monday.

Thanks to the ladies sharing hosting duties:

Serena of Savvy Verse & Wit, me, and newest to the team, Emma at Words and Peace. Warning: Mailbox Monday can lead to envy, toppling TBR piles and humongous wish lists.


No new review titles this week.
I selected my two Audible credits this week.


I have six titles from the Audible Plus catalog from last week and this weekend, while choosing my 2 credits I found another 20 from my wish list! No time to list them now.
No new Kindle title this week. Are your mailbox and TBR piles blooming? NONE

NONE

Purchased


11/18/2023 Two Audible Credits: I picked two boxed sets with new to me authors.
The Keeper Chronicles: The Complete Trilogy
By: JA Andrews
Narrated by: Tim Gerard Reynolds
Series: The Keeper Chronicles, Book 1-3
Length: 46 hrs and 32 mins
The 13th Paladin Boxed Set
By: Torsten Weitze, Tim Casey - translator
Narrated by: Gildart Jackson
Series: The 13th Paladin, Book 1-3
Length: 43 hrs and 57 mins
I have six titles from the Audible Plus catalog from last week and this weekend, while choosing my 2 credits I found another 20 from my wish list! No time to list them now.
No new title added to Kindle library. Free titles might be found at
Bookbub
,
Book Adrenaline
,
Ereader News Today
,
Inspired Reads
, or
Kindle ebooks
.