I am linking with Sunday Post at
Caffeinated Book Reviewer.
What Are You Reading? is where we gather to share what we have read this past week and what we plan to read this week. It is a great way to network with other bloggers, see some wonderful blogs, and put new titles on your reading list.




Our week went pretty well. We had some closings, including the sale of my own secondary property. That has brought mixed feelings.
I don't feel like I am stressed but I am working to 7:30pm or 8pm each night. I've made a decision I need to leave before it gets dark because twice I had to wait for a rain storm or drive home in the rain and dark. That just isn't comfortable for my eyes.

Saturday this week I got up to travel an hour east to a fun 'fashion tea' at another woman's club.


Our members posed for a group picture.



When I returned home I was tired and I felt exhausted all day. I did some laundry and cleaning (sweeping all uncarpeted floors). Next I'll finish dusting and vacuum.

My continuing prayers include prayers for more unity in all nations, a calmer social atmosphere, and for revival. We are also praying for family and church.

We continue to have heavy thunderstorms often at the end of the work day. The forcast includes thunderstorms for the coming week. Temps will be a little cooler though, only reaching the high 80s and a nice dip at night into the low 60s.


I finished only two audios this past week and posted two reviews and my memes.

I visited 14 blogs again last week.
Shout out this week: THE ARTSY READER GIRL. The first part of Jana's profile intro says: "I'm a 30-something graphic designer, MLIS, singer, book lover, avid world traveler, cat whisperer, whale watcher, and art enthusiast." And there is more! Go check out her blog.

Audiobooks.com is still sharing some free listens for children.

Finished Reading:
1. Audible Smartphone (ATBR)
Kindred
By: S.J. West
Narrated by: Brittany Pressley
Series: The Watcher Chronicles, Book 2
Length: 7 hrs and 43 mins
This continued to drag the romance along. There is another new development leading to book 3 which was free but will also expire 5/23.
I may read it in the future but I didn't jump into it before the deadline.
Source: May 2023 Audible Plus Catalog.
Click on book title for full description.
2. Audio Smartphone (ATBR)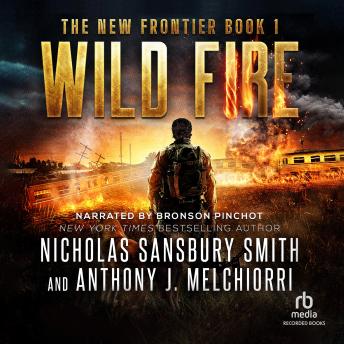 Wild Fire
New Frontier, Book 1
By: Nicholas Sansbury Smith, Anthony Melchiorri
Narrated by: Bronson Pinchot
Series: New Frontier, Book 1
Length: 11 hrs and 9 mins
I was hunting a post apocalyptic on an app other than Audible and found this. I enjoyed the full on action.
Source 3/23/2023 Two For One Credit Audiobooks.com.
Summary
From the embers of a burned America rises new hope … and a new threat.
Two years after an attack brought down the electrical grid across the United States, the recovery effort is well underway. A new network of armored trains carry supplies and industrial equipment crucial to rebuilding the country.
But along the rails, one area of America is still mired in darkness, violence, and danger. Some call it the Badlands. Others the Wild West. The government simply refers to it as the New Frontier.
Retired Marine Sergeant Sam "Raven" Spears makes a living tracking down people and treasures in this lawless void. When raiders target a supply train in the New Frontier, Colorado Sheriff Lindsey Plymouth asks Raven to work with ex-Navy SEAL Calvin Jackson to secure the train's vital cargo. All is going to plan until one fateful disaster changes everything.
As the trail heats up to find those responsible, a mysterious virus starts spreading across the New Frontier. Raven soon realizes the two events might be connected.
If he doesn't find the insidious forces behind this conspiracy, the entire country will go up in flames.
Listener Note: New Frontier is a brand-new series set in the bestselling Trackers universe by Nicholas Sansbury Smith. For listeners of Trackers, this spin-off written with Anthony J. Melchiorri takes place two years after the end of Trackers 4. While Trackers was an EMP/war story about the destruction of the power grid in America and the chaos that followed, New Frontier is a story about the aftermath. For new listeners, you can dive into New Frontier without reading the four Trackers books.
Currently Reading:

1. Audible Smartphone (ATBR)
Dare to Lead
Brave Work. Tough Conversations. Whole Hearts.
By: Brené Brown
Narrated by: Brené Brown
Length: 8 hrs and 10 mins

I'm listening to this about half hour to an hour a day as I need to concentrate on it.
My son recommended this and I am finding it inspirational.
Source: May 15, 2022 Audible 2 April Credit picks.
Click on book title for full description.
2. Audio Smartphone (ATBR)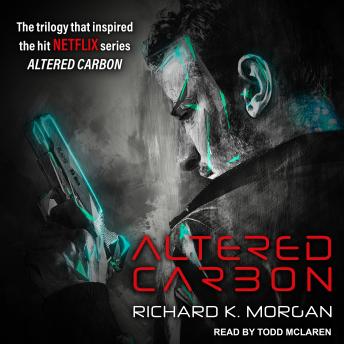 Altered Carbon
Series: #1 of Kovacs
Written by: Richard K. Morgan
Narrated by: Todd McLaren
I am committing to working on my older TBR shelves.
I am seven+ hours in and enjoying this sci fi detective story.
Source: July 2018 Audiobooks.com Bundle win through Beth Fish Reads.
Summary
In the twenty-fifth century, humankind has spread throughout the galaxy, monitored by the watchful eye of the U.N. While divisions in race, religion, and class still exist, advances in technology have redefined life itself. Now, assuming one can afford the expensive procedure, a person's consciousness can be stored in a cortical stack at the base of the brain and easily downloaded into a new body (or 'sleeve') making death nothing more than a minor blip on a screen.
Ex-U.N. envoy Takeshi Kovacs has been killed before, but his last death was particularly painful. Dispatched one hundred eighty light-years from home, re-sleeved into a body in Bay City (formerly San Francisco, now with a rusted, dilapidated Golden Gate Bridge), Kovacs is thrown into the dark heart of a shady, far-reaching conspiracy that is vicious even by the standards of a society that treats 'existence' as something that can be bought and sold. For Kovacs, the shell that blew a hole in his chest was only the beginning. . . .
'Morgan's debut novel, the first in a series, combines noir mystery with ultra-high tech science to create a complex sf thriller. Featuring a hard-nosed antihero with his own sense of personal honor and ethics, this is highly recommended for sf collections.'-Library Journal
I haven't decided on the next book, but maybe one of the new NetGalley titles.
May 21, 2023
- I am doing the daily readings of BibleProject plan:
The Full Story - "From the beginning to the Amen".
No new separate study yet.
I finished two audio titles and only posted two reviews. I still have four reviews to post to be totally up to date.

NETGALLEY STATUS--
I now have four audios on my NetGalley shelf so I will probably listen to one this week. Two are shorter (under 6 hours) and the two new ones are midlength (11 to 20 hrs).
I still have the two old NetGalley ebook titles.
I have one author review in my queue that I need to start reading on my computer. (I need to look back and see which one this is.)
(Plus a few that I received from Facebook links and newsletter sign-ups, not specific review requests.)
Still many titles through InstaFreebie and many new author requests I haven't replied to.
Welcome to Mailbox Monday.
Mailbox Monday is a gathering place for readers to share the books that came into their house last week and explore great book blogs. This Meme started with Marcia at A Girl and Her Books (fka The Printed Page) and after a tour of hosts has returned to its

permanent home

at Mailbox Monday.

Thanks to the ladies sharing hosting duties: Serena of

Savvy Verse & Wit,

me, and newest to the team, Emma at

Words and Peace. Warning: Mailbox Monday can lead to envy, toppling TBR piles and humongous wish lists.

A smaller mailbox this week.
I went to NetGalley and stopped at two new review titles for the next week or so.
I used my two credit picks at Audible.
No free Kindle titles last week. Are your mailbox and TBR piles blooming? Two audiobooks from NetGalley (one Listen now and one Request approved):

Sci fi and Fantasy:

The Never-Ending End of the World
By: Ann Christy
Narrated by: Thérèse Plummer, Ari Fliakos

Length: 13 hrs and 19 mins

Wolves & Roses
Fairy Tales of the Magicorum
By: Christina Bauer
Narrated by: Christina Bauer

Length: 11 hrs and 1 min

Won


NONE

Purchased


5/19/2023 April 2023 Audible Picks; both of these are continuing series I like.
The Extinction Cycle Boxed Set, Books 4–6
Extinction Evolution, Extinction End, and Extinction Aftermath
By: Nicholas Sansbury Smith
Narrated by: Bronson Pinchot

Length: 32 hrs and 54 mins

Counterstrike
Black Fleet Trilogy, Book 3
By: Joshua Dalzelle
Narrated by: Mark Boyett

Length: 8 hrs and 13 mins

Free


NONE
No new titles added to Kindle library.
Free titles might be found at Bookbub, Book Adrenaline, Ereader News Today, Inspired Reads, or Kindle ebooks.