I am linking with Sunday Post at
Caffeinated Book Reviewer.
What Are You Reading? is where we gather to share what we have read this past week and what we plan to read this week. It is a great way to network with other bloggers, see some wonderful blogs, and put new titles on your reading list.

I am sad that my son went home on Friday. It was certainly a blessing to share time with him the last two weeks.
I am in Orlando for a GFWC Florida annual convention. I was installed as 2022-2024 President of our GFWC Marianna Woman's Club the week of my husband's death. They offered to postpone the installation but all the plans were made and I had the bittersweet pleasure of having my sister, my step mother, Heather, and Matt join me for the event.



Here is my family sharing in this lovely event.

My stepmother had her sweet service dog who was perfectly quiet through the luncheon.

Here I am with the other officers. The three to my left are at the convention too.

I continue to pray for the people and situation in Ukraine and for world leaders. I am adding Sri Lanka to these prayers per the request for another blog friend.
I am also praying for our country and the state of crime that is awful.
.


Our weather is continuing to get hotter - high 80s to low 90s. We continue to have some sudden, heavy rains which are common to Florida spring and summer seasons.
I didn't get too much listening in this week as I am still trying to catch up work and have started listening to a CLE courses that I need to finish for June reporting. I finished only one audiobook, posted only one review, and most of my memes.

I
was glad to visit 16 blogs again this past week.

Audible offerings for free children's titles ended June 30, 2021.
Audiobooks.com is still sharing some free listens for children.
These were last week's posts:
Finished Reading:
-- Between no internet and Bob's health and death I missed posting a couple of finished books.) (Finished on April 20 but not included in a post.)

1. Audible Smartphone (ATBR)
The Nothing Girl
The Frogmorton Farm Series, Book 1
By: Jodi Taylor
Narrated by: Lucy Price-Lewis
Length: 9 hrs and 47 mins
I forgot to include this in my posts in April. I totally enjoyed this story of a young woman finding her inner strength.
Source: 7/30/2021 Sale $5.00 each at Audible.
Publisher's Summary
Getting a life isn't always easy. And hanging on to it is even harder....
Jodi Taylor brings all her comic writing skills to this heartwarming tale of self-discovery.
Known as The Nothing Girl because of her severe stutter and chronically low self-confidence, Jenny Dove is only just prevented from ending it all by the sudden appearance of Thomas, a mystical golden horse only she can see. Under his guidance Jenny unexpectedly acquires a husband - the charming and chaotic Russell Checkland - and for her nothing will ever be the same again.With overprotective relatives on one hand and the world's most erratic spouse on the other, Jenny needs to become someone. And fast!
Fans of Jodi Taylor's best-selling Chronicles of St. Mary's series will adore the quirky humour in this new, contemporary novel. Jodi Taylor, International Woman of Mystery, spent some time working undercover for North Yorkshire County Library Service. Heavily disguised as the world's most incompetent facilities manager, she shifted dead dogs, fell out of mobile libraries, and spent far too much time in the gents' toilets. The idea to rewrite history first came to her while studying history A level at an evening class.
Just One Damned Thing After Another is her first novel and was originally self-published as an ebook; it was downloaded by more than 60,000 readers on Amazon.
©2014 Jodi Taylor (P)2015 Audible, Ltd
(Finished May 3 but not included in post.)
2. Audible Smartphone (ATBR)
The Harrows of Spring: The World Made by Hand Novels, Book 4
By: James Howard Kunstler
Narrated by: Jim Meskimen
Length: 10 hrs and 32 mins
I finished this interesting series for my "Spring" title.
Source: 12/21/2020 Audible Plus Catalog.
Publisher's Summary
"From the renowned social critic, energy expert, and bestselling author James Howard Kunstler, The Harrows of Spring concludes the quartet of his extraordinary World Made by Hand novels, set in an American future of economic and political collapse, where electricity, automobiles, and the familiar social structures of the "old times" are a misty memory.
In the little upstate New York town of Union Grove, springtime is a most difficult season, known as "the six weeks want," when fresh food is scarce and winter stores have dwindled. Young Daniel Earle returns from his haunting travels around what is left of the United States intent on resurrecting the town newspaper. He is also recruited by the town trustees to help revive the Hudson River trade route shut down peevishly by the local grandee, planter Stephen Bullock. Meanwhile, a menacing gang of Social Justice Warriors styling themselves as agents of the Berkshire People's Republic appear one evening to camp on the outskirts of town. Their leaders are the imposing Amazonian beauty Flame Aurora Greengrass and the charismatic grifter Sylvester "Buddy" Goodfriend, progressive to a fault in their politics and intent on extracting whatever tribute they can from people of Union Grove.
Romance, politics, bunko, violence, and family tragedy swirl through the thrilling finale to Kunstler's bestselling series. The Harrows of Spring is a powerful, heart-wrenching, and satisfying conclusion to this poignant history of the future."
©2016 James Howard Kunstler (P)2016 Blackstone Audio, Inc.
3. Audible Smartphone (ATBR)
Norse Mythology
By: Neil Gaiman
Narrated by: Neil Gaiman
Length: 6 hrs and 29 mins
I did enjoy these creative stories of the mythological Gods.
Source: 2/11/2019 Audible Daily Deal $3.95.
Click on book title for full description.
Currently Reading:

1. Another CLE Course for Credits.

2. Audio Smartphone (ATBR)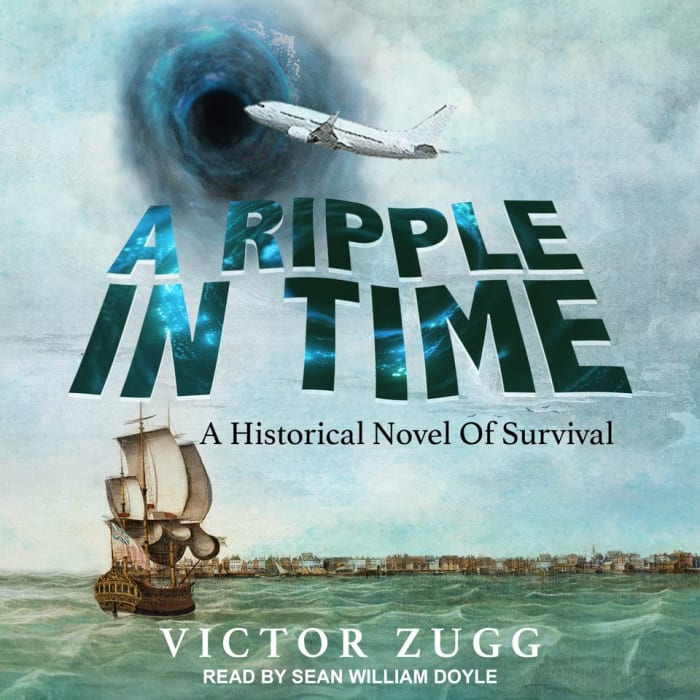 A Ripple in Time
Written by Victor Zugg
Narrated by Sean William Doyle
Run Time 7h 26min
I didn't get to start this as I was listening to a CLE course I need to meet my requirements in June.
Source: March 2021 Chirp Purchase $2.99.
Click on book title for full description.
May 22, 2022 - I am still very excited about the Bible Project devotion videos that are giving me a deeper insight and appreciation for my Bible reading. I am still getting caught up on videos I missed while we had no internet at home. The Bible Reading Plan is:
BibleProject | One Story that Leads to Jesus
. I am enjoying keeping up with my reading each day.
I'll look for a new study maybe next month.
I completed one book for review but I now have eight outstanding reviews to write and post. Because I am so far behind I may try to shorten reviews. We'll see.
My NetGalley shelf is back to the three old ebook titles. I will probably end up letting A Place Called Armageddon go as DNF.
I don't have any author reviews in my queue right now.
(Plus a few that I received from facebook links and newsletter sign-ups, not specific review requests.)
Still many titles through InstaFreebie and many new author requests I haven't replied to.
Welcome to Mailbox Monday.
Mailbox Monday is a gathering place for readers to share the books that came into their house last week and explore great book blogs. This Meme started with Marcia at A Girl and Her Books (fka The Printed Page) and after a tour of hosts has returned to its
permanent home
at
Mailbox Monday
. Thanks to the ladies sharing hosting duties: Serena of
Savvy Verse & Wit
, me and new to the team, Velvet at
vvb32reads
.
Warning: Mailbox Monday can lead to envy, toppling TBR piles and humongous wish lists.


No new review books.
I didn't have time to be online looking at books except one day I hit on several free Kindle titles.
I added nine ebooks to my Kindle TBR library today.

Are your mailbox and TBR piles blooming?
NONE
Won

NONE
Purchased

NONE
Deck the Hearts (A Christmas Creek Romance Book 1)
Rachelle Ayala
Where There's A Will
Janna MacGregor
The Bride's Secret (The Brides of Bath Book 3)
Cheryl Bolen

A Perfect Escape
M.L. Jameson, Maddie James

Maverick Gambit (Maverick Space Adventures Book 1)
Marjorie King
Rogue Countess (Regency Rogues Book 1)
Amy Sandas
Beneath the Fallen City (The Omni Towers Series Book 1)
Jamie A. Waters
Witch for Hire (A Witch's Path Book 1)
N. E. Conneely
Bond of a Dragon: Zahara's Gift
A J Walker
Nine Free title. Free titles often found at Bookbub, Bookfun, Book Adrenaline, Ereader News Today, Inspired Reads, Pixel of Ink or Kindle ebooks.